Trend Alert: Leakproof Underwear --- Knickers for Your Period, Overactive Bladder, Post-Pregnancy and Beyond
Today's blog post isn't really on a "sexy" or "fashionable" topic, but it's about an important subject all the same. As Catherine brought up in her guest post "What It's Like to Be a Woman with a Disability in the Lingerie Industry," there is a definite need for panties that go beyond being "sexy." Many people cope with overactive bladder, urinary incontinence (especially post-pregnancy), and extremely heavy periods... and it can be hard to feel justified in buying nice underwear when you're understandably afraid it's going to be ruined. Fortunately, several new lingerie brands have zeroed in on this target market lately, and they're all making pretty underwear that also fits the day-to-day needs of folks dealing with these issues. Below are four I've learned about recently. If you know of any other options, please do include them in the comments!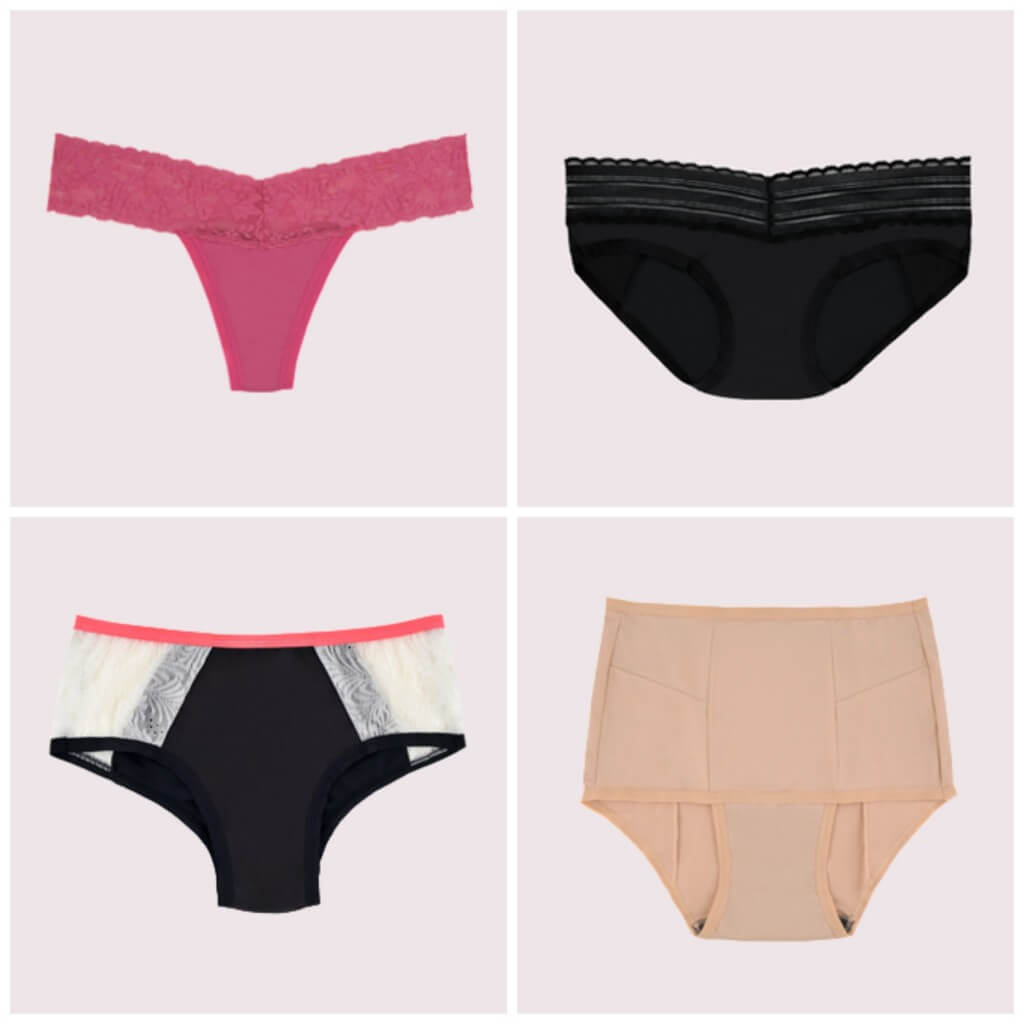 Julie Sygiel of Dear Kate introduced herself to me at Curve a couple of years back when she was still using the name Sexy Period. While rebranding (first to Underbrella then to Dear Kate), Julie realized that the need for absorbent knickers didn't just apply to periods... there were also plenty of people with bladder dysfunction who were looking for pretty yet functional underwear. Since then, Dear Kate has revamped their entire line and branding, and their collection is the most diverse of all the brands shown here. I love their products because they don't look like "special" underwear; they just look like nice panties, which is really the whole point. Julie used her background in chemical engineering to create the patent-pending fabric lining of her underwear; Dear Kate's knickers can hold three teaspoons of liquid and replace up to 730 pantyliners per year. Dear Kate also offers 100% satisfaction guarantee. Sizing is available in XS thru XL (US 00 thru 16), and all products are made in the USA.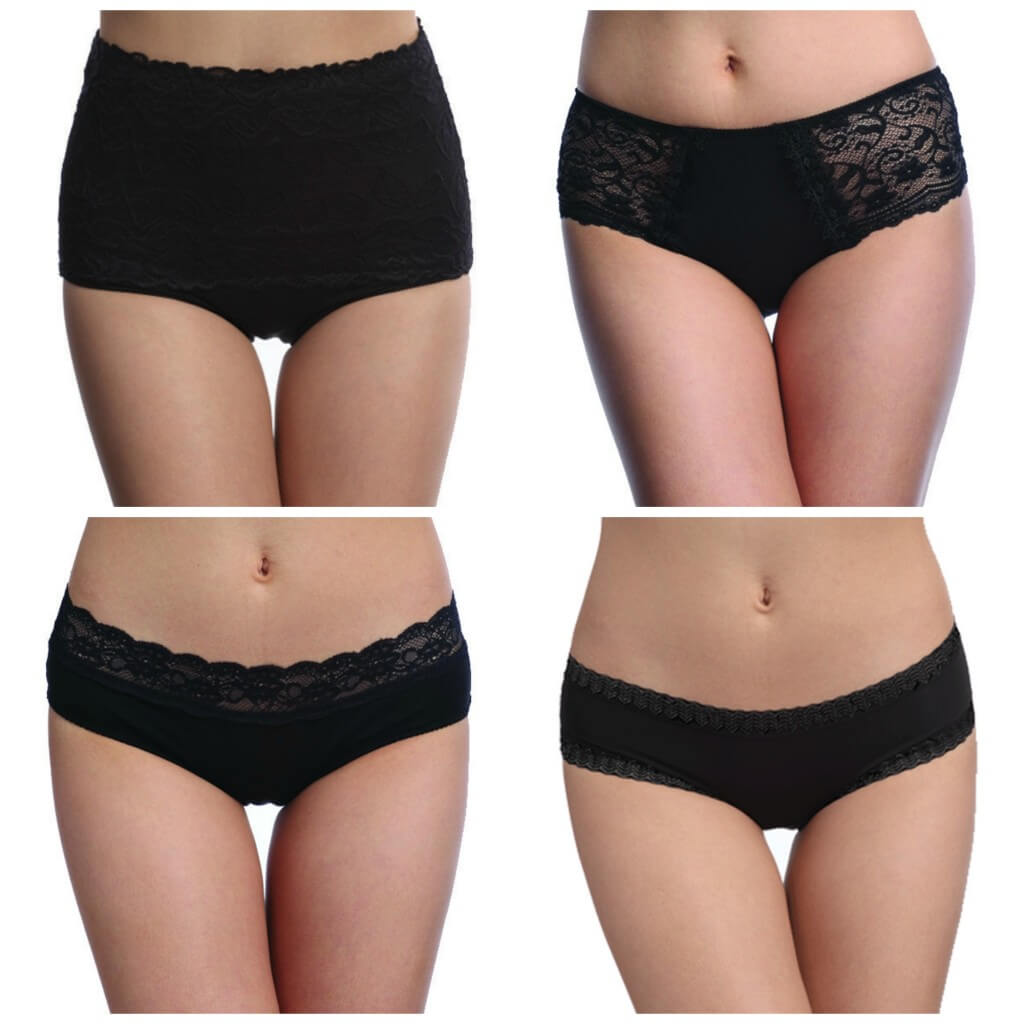 THINX is one of two brands on this list I learned about through Kickstarter. Inspired by a trip to India, THINX is made up of a super-thin high-performance material that resists stains and leaks, wicks moisture, and provides anti-bacterial support. THINX can completely replace panty liners on days when you want light support or act as a backup to your traditional pads on heavier days. THINX offers two lines: everyday (bottom two) and special occasion (top two), as well as a thong (not pictured). The company has also partnered with AFRIpads, an organization based in Uganda that creates washable, reusable cloth pads for women in developing countries so they can go back to school or work without worry and discomfort. For every pair of THINX underwear sold, AFRIpads manufactures seven washable, reusable cloth pads for those in need. There are no products available for purchase just yet, but you can pre-order through their website for Fall 2013 delivery. THINX also offers a 30-day return policy. Sizing is XS thru XXL (US 0 thru 22).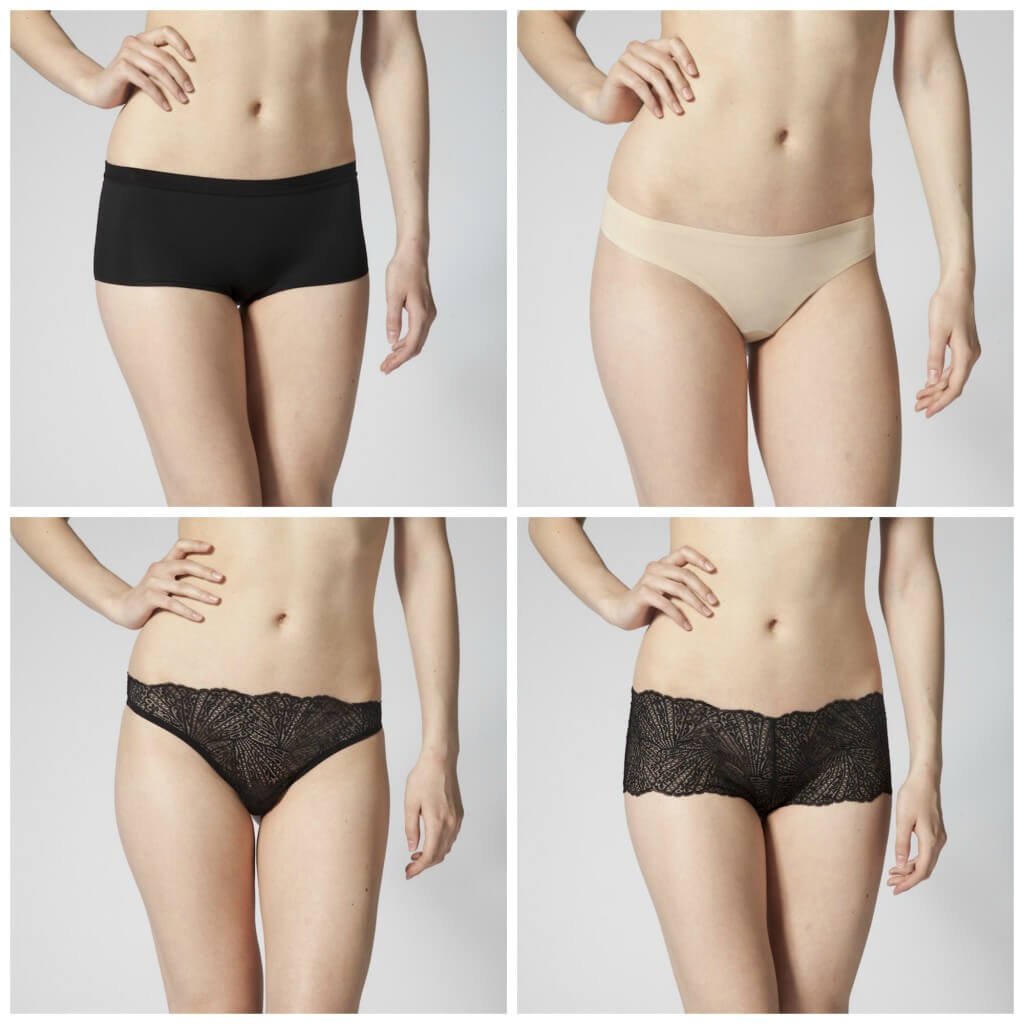 The second brand on this list I found about on Kickstarter, Knixwear's "Fresh Fix Technology" is all about "nixing" moisture and odor from your underwear. But because the top layer of their moisture-absorbing gusset is cotton, the panty still feels really nice against the skin. Knixwear's designer used to work for Victoria's Secret, GAP, and Nordstrom, and I really like the lace they've used on the boyshort and thong in the image above. Sizing is S thru XXL (US sizes 2 thru 20), and they offer a 30-day exchange policy.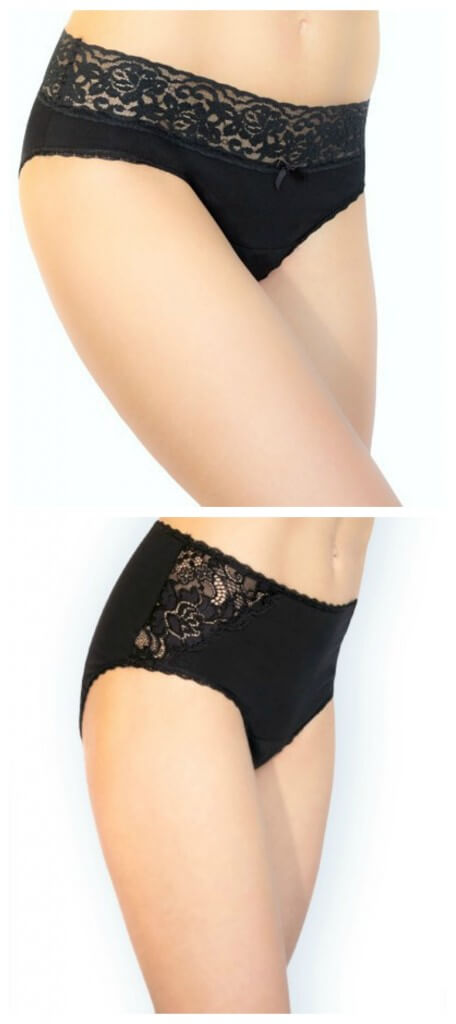 Founded in 2010, DRC Underwear is a leakproof lingerie line I only just heard about last week. Based in Montreal, they're also the only non-US designer on this list. While DRC Underwear only offers two styles right now, a mid-waist and a high-waist, they do claim that their lingerie is doctor-recommended. Each panty can hold up to four ounces of liquid, and you can save up to $500 in purchasing sanitary napkins, panty liners, and replacement underwear per year. All DRC Underwear products are made in Quebec, and they offer three levels of absorbency: light, moderate, and super. Sizing is S thru XXL (4 thru 18, Canadian).