Julie France vs. Victoria's Secret: The Shapewear Battle for Ultimate Tummy Sleekness!
Disclosure: This post contains affiliate links.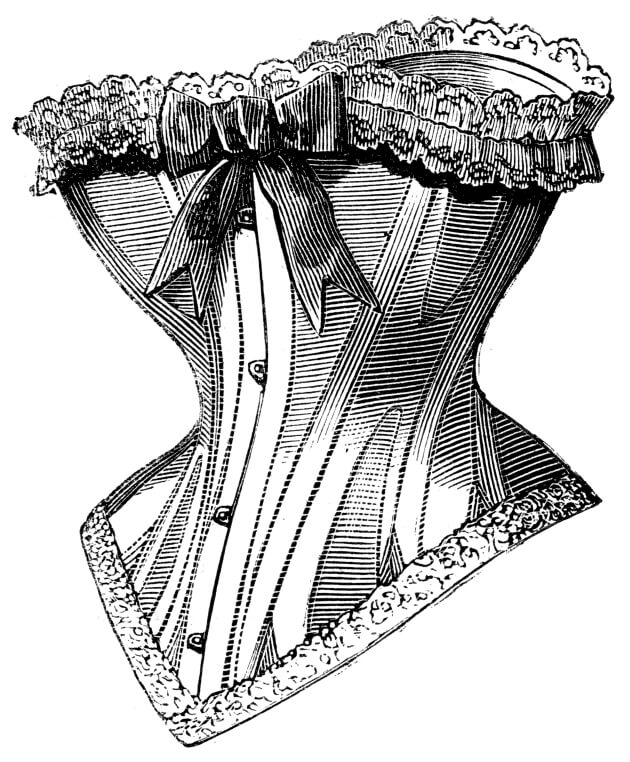 Disclaimer: The Julie France lingerie in this review was provided by Julie France. All opinions are my own.
Well here I am, wearing my writing shapewear in my Brooklyn apartment, ready to share my thoughts about tummy compression.
I am somewhat new to the wondrous world of shapewear, having always been too lazy to bother with what had seemed to me a fussy bunch of riding-up nylon and airway-reducing spandex. Not that I, like most women, wouldn't welcome an instant inch or two off the right places. It just seemed like the kind of item that would make me feel great as I walked out my door, and then slowly throughout the night, as I may or may not throw back a couple cocktails and downgrade into my comfort shoes, would become a massive drag.
This might have to do with my single foray into shapewear about ten years ago. This was before Spanx was a household name and before celebrities would ever admit to being aided by a second skin on the red carpet --- which now seems a populist point of pride to some of them. I was preparing for some semi-formal event and ended up in the TJ Maxx intimates department trying to sort out an indistinguishable mess of giant stiff panties.  Some had picot elastic and little jaquard flowers across the fabric, which must have been borne of an effort to feminize these beasts, but really just made them look even more beastly. I did buy one, but upon wearing it realized it cut me off at the waist and leg opening, creating even more possibilites for muffin top than there would be without it.
But shapewear has come a long way since then. It has become so ubiquitous that it seemed silly to let my own outdated impressions prevent me from benefitting from new technologies and improved designs.
I thought I would put two brands head-to-head in a quest for tummy sleekness. From Victoria's Secret, I bought The Embracer waist cincher thong. Julie France sent me for review their Leger High Waist Boxer Shaper. I'm only reviewing one item from each company, but both companies have a whole range of shapewear pieces.
This is far from a comprehensive across-the-board report, which would have been beyond the scope of this article and my own interest in buying 20 beige slimming thongs. The two products are of different cuts, though both focus on the waist. Also, it's hard to imply any universal effectiveness when it comes to shapewear. Every woman is built differently and is trying to get something slightly different from a garment depending on her own shape and preferences. Some may want only waist slimming, or maybe only front of waist, or also some outer thigh shaping but no waist compression. Shapewear companies have a lot of different combinations of needs to cater to.
I am focusing only on waist slimming.
Victoria's Secret The Embracer
This piece is designed to smooth the waist, and covers the whole area from below the bra line to the upper hip, with a thong back to keep it in place without adding panty lines.
Pros:
This is a convenient garment to find. Since I usually procrastinate buying things I need until the last day, I don't always have time to shop online and wait for delivery. You can find The Embracer at any Victoria's Secret Store.
Effectively smoothed the waist and tummy.
Thong fit comfortably and I loved that there were no visible panty lines on my rear under tight dresses.
The bottom edge of the control panel (at the upper hip) did not create a bulge where it ended. Huge plus, and rare to find! The bottom edge did not have any attached elastic which might dig into skin, and was made of a less compressing  fabric than the control panel.
Garment came all the way up to the bra line, so it didn't create an extra line at the natural waist.
Sticky dot strip on the inside of the upper garment helped it stay up at my ribs --- but not perfectly.
Cons:
Sticky dot strip helped the garment stay up but I still had to readjust it a couple times throughout the evening.
I guess I have a love/hate relationship with this same sticky dot strip. It left red welts on my skin. It wasn't uncomfortable during wear, and the welts weren't painful. But they weren't pretty either.
Has horizontal seams. This was fine for my purposes and didn't show through any garments --- and in fact may have helped in creating graduated compression --- but some people may prefer a seamless garment.
I had to go down a full size and a half. I wonder if the sizing is off on this product, and imagine that a woman smaller than a standard 4 who wants smoothing would not be able to wear this product.
Julie France Leger High Waist Boxer Shaper
The Leger collection from Julie France is an update to their regular collection. It is a higher level of compression and uses ultralight fibers.
Pros:
The compression was great and really did a job on belly pooch!
Comes with optional straps that you can use to attach to your bra. This ensures the garment doesn't slide down or twist during wear, which is fantastic.
The brand's marketing claims that developments in fiber technology make the Leger collection more breathable and better for warm weather (and, I add, dancing!). I didn't do a controlled enough experiment to be able to tell if this felt true, but I can say the fabric felt good and super soft against the skin.
Seamless construction means you won't have lines under sheer garments or indentations in your skin.
Provides nice hip and rear shaping and smoothing.
Cons:
In writing this review, I was not especially seeking thigh slimming garments, but this one includes that feature. It was very effective but I found it created a little bulge at the bottom of the leg opening at my lower thigh. This would probably only be visible under slim pants or a very tight dress.
This may be picky of me and completely subjective, but I didn't love the yellowish tone of the nude color. I recognize this is unimportant since I wouldn't wear any garment in this category for its pretty color.
The strap system that attaches this item to your own bra is really helpful and secure. The inevitable tradeoff is the giant tribulation of visiting the bathroom. Solution? Don't drink so much wine.
Aaaaand the winner is: Julie France! As an all around basic shaper, I am a big fan of the Leger High Waist Boxer Shaper. In fact, it has been such an inspiration while writing this article, maybe I'll start wearing it for luck all the time. I just wouldn't want to get too lucky... taking it on and off is not a seductive matter.
What are your experiences with shapewear? Any favorite brands or pieces?