10 Androgynous Lingerie Brands
Disclosure: This post contains affiliate links.
Today's article is all about lingerie sans bows, ruffles, and frills. I know not every woman wants ultra-feminine lingerie, and even the women who do want that will occasionally want something a little simpler... something that's not all about cleavage and lace and silk.
Our piece on androgynous lingerie was inspired by two previous posts on the subject from other blogs: "Lingerie Androgyny? When Lingerie Doesn't Mean Femininity " by Caro of The Lingerie Lesbian and "The Bra Issue: Queer Fashion Guide For Various Shapes, Sizes and Gender Expressions" by Autostraddle. Our article is heavy on independent companies, and several of them are made in the United States. For most of the brands listed, clicking on their name will take you directly to their store. For websites that don't host their own stores, alternate links have been provided.
As a quick aside, it's really interesting to me how the marketing of a brand changes as it becomes less traditionally 'feminine.' The poses and styling of the lingerie below is isn't really built around a coy, heavily made-up, ultra-glamorous version of femininity. Instead, it's closer closer to a comfy, casual, even tomboyish aesthetic. I wish we saw a little more of that.
What do you think of the 10 names on this list? Have you been looking for more gender-neutral lingerie? What names would you recommend? Let's get a conversation going in the comments.
Sloane & Tate - Sloane & Tate is a name I'd never heard of before I started researching this article. I enjoy their simple, more gender neutral pieces. The words that came to mind as I viewed their collection were "basic" and "liveable." Sloane & Tate is available from Free People, Barney's, and Vault. Knickers range from $25 to $42.
Knickerocker - I've been a fan of Knickerocker for years. I adore her creative knickers, and I absolutely love that she makes everything to order --- which allows for custom sizing. This is one of only three brands on the list I've personally tried. A variety of fabrics and cuts make Knickerocker more special than your average panties. Prices in the Etsy store range from $8.95 to $40.00.
TomGirl Apparel - TomGirl apparel blends the comfort of a sports bra with the 'oomph' of a push-up. I dig this relatively new brand's sporty vibe, and I also like that their bras use velcro closures instead of traditional hooks and eyes (I may be off base here, but it seems like a velcro closure would be easier for women with dexterity or mobility issues to use). TomGirl also offers a maternity/nursing version of their classic bra, which retails for between $42 and $52.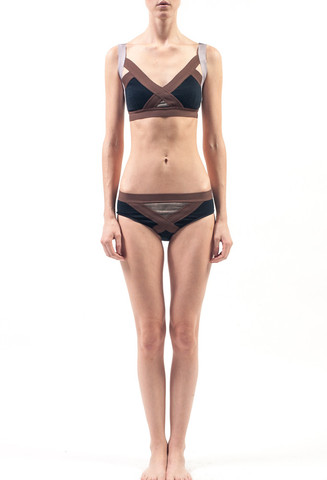 VPL - VPL is a name that's been around since 2003, but has only really begun to take off in the last few years. While I love their graphic, architectural aesthetic, this is definitely a luxury brand and one of the more expensive labels on this list. Bras retail for between $75 and $170. Knickers sell for between $75 and $90. Regardless, VPL is very much a brand I want to try in 2013.
The Lake & Stars - "Named after a Victorian euphemism for a woman's skill in the bedroom," The Lake & Stars is probably the most well-known name on today's list. They're known for their edgy ad campaigns and their avant garde interpretation of lingerie. I also own one of their teddies, and like many directional brands, they're cut a bit small, so if you're larger than a size 8/10US, this brand isn't a good fit. This is another high-end label with bras retailing between $130 and $150 and knickers for around 1/3 to 1/2 that. The Lake & Stars is sold at Lille Boutique.
Norwegian Wood - One of the things I enjoy about I Heart Norwegian Wood is that she's quite unlike anyone else in the lingerie industry right now. I like her bold, abstract prints and distinctive styling. I Heart Norwegian Wood's bras retail for $95 and the knickers for between $45 and $65.
Ten Undies - Like a couple of the other names on this list, I like Ten Undies because they specialize in simple, comfy basics. This is great lingerie if you want something unfussy, but still colorful. All garments are handsewn and custom dyed in the US from imported fabric. Knickers retail for between $40 and $45 and bras for $60.
Unforeseen Circumstances - Unforeseem Circumstances is a small label that's known for more unconventional designs. Inspired by a Paris bedroom, this line is also made in NYC. As of this writing, I'm not sure where Unforeseen Circumstance is stocked or what their price range is.
Hopeless Lingerie - Hopeless Lingerie is a small, indie label I've been a fan of for years. Based in Australia, Hopeless makes everything by hand up to a size XXL. The third name on this list I've purchased from, Hopeless makes some of the comfiest knickers in the world. I really like how her new collection is sexy without relying on any of the traditional trappings of 'sexy.' Bras start in the $40 range and knickers in the $30 range.
Foxers - The last name on the list, Foxers makes comfy boxer-style boyshorts. Though her collection has taken a distinctly lacier turn this season, there are still some less-adorned pieces like these denim print boxers. Foxers' boxers retail in the $30 range.
Just a few other notes to close things out... as I'm sure you noticed, most of the brands shown above make bralettes. If you need a more substantial bra for support, Anita, Warner's, and Wacoal make some simple simple styles that could also qualify as androgynous.
Fuller busted and plus sized women who want more gender neutral bras can try Elomi, Freya, and Goddess, particularly their sports bras. And in terms of boutiques that carry some of the designer names shown above in more androgynous lingerie, I've found Lille Boutique is a good place to start.
I definitely view this article as just as a starting point to the conversation, so if you have more brands or advice or suggestions, please do give them in the comments. And if you're brand new to the concept of androgynous lingerie, I hope this post helps!