Indie Designer Spotlight: Deja Vu Dessous by Dollhouse Bettie
Disclosure: This post contains affiliate links.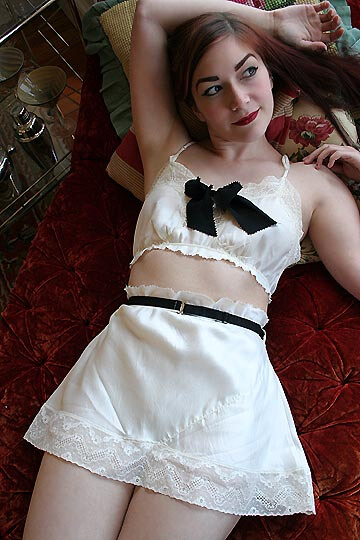 I first found out about the Deja Vu Dessous line when modeling for Dollhouse Bettie a few months ago. I modeled three complete looks, and found myself loving each one. Most of the pieces start from a vintage slip, from which designer Valerie Santillo makes everything from full teddies to bralettes and garter belts, half-slips, and panties. Occasionally a slip will even get transformed into a very different slip as damage is cut away and it's mixed with other fabrics and trims.
The execution of each design is elegant in its simplicity, nimbly transforming damaged vintage classics into a new look while preserving the integral charm of the original garment. In this feature, I sit down with Valerie Santillo, who designs the Deja Vu Dessous line at Dollhouse Bettie. You can view and purchase the Deja Vu styles online or at Dollhouse Bettie's Haight St. boutique in San Francisco.
Tell us a bit about the background of Deja Vu Dessous. When did Dollhouse Bettie launch this line, and what was the original inspiration?
Deja Vu Dessous has been a long time in the making. Michelle Metens, owner of Dollhouse Bettie, had the idea on the back burner for years before we launched it in 2011. We take authentic vintage garments that need repairs or have small defects, but are otherwise beautiful, and we revamp them. The vintage pieces themselves were the inspiration --- Michelle has collected some amazing garments over the years, aside from as-new and new-old-stock pieces we also sell.
Though Deja Vu Dessous is not a collection in the traditional sense; there are some consistent aesthetic and construction choices which characterize the line. The overall look came to be when Michelle and I found some time in the studio --- we just bounced ideas off one another until we arrived at the look that it is today. We did a small collection together, and since then I have been designing Deja Vu for Dollhouse Bettie. I think an important element of the line is the raw, "pinked" edges, which have become a main component of the look and feel. It was also a great way to make use of what was available while adding a modern unique look to the line.
Has the current vision for the line changed at all since its creation?
I think the vision has remained the same, but we are constantly expanding and evolving the line and getting re-inspired. We had started with using primarily vintage woven rayon slips and have grown to transform anything from tricot slips, bralettes, nightgowns... the list goes on. It's all just trial and error, and as I create more pieces I get new ideas about finishing techniques.
 What's your favorite part of designing Deja Vu Dessous?
I love trying to maintain what I think is really beautiful about any given piece while also modernizing and updating it in some way. It can be a bit challenging at times, working from an already existing garment, but I think that challenge of trying to create something using only what I have available in front of me also encourages a lot of creativity.
What's your background in fashion and design?
I have a BFA in fashion design from the Academy of Art University here in San Francisco. My initial focus was not designing lingerie; I was primarily interested in designing women's clothing. The longer I spend time around all this gorgeous lingerie, the more I see it influencing my designs!
What do you find most challenging?
As I mentioned earlier, it can be challenging to work within the limitations of an existing garment, but that is the fun of it as well. I've also noticed that if I have too many pre-conceived ideas of what I want to create it can be counterproductive. Sometimes I just have to let the original garment dictate the design.
How much new construction and findings go into Deja Vu pieces? Do you combine multiple pieces?
I love being able to use as many vintage elements in the finished product as possible, but I also use new trims and components. I think it's the mixture of new and vintage that keeps Deja Vu exciting. I pretty much always combine multiple vintage pieces: the garters or straps will be salvaged from one garment, the accent color or trim may come from another. Michelle has been collecting vintage for so many years it feels like I have access to endless amounts of things to work with! It's a lot of fun.
How do you come up with those style names?
For the most part I have named them with popular women's names from the 1920s, 30s, and 40s, depending on the personality of the item. However, I will change it up from time; each style in the last group, for example, was named after a Dollhouse Bettie employee.
Do the authentic vintage pieces and resulting Deja Vu styles inform and inspire ready to wear ideas for you and Dollhouse Bettie?
Yes, quite a bit actually. We have patterned some Deja Vu styles already, and I think it pretty much goes without saying many vintage pieces inspire and inform the styles that are put into production at Dollhouse Bettie. Working with the pieces to revamp them for Deja Vu gives us additional insight into their construction and design. Personally, I am endlessly inspired by vintage garments and detailing, and creating Deja Vu pieces has helped me a lot with coming up new ideas and designs.
 What about current designers, are there any in particular whom you admire?
I am constantly inspired by very small lingerie designers I might discover on Etsy, through a blog, or from a friend. Most recently, Stephanie Bodnar of Honey Cooler Handmade comes to mind. I kind of just stumbled upon her Etsy shop and I found her design aesthetic to be particularly charming. I really love her point of view, not to mention her insertion lace technique is absolutely stunning! The fact that she does everything by hand is also a very inspiring aspect of her line, I love the uniqueness and individuality of all her pieces.
What do you think makes Deja Vu Dessous special?
I think the individuality of Deja pieces and the handmade, one-of-a-kind elements makes the line special. I always aim to maintain that line between vintage touches and modernity and I think that is an important element for the Dollhouse Bettie brand as a whole.
How do you think shoppers style their Deja pieces? Mostly in their boudoir for seductive purposes? Casual loungewear? Innerwear as outerwear?

I would like to think all of the above! And from what I hear, that's true. I try to incorporate versatility into many of the designs. Creating a garter skirt with detachable garters, for instance, allows a seductive lingerie garment to also serve as loungewear, a mini slip, or possibly even a regular skirt.
What have some of your favorite designs been and why?
Generally speaking, often my favorite designs are ones that seem to pave the way for new ideas. The most recent thing I have discovered will often be my favorite of the moment, possibly because I feel like I have figured out a new way to expand the range of styles we offer with Deja Vu. I also might be partial to a design simply because the original vintage garment was just exceptionally beautiful!
Do you have any Deja Vu Dessous pieces in your personal collection?
I actually have the very first piece we did for Deja Vu. It was a teddy that Michelle and I had worked on together, when we were still working out the look of the brand.  I'm also always trying to think of ways I can "Deja" what I already own.
What do you think is in the future for Deja Vu Dessous?
I am really excited to feature a special silk collection for Deja Vu. We have not yet expanded the range to include silk garments, and there is quite a bit of stock just waiting for the right moment!
What do you think of Deja Vu Dessous by Dollhouse Bettie? How would you style the designs? Do you have another favorite upcycling/vintage-repurposing designer? Please share your thoughts in the comments!