Why Full Busted Women Are Buying Their Bras In Poland (and Why You Should Too)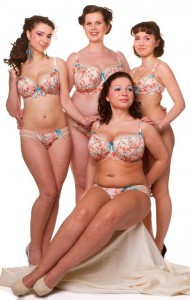 Most full busted women can easily figure out the pounds to US dollars currency conversion, but it may surprise you that many of them can also estimate prices in Polish Zlotys without a calculator. It turns out there is a magical land where bra manufacturers are making bras in all shapes, sizes, and colors of the rainbow. Oh, and they come in 28 backs and in cup sizes A through N. Welcome to Poland, the new frontier of bra development.
Two companies have emerged as leaders, and are consequently relatively easy to buy from if you're not lucky enough to live in Poland. Ewa Michalak specializes in plunge bras, nursing bras, and half cup bras in all colors of the rainbow. She also produces several swimwear sets per season. The other company is Kris Line, which is just now making inroads in the US market. Kris Line also has a large product range which produces bikinis, one-piece swimsuits, and elegant loungewear in all cup sizes. They both produce a wide size range of high quality bras, but have very different styles.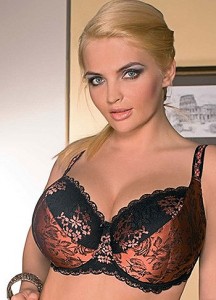 I'm personally a huge fan of both companies, although if you're trying them there are definitely some tips you should follow. In Ewa Michalak bras you should usually go up a band size from your true size, and plunge bras can run small. I usually go up one cup size. Different Ewa fans have radically different preferences, but I can't stop buying her PL bras. These are deep plunges that work even in large cup sizes (they can be made up to an L), and have a gravity-defying effect. Ewa has recently put out a new line of nursing bras that also go to an L, which is greatly needed in the large cup market.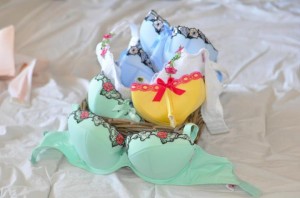 All Ewa Michalak bras and swimwear can be purchased directly from her website, which makes it very easy to pick up her newest offerings. If you don't see your size, you can email and they will make it for you. Bras cost around $45, and matching panties hover around $12. International buyers will have a fee added on top of shipping for extra Paypal processing fees as well.
In many cases your lingerie will be made specially for you, so long wait times can be the norm. I usually expect to wait two weeks plus international shipping time to get my latest order.
Kris Line bras run true in band size, but generally at least one cup size small. Order up a cup size from your regular size to be safe. While Ewa Michalak specializes in plunging necklines and rainbow colors, Kris Line bras are a little more classic and elegant. Colors tend to be in the jewel tone range, and their black and white basics range has me hooked. In general, they tend to be a higher cut with lots of lace, while still retaining their sex appeal. I'm dying to get my hands on one of their bikinis as well for the summer, which look supportive but seriously sexy.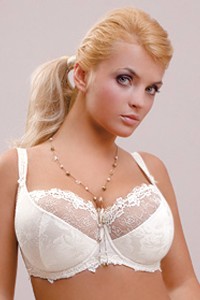 At least in the larger cup sizes, Kris Line bras have five sets of hooks. I love this, as it allows you to adjust the band to your comfort level on a daily basis. Kris Line isn't widely available outside Poland yet, although Brastop carries them up to an H cup. If you're in the high end of large cup sizes, you can buy them within the US from Santa LaBellman of Labella Intimates in Florida. Kris Line bras cost around $80 for bras, and $25 for matching panties.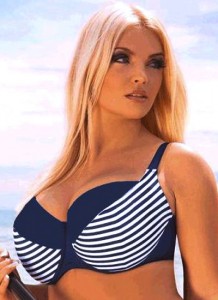 So which should you try if you're new to Polish bras? Ewa Michalak emphasizes colors and prints, while Kris Line is higher cut (although not nearly as high cut most UK brands) and feels more classic. Ewa Michalak goes up to an L cup, while Kris Line makes an N cup and is planning to go up to O very soon. Either way, you can't really go wrong.
The real question is this: if these two companies can produce this kind of range, why can't others do the same?