CurveNY & The Designer Lingerie Showcase: 10 Standout Brands from New York's Lingerie Market
This year's New York lingerie market will go down in infamy, at least for me. Not only did I come down with an epic case of the flu, all of my photos (which The Fiance, being the super awesome guy he is, came to the show with me to take) have disappeared from my camera. That makes coverage a little harder than usual, but not impossible, thanks to wonders of Instagram and lookbooks.
Hopefully some of the pictures can be retrieved from the memory card (which is at a recovery specialist as I type this), but just in case they're not, I'm going to move ahead with the trend report anyway. And if turns out I do have some pictures later? Well, I'll just have to update this post with all the new pretties. But enough of all that...here are the brands I think you should pay extra attention to (and ask your local lingerie boutique to carry!) for F/W 2012.
P.S. Want to know the brands our columnist Holly loved most in New York? Check out her blog post here - The Best Lingerie for Curvy Women from Curve New York and the Designer Lingerie Showcase.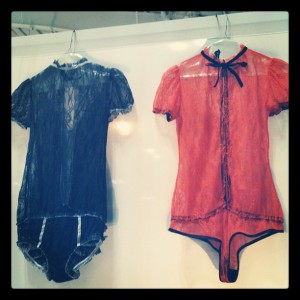 Kriss Soonik
This year's CurveNY was the first time I ever met Kriss Soonik (or saw her lingerie in person), and it was love at first sight. It's one thing to see pictures of all the pretty lace, but an entirely different thing to feel them. After a couple of seasons of being jaded about luxury lingerie (sooo much of it is disappointing in person), one of the recurring themes for this season is that there is still luxury lingerie out there worth the money. Kriss Soonik's lace rompers are a perfect example of that. (http://www.kriss-soonik.com/)
Ari Dein
Ari Dein is another designer whose work I hadn't yet had the pleasure of seeing up close before this year's Curve, and once again, I was blown away. I've been researching a lot about antique lingerie lately, and Ari Dein's pieces come closest to emulating the fabrics, construction, and sheer attention to quality and detail that lingerie used to have. I wouldn't be surprised if, 100 years from now, Ari's pieces wind up in a museum somewhere... they're just that beautiful. (http://aridein.com/shop/)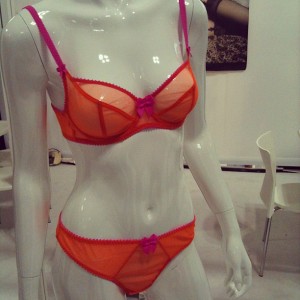 Love Claudette
Love Claudette continues to amaze me with their deceptively simple yet undeniably sexy approach to lingerie. Proof that there's always room for another point of view in the lingerie industry, I am smitten with all their bras, but especially enamored of the neon mesh colorways like the one pictured above. Even better, select styles start at an A cup and go up to G cup, so women who've been traditionally excluded can get in on the sexy too. (http://www.loveclaudette.com/)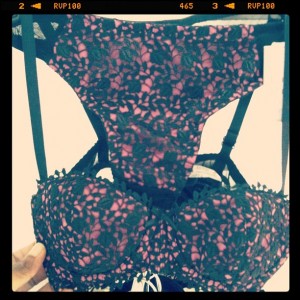 Lula Lu Petites
Speaking of A cups, they don't usually get a lot of attention when we're talking about lingerie. There's a ton of focus on full busts sizes (E and above) and, of course, even more attention on B-D sizes, but very, very little talk about A, AA, and AAA cups. Which is why I'm really glad Lula Lu Petites is offering pretty, sexy, flirty options for smaller busted women, like the lace overly "Amara" set pictured above. (http://www.lulalu.com/)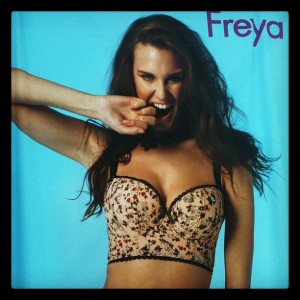 Freya
Back to the other end of the size continuum, this bra from Freya honestly makes me wish I had bigger boobs. Available in up to a size 38G, this bra (and all the others from Freya's F/W range) is where I'll be linking my full busted readers when they write to say no one makes cute bras in large cups. Because every woman should have beautiful lingerie, no matter her bra size. (http://www.freyalingerie.com/)


Naked Princess
One of my favorite new lines from CurveNY, Naked Princess is hard at work redefining what luxury lingerie can mean. Naked Princess represents a new world of comfortable, size-inclusive glamour. With a size range extending from XS to XL, Naked Princess understands that women of every size want gorgeous lingerie, and what I remember most about the collection (in addition to being awed by their laces) is how super soft and comfy everything was. Because really, if you're going to splurge, you should want to wear those pieces all the time. (http://www.nakedprincess.com/)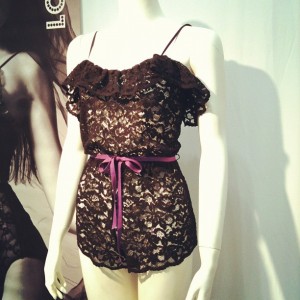 Lola Haze
One of the designers that excited me most at my very first Curve lingerie show back in 2010 was Lola Haze, and two years later I am even more in love with her work. Nobody's doing lingerie like Lola Haze, and I find her approach modern, refreshing, and thoroughly feminine all at the same time. If I could, I'd buy every single piece from her upcoming lace collection, including the flirty-yet-tomboyish romper above. (http://www.lolahaze.com/)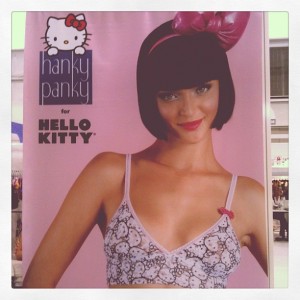 Hanky Panky
When it comes to fashion, it's really easy to spend a lot of time talking trends, and very little time talking basics... basics like Hanky Panky. Hanky Panky is my #1 preferred knickers brands. There is no one that makes a more comfortable, flattering, easy-to-care for, or inexpensive lace panty than they do. Yes, you'll find cheaper lace panties, but none that are as well made or last as long (or come in as many sizes!) as Hanky Panky does. I wasn't a convert until 2010, and now I rarely wear anything else. (http://hankypanky.com/)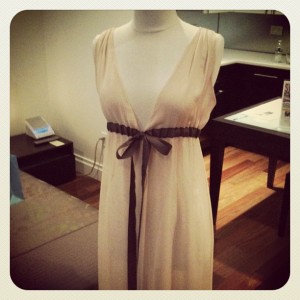 Ombrato
I think Ombrato may be one of the best-kept secrets in the lingerie industry, and like all my other favorite, undiscovered brands, I'm completely mystified as to why more boutiques don't carry them. Their silk slips are delicate, unique, and thoroughly modern. Their lingerie sets are so soft and comfy they're almost loungewear. And the entire brand aesthetic is understated, simple, and yet quintessentially elegant. In other words, perfect. (http://www.ombrato.com/)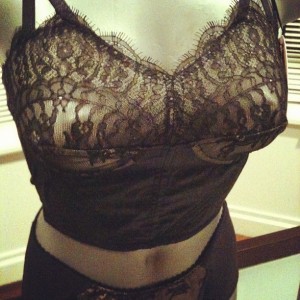 Dottie's Delights
Last but not least, let's talk about Dottie's Delights latest collection, a symphony of chantilly lace, sheer chiffon, and authentic vintage styling. I love Dottie's Delights attention to detail, and how she shows that garter belts, girdles, bullet bras, and high waist panties can be anything but boring. And though I don't have permission to show you the piece just yet, let's see one of the sets from her upcoming collection is on my Bridal Trousseau list. (http://dottiesdelights.com/)