Designer Interviews: Ayten Gasson of Ayten Gasson Lingerie
If you've been a reader since March, the lingerie at the top of the page probably looks a little familiar to you. This gorgeous, vintage-inspired, rose silk teddy was last seen in the article 10 Lingerie Sets You Need This Season, and the fact that I haven't been able to forget it is exactly why I invited Ayten Gasson to the The Lingerie Addict for a Designer Interview.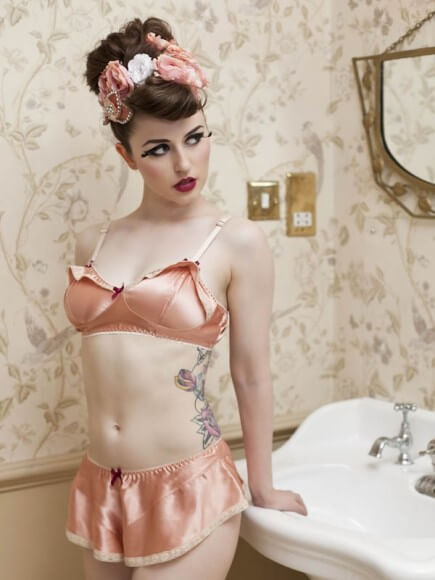 In our interview, Ayten talks about why she became a lingerie designer, the motivation behind starting her new eco-friendly range, some of the challenges of being in an independent designer in a competitive, global industry.
1) What did you do before you became a lingerie designer, and what made you want to design lingerie?
I studied fashion at Central Saint Martin's in London, and had hoped I'd secure a job in the industry once graduating. Once the realisation hit me that most of the trade, especially textiles, had moved abroad I decided to try and start up my own brand. I had grown up around designers and makers, my mother and aunt both being successful in their field.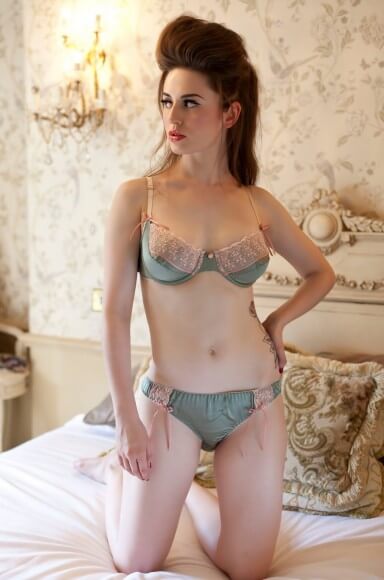 I knew the importance of the UK fashion industry from an early age and was disheartened to find so many of the factories I'd known as a child had closed down as people sourced cheaper alternatives and cheaper labour. I was also passionate about lingerie, and worked in a well-known lingerie chain for six years while studying, so knew my thongs from my girdles! I decided a lingerie label would link together my two passions and would be the perfect platform to showcase all the beautiful trims that are, and were, made in the UK.
2) You recently began a new ethical range (pictured above). What prompted your expansion into that area? 
I have always tried to be an ethical brand, and had a firm commitment to sourcing and manufacturing in the UK, and supporting our workers. I also trim all my garments with vintage Nottingham lace from the old lace mill. I loved the idea of being able to recycle these trims and make them desirable again. I also wanted to introduce a new generation to what the UK was once famous for around the world. I knew I was trying to be as ethical as possible, and saw introducing the organic silks and peace silks as the natural next step.
I have also just had my first child, and become more aware of the environment I am raising him in. I'm really proud of the new collection and hope I can expand it over the next few seasons.
3) The UK has one of the fastest growing lingerie industries. What distinguishes the UK market from the US and French markets? 
I have a lot of respect for designers in the US and Europe, and have noticed more and more are manufacturing in their own country. I can only presume that the industry is growing over here because of the amazing industrial history we have here. Many little towns, such as Amersham in Buckinghamshire, have a history in lace design and production. That's something someone with an interest in lingerie design would find inspiring. We also have some amazing universities and colleges which have popular contour courses.
4) What are some of the challenges of being an independent designer... and what are some of the rewards? 
One of the greatest challenges is trying to make the brand stand out from all the other new and old brands in the UK. Everyone has a specific USP but its hard work trying to get yours noticed. We are a small brand, so it's hard to compete with a larger brand who has someone specifically working on PR.
The best reward is when you get some positive feedback from a customer. I try and answer all our customer comments and requests myself and it is lovely to hear why they have bought a specific piece. We have also had a fantastic response on our new eco range, which highlighted the gap in the market and lets me know I am listening to the people who buy and wear my lingerie.
5) Your collections have a definite vintage flair. What's your inspiration? 
Each season I choose a very traditional theme and spend weeks designing and sampling with my assistant Sarah. One season it might be traditional English flowers (with many hours spent in Kew Gardens!), while our SS12 was inspired by vintage penny sweets (with many hours spent eating penny sweets!)
6) What kind of woman is an Ayten Gasson woman? 
Without sounding corny, I hope every woman finds something special within each range. I have pieces in the collection that I would wear out, my friends who have a very 'burlesque' style find items which work amazingly for them, then my mother loves the nighties! I think anyone can find something they can make their own!
7) What's your most favorite piece you've designed so far? 
The Peace Silk Camisole Set. It ticks every box and makes me feel good about what I am doing for a living! Promoting ethical fashion, making wearable pieces, showcasing amazing vintage laces and manufacturing in the UK. I also love the Annabel Kimono which Sarah co-designed. It is the most wearable yet special item of silk I could ever have in my wardrobe!
8) And, most importantly, where can we buy your stuff? 
www.aytengasson.com, high end independent lingerie boutiques (such as Lulu & Lush and Bordello), and from August 2011 you can buy our AW11 collection from luxury department store Le Bon Marche, Paris.
Thank you so much for your time, Ayten! Your lingerie is gorgeous.