How to Wear Lingerie as Outerwear: Style Inspiration for Every Season
Disclosure: This article is sponsored by Jane's Vanity
Not that I'll surprise any of my regular readers, but I firmly believe lingerie as outerwear is more than a trend - it's a state of mind. After all, lingerie is just clothing. Clothing that's usually worn at home or that might be worn under other types of apparel...but clothing all the same.
Just as you can take outerwear and make it your own, you can do the same for intimate apparel. In fact, I think lingerie as outerwear is one of the ultimate ways to express your love of lingerie and your personal style.
While I loathe rules, I do like to give advice. So here are some of my fave tips on intimates-as-outerwear, from the perspective of someone who's been writing about lingerie for more than a decade:
You don't have to feel beholden to anyone else's rules. Lingerie as outerwear doesn't have to be wearing a corset or a bra for all to see. It can also look like wearing a camisole as a top, a robe as a jacket, a slip as a dress, or a pair of pajama pants as slacks. The same fine fabrics, trims, and prints that add detail and luxury to intimates also work very well as outerwear. Of course, that's not to say you shouldn't wear your leather bustier or strappy, bondage-inspired bras out and about! The point is doing what works for you. Personally, I'm a tremendous fan of the silk-robe-as-jacket look, and once I begin to leave the house more, I fully plan on wearing my silk long pajama sets as suits.
Thinking of ways pieces can be worn both at home and outside of it can help make those special items "worth the price." One thing I hear all the time from my readers and followers is that they shouldn't splurge on the lingerie they love because where would they wear it? Well, good news! If you buy items that can double as outfits, you can wear them everywhere. For example, I'll wear caftans at home while lounging (and working), but I've also worn them as dresses and cover-ups, such as to a friend's house on a summer evening or to the beach over a swimsuit.
Other people don't have to know you're wearing lingerie...unless you want them to. Seriously. There's no need to feel ashamed or weird. A lot of outerwear looks a bit lingerie-inspired these days anyway, so who's to know your silk slip isn't "actually" a dress. If it looks like a slip dress, then it is a slip dress, right? If anything, people will be impressed at your ingenuity and creativity. And you didn't hear it from me...but silk slips from lingerie brands tend to be both less expensive and better quality than silk slip dresses from "regular" fashion brands.
Prints, colors - especially unexpected color combos - and details are essential to blurring the lines between underwear and outerwear. A half slip in basic beige will probably look exactly like what it is. Underwear. But a half slip in mint green or royal purple? Less so. A plain black waffle weave spa robe? Hard to pass off as a jacket. A satin robe with a stunning print, delicate lace, or lush embroidery? Suddenly it's outerwear! Visually interesting details are the name of the game.
Finally, opportunities to wear your lingerie as outerwear present themselves all the time. Birthday parties, cocktail hours, date nights, evenings with friends....there are so many places this trend can work for you. If you're willing to give it a try.
Ready to get started? Let's talk lingerie as outerwear for all seasons, with a little help from my fave luxury lingerie boutique - Jane's Vanity. Unfortunately, many of the pieces shown below are no longer available, but I'm sure you can find something else you love courtesy of Jane and Emily. And if you do see something you like, send them a note with the photo and brand name; they may just have the perfect alternative!
Spring
Apologies to Miranda Priestly, but florals for spring are a thing because they work. They're bright! They're cheerful! It's the textile equivalent of a smile. After the long slog of winter, I want things that are happy and upbeat and joyful. Spring florals are exactly that - full of color, warmth, and softness.
Spring is also the season to transition some of your pieces from underwear to outerwear. For example, I'll wear my silk camisoles as underthings during the winter months, but in spring, they become outerwear. And because those March and April evenings might still be a little cool, this is also a good time to carry a light silk robe...I mean jacket. *wink*
Summer
In the sweltering summer heat, lightness is the name of the game. For me, I love a backless gown or bared shoulders. This is also a good time to let a sheer bra, silk triangle bralette, or fancy bra strap peek out from another outfit. In addition to the usual satin, mesh, tulle, and lightweight cotton or linen weaves are all perfect for the sunniest season. This is also a time for whimsy. Wear that wild, odd, strange print (i.e. the lingerie equivalent of "Dance like no one's watching.").
Autumn
After the heat of summer, I'm ready to be kissed by the cool winds of fall. Autumn is the time to transition to darker prints and heavier weight textiles. If spring is bright, then autumn is rich. This is when jewel tones begin to enter the picture. Your three words here are going to be heft, drama, and texture.
Winter
Can you say velvet? Winter is the darkest season, but it's also a time for holidays, festivals, and family (at least in the Northern Hemisphere!). That means it's also time to bring out the metallics, spangles, and sparkles. And corsets! There's no such thing as too much during the winter. Pile on the details, embroideries, and embellishments. Go full drama with floor length, and bring on the bodysuits. 'Tis the season, after all.
Last Thoughts on Lingerie as Outerwear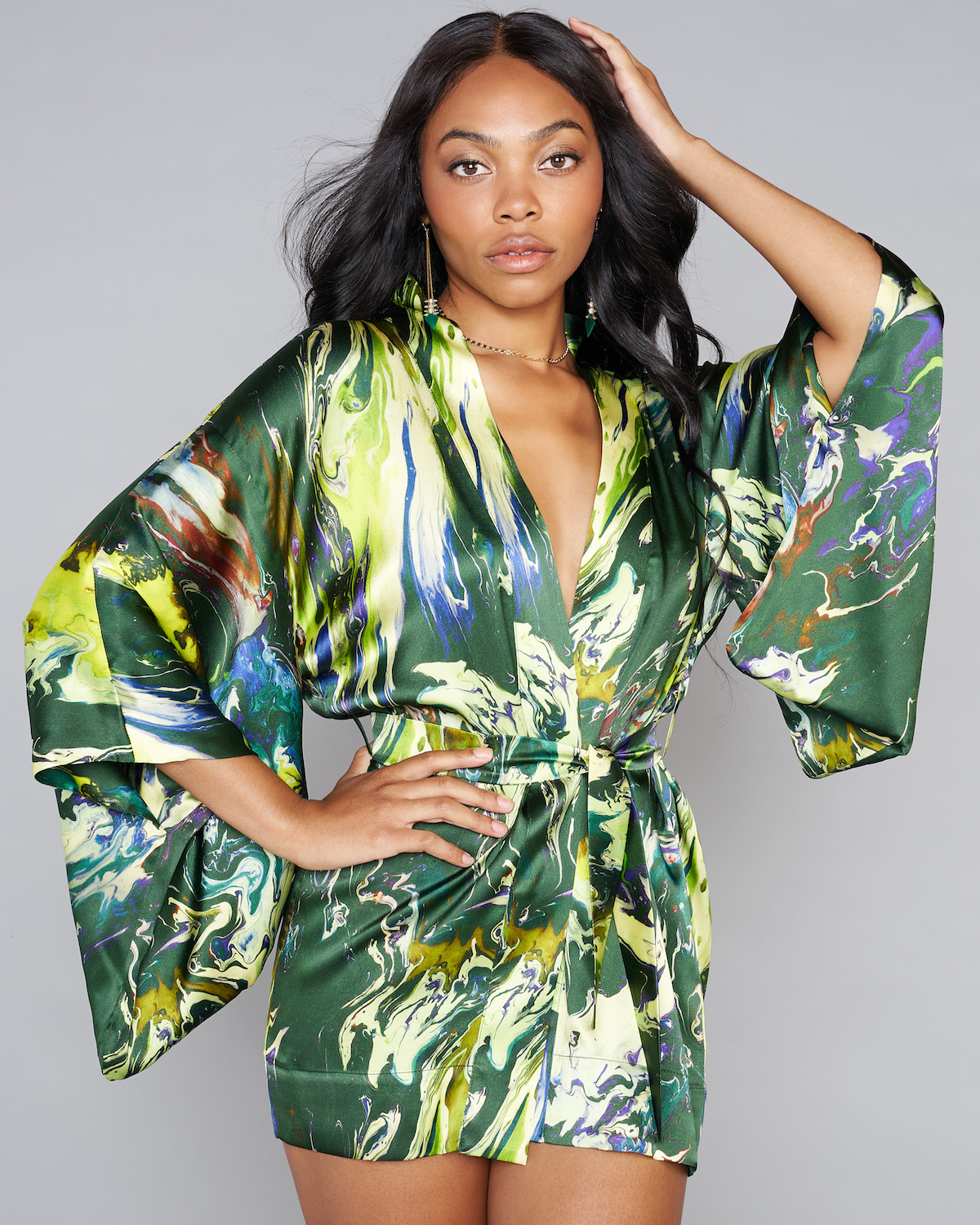 I hope this dive into the lingerie-as-outerwear trend helps you to think of ways you might adopt it. Pull from what you like, and discard what you don't. Mix, match, play, discover your style, and give yourself permission to experiment.
Push against your comfort zone, even if it's only a little. It may turn out you don't like to wear lingerie outside, and that's okay. But you may find you love it, and that's a wonderful, wonderful thing.