Lingerie-Inspired "One Bottle" Cocktails with Maggie Hoffman
Today's guest post is by Maggie Hoffman, author of The One-Bottle Cocktail: More Than 80 Recipes with Fresh Ingredients and a Single Spirit. If you know me, then you know how I feel about a cocktail, so I asked Maggie to share her fave recipes to match her favorite lingerie sets with TLA readers. I hope you enjoy and feel inspired to make your own lingerie cocktail pairings!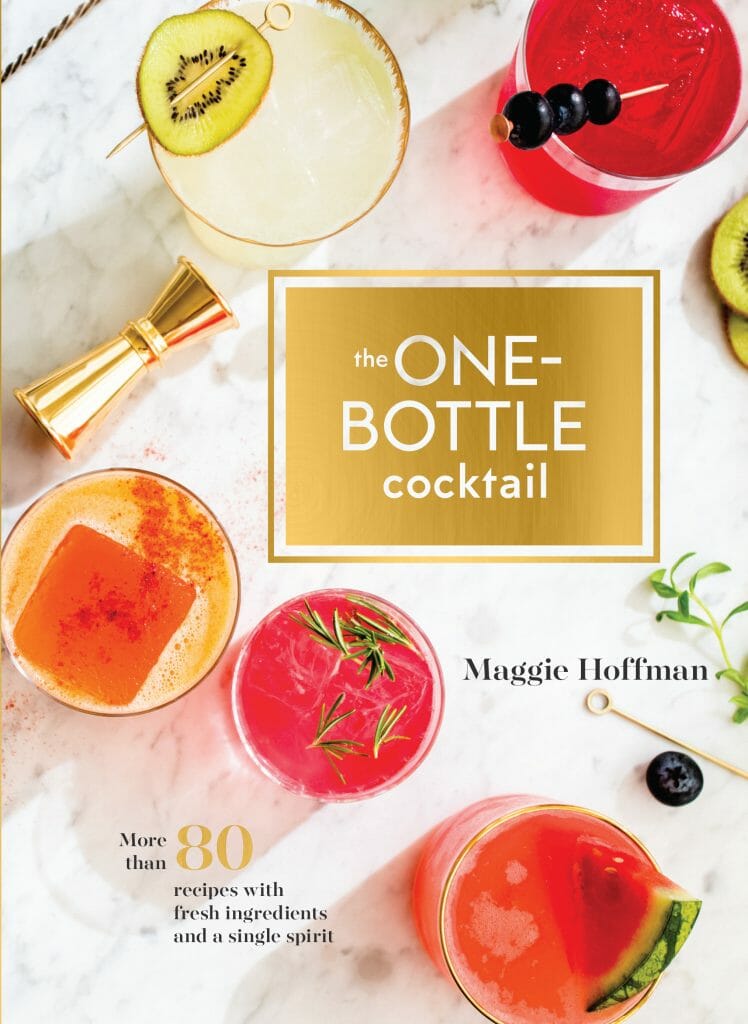 You may have never thought about pairing cocktails and lingerie, but the more I consider it, the more it makes sense. Slipping into something special and pouring something special into your glass both put a little shine on the evening. They both turn your attention away from the day's demands, from whoever you need to be during working hours.
This indulgence works even better if making that cocktail is a stress-free process. At home, you can make a drink as good as any you could get at a fancy bar. I promise. But many recipes in books and online call for esoteric liqueurs or expensive bitters. Which is why I wrote The One-Bottle Cocktail: More than 80 Recipes with Fresh Ingredients and a Single Spirit.
These drinks don't require a fresh bottle of vermouth or a collection of amari from Italy. Just a single spirit, which you might already have at home, plus ingredients you can pick up at the grocery store when you're stocking up your kitchen.
Want a taste? Below, I've shared three favorite recipes, along with recommended lingerie pairings. Cheers to a relaxing evening!
Passport to Chile and Salua Betty Baby Doll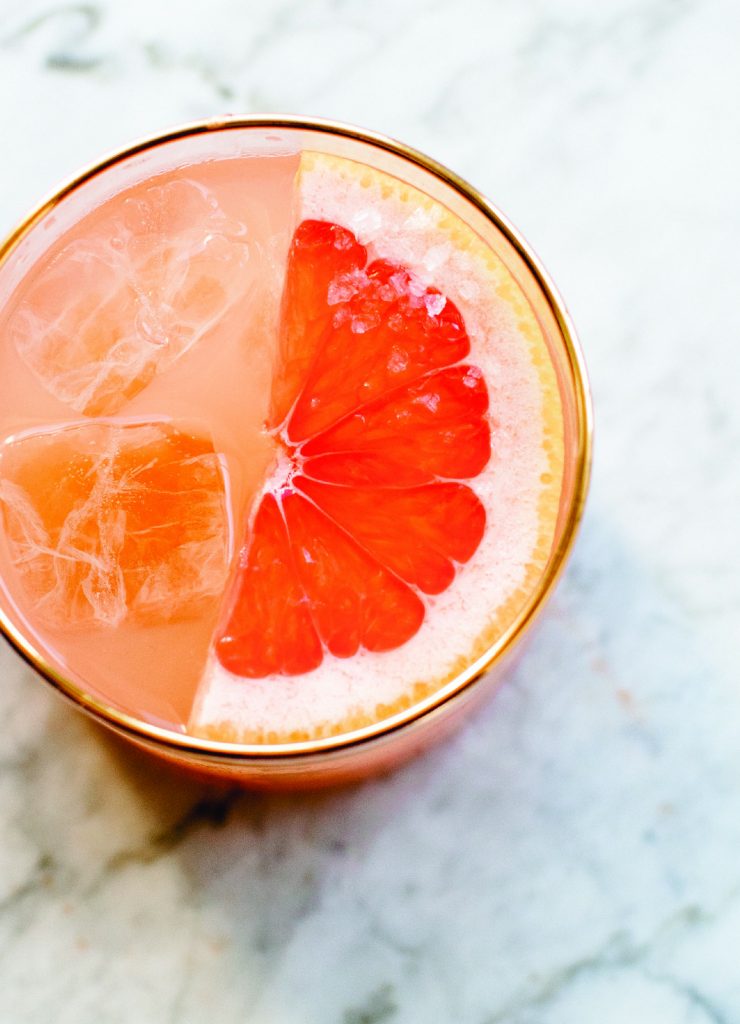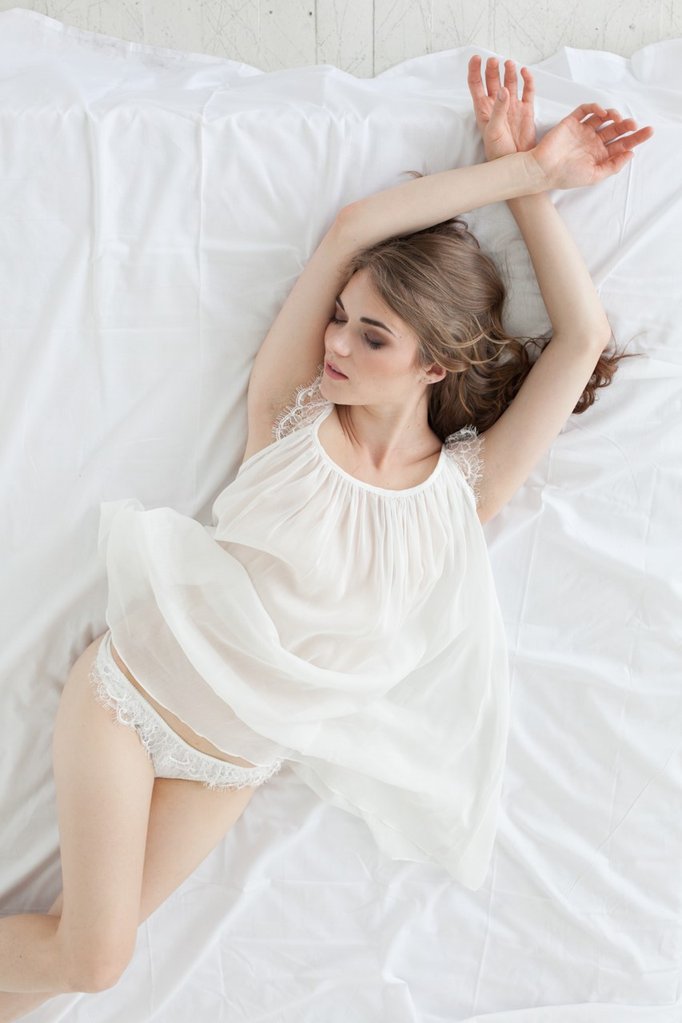 I have to admit, I'm drawn in by the catchline on Journelle's loungewear page: "Be your own lady of leisure," it urges. Yes, please. Ideally somewhere warm and breezy, close to the sea, wearing this lovely, diaphanous little number from Salua.
For refreshment, I'll have a few glasses of this tart and softly floral cocktail, made with pisco (or blanco tequila if you don't have pisco on hand.) And even if you're not breathing in the ocean air, at least you can sprinkle a little crunchy sea salt on each glass.
Passport to Chile
Makes about 12 drinks
Pisco works nicely to highlight the honey and grapefruit flavors in this cocktail from Matt Friedlander of New York's Sweetwater Social, but you can also make this easy, citrusy drink with vodka or blanco tequila. If you're not sharing, feel free to halve or quarter the recipe; it really is best served within a few hours.
1 (750 ml) bottle pisco
11 ounces cooled 2:1 honey syrup (2 parts honey to 1 part hot water)
22 ounces fresh grapefruit juice
11 ounces fresh lime juice
1/2 teaspoon Cholula or other hot sauce
Garnish: 6 grapefruit wheels, sliced in half, and flaky salt
Pour pisco, honey syrup, grapefruit juice, lime juice, and hot sauce into a 2 1/2 or 3-quart pitcher and stir well to mix. If not serving right away, cover and refrigerate for up to 2 hours.
When ready to serve, stir well and pour into ice-filled rocks glasses. Garnish each glass with a half-moon of grapefruit and a pinch of flaky salt.
Sassy Flower and Zalia Burgundy Bra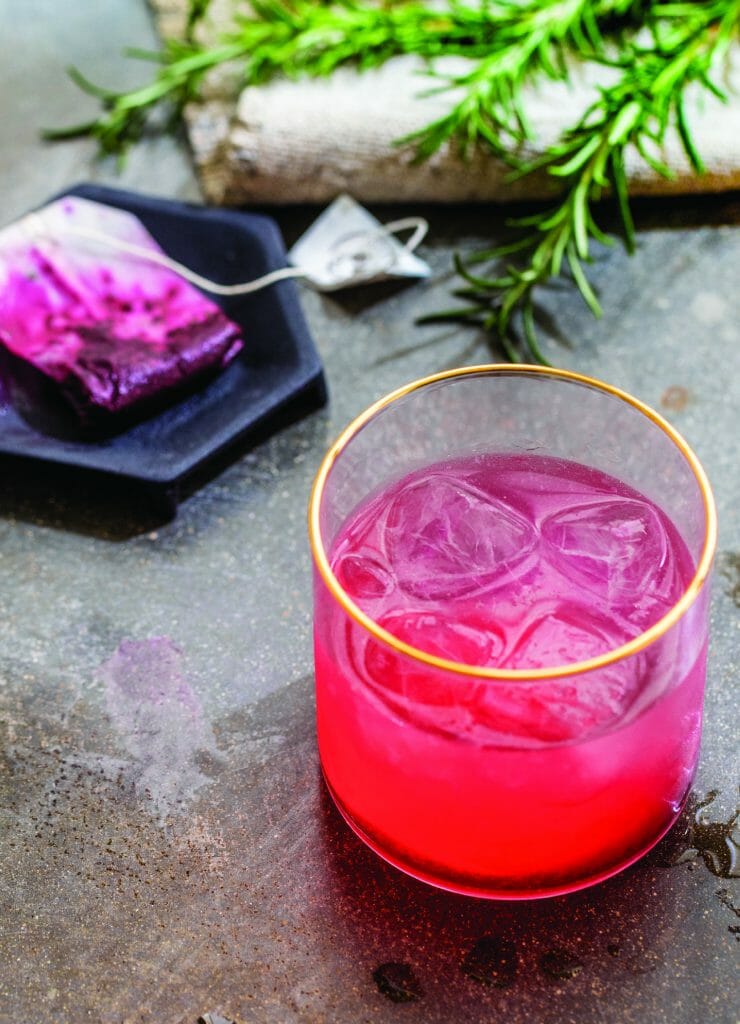 I love to pour someone their first mezcal. They're often surprised by the agave spirit's incredible savory quality, its naturally rich texture and remarkable herbal tones. It's alluring stuff, each sip unfolding new flavors. And while mezcal doesn't need to be mixed, it's wonderful shaken with herbs like rosemary and wine-red hibiscus tea.
This cocktail is both bright and earthy, sophisticated and sexy, which is why it's well paired with high-necked burgundy-hued bra from Agent Provocateur. The keyhole design at the heart reveals just enough.
Sassy Flower
Makes 1 drink
The piney flavor of rosemary draws out the woodsy side of mezcal in this tart hibiscus drink from Alan Ruesga-Pelayo of Cosme in New York. If you prep the hibiscus syrup early and stash it in your fridge, finishing the drink is a snap.
2 ounces mezcal
1 ounce fresh lemon juice
3/4 ounces hibiscus-rosemary syrup (see recipe)
Garnish: rosemary sprig
Combine mezcal, lemon juice, and hibiscus-rosemary syrup in a cocktail shaker and fill with ice. Shake until well chilled, about 12 seconds. Strain into an ice-filled rocks glass and garnish with a rosemary sprig.
Hibiscus-Rosemary Syrup
(Makes about 14 ounces)
2 hibiscus tea bags (such as Traditional Medicinals)
1 rosemary sprig
1 cup boiling water
1 1/2 cups sugar
Steep two tea bags and rosemary in boiling water for 5 minutes. Strain into a resealable container with a tight-fitting lid, then add sugar and stir or shake until dissolved. Let cool, then refrigerate for up to 2 weeks.
Tango Nuevo and Dominique Full Slip in Champagne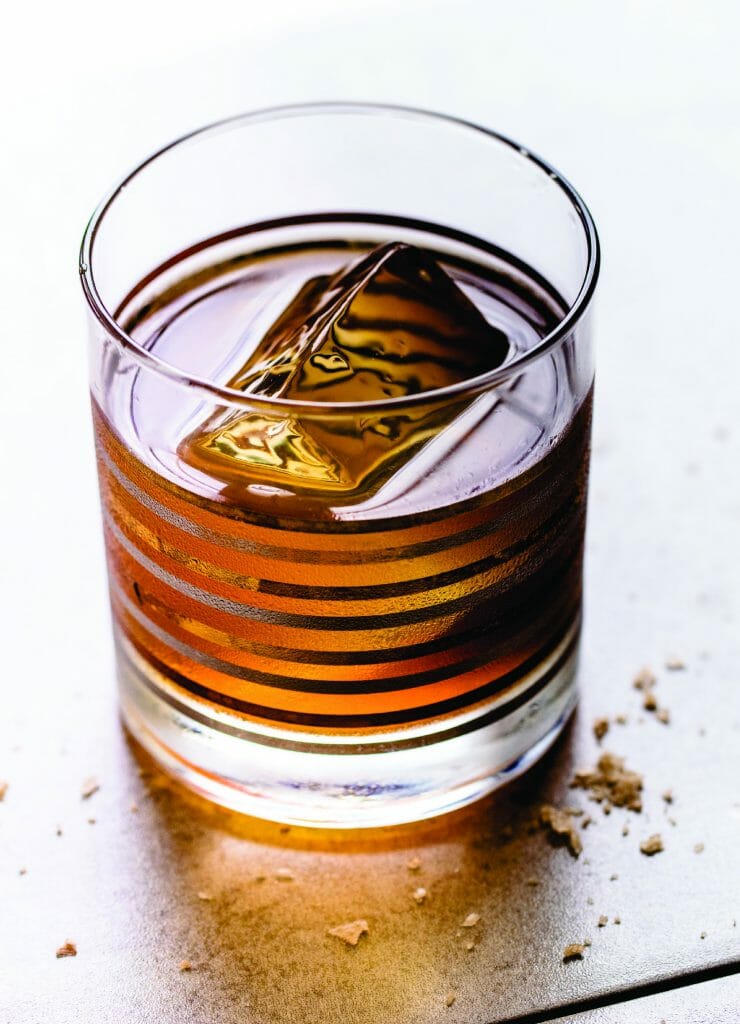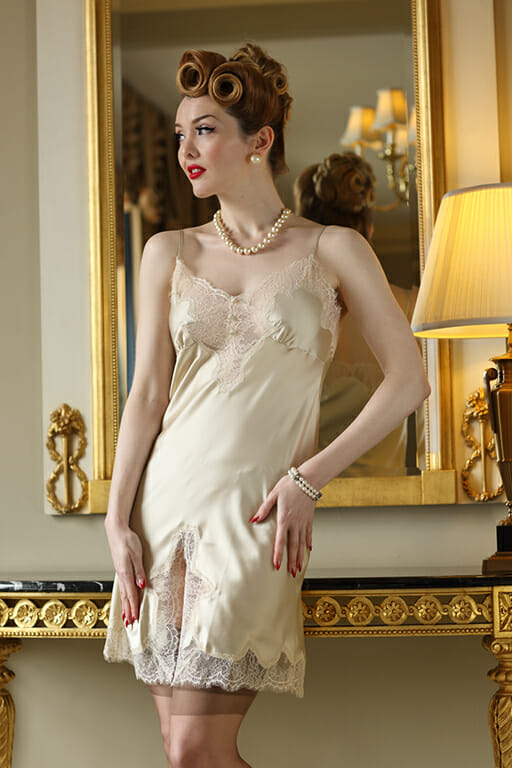 If your salted caramel affogato were a cocktail, well, this is what it would taste like. Roasty coffee and aged rum do a give-and-take of bitterness and luscious richness, and a sprinkle of smoked sea salt cuts through.
It's the perfect nightcap to sip as you slip into one of these Champagne-colored slips from Secrets in Lace. Both are soft, silky, and luxurious.
Tango Nuevo
Created by Andrew Moore of Ox in Portland, this drink gets a touch of savory flavor from two pinches of smoked sea salt.
1 1/2 ounces aged rum
1/2 ounce cooled 1:1 honey syrup (equal parts honey and hot water)
1/2 ounce unsweetened cold-brew coffee
Pinch smoked sea salt
Splash chilled club soda
Garnish: Pinch smoked sea salt and lemon twist
Combine rum, honey syrup, coffee, and smoked salt in a cocktail shaker and fill with ice. Stir until well chilled, about 30 revolutions. Strain into a rocks glass over a big ice cube and add club soda. Sprinkle a pinch of smoked salt on top of the ice cube and garnish with a lemon twist.
Cocktail recipes and photos reprinted with permission from Ten Speed Press, The One-Bottle Cocktail: More Than 80 Recipes with Fresh Ingredients and a Single Spirit. All cocktail photos copyright Kelly Puleio.