Lingerie Prints and Embellishments for Spring/Summer 2018
From its history to its fit techniques, there are so many things to love about lingerie. However, when I go to Curve New York every year, there's one thing I'm consistently drawn to: embellishment and surface design.
The lingerie industry is rather conservative, in many ways, but intimate apparel gives print designers the chance to do things a little differently. You might not wear a shirt printed with profanities to work, but a high-waisted panty with "FUCK YOU" repeated all over is totally fine beneath your daily outfit where no one else can see.
Lingerie textile design and embellishment is what I love about the industry. It's often over-the-top, expressive, and best of all, actually interesting. Sure, a designer might not be able to make a totally new, perfectly-fitted bra every season, but they can design an exclusive print or experiment with a new embroidery they haven't tried before.
Just like last season, embellished illusion mesh was everywhere at CURVE, as was the delicately-worked embroidery that evokes lace fabric (but costs far less). Digital printing is now ubiquitous in the industry; I especially loved the kitschy printed PJs from Karen Mabon. But to be honest, overall industry trends don't interest me much. I like the things that are a little funky, a little weird. Below are the most intriguing prints and embellishments for Spring/Summer 2018 from CURVE.
Inspired by Nature
Let's kick this off with the only thing at CURVE that immediately made me guffaw. These "cuddling" bunnies at Only Hearts are reminiscent of a simple block print in a dynamic color combination.
There was So. Much. Swimwear. This season. This feathery, watercolor, floral pattern from Empreinte was my favorite swim print. Its vibrant meadow colors make this suit feel less tropical than many swimsuits on the market. I really love this pattern.
Velvette is a new-ish French lingerie brand with some interesting surface design inspired by ready-to-wear apparel. I like the monotone, heavy-handed yarn and sequin embroidery on this lounge set.
…and I loooove the removable feather on the strap and teeny-tiny chain applique on this Velvette bodysuit.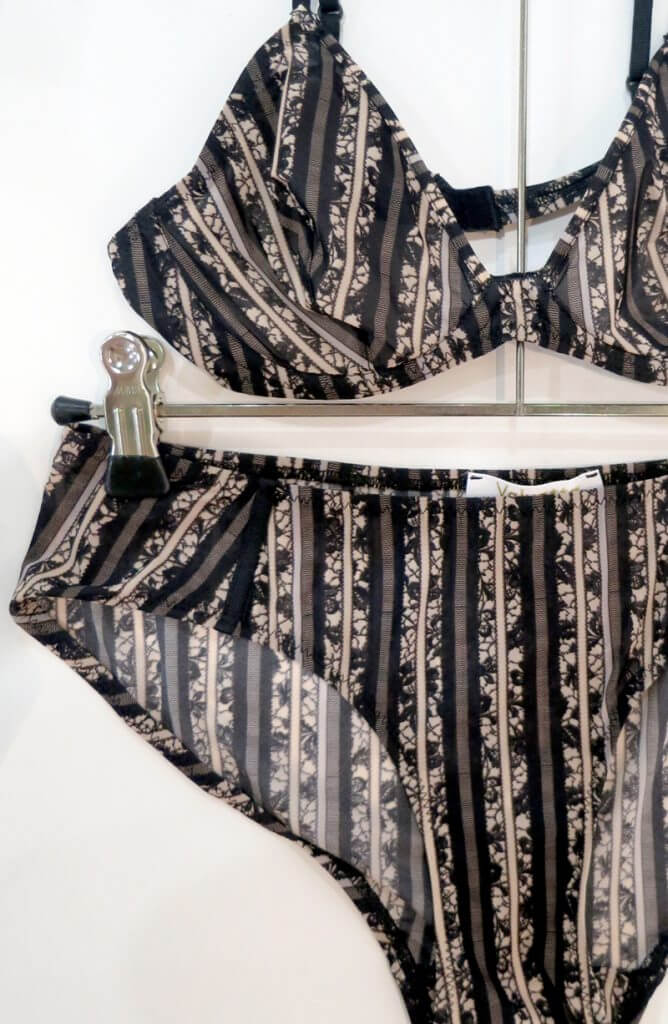 Velvette also introduced this unique, semi-sheer stripe with hints of a textural, leafy pattern between the solids. They scale down and modify many RTW-inspired design aspects in a perfect way for lingerie.
Only Hearts' erotic toile is back in a new variation. This one is super tropical and perfect for a honeymoon in dark grey on a dusty blue-green background. I know the first toile didn't sell well at CURVE, but wonder if this type of print does better on their web boutique. Since the concept is back for a third time, it's definitely selling somewhere.
Mirrored patterns can often look lazy, but this swim pattern by Audelle avoids the cliché by mirroring only on a vertical axis, and by lining up the print so it looks purposeful. I love how they've made a pattern of flowers and leaves into a geometric pattern, while still keeping it feeling organic.
Mimi Holliday has been killing it with surface design lately. This leopard print is rendered simply and has just enough vintage appeal to feel upscale instead of cheesy.
Unique Florals
Honestly, florals are always readily available in the lingerie industry, especially for Spring/Summer collections. However, this dusty print from Midnight Bakery, a new line from Jonquil, was one of my favorite prints from the entire weekend. The romantic color palette combined with the simple line art and a scattering of tiny stars makes this print a little more special than the typical floral pattern.
Usually Natori doesn't let bloggers take photos, but apparently, that rule is finally out the window! (Trust me, I double-checked.) This slip was stunning, showcasing a large-scale, flocked floral pattern that looks hand-painted. A statement piece if I ever saw one.
On this robe by Ellipse Lingerie, this layered, floral pattern is elevated by the quilting-inspired topstitching. Butterflies are used in florals all the time, but I love the sheer number and variety of fluttering wings on this pattern in particular. On the robe, the print is engineered into a massive stripe; on the pajamas, it's a more traditional all-over print.
Samantha Chang is the queen of the floral robe. This print is great because of the interesting line quality; the background looks almost painted along the edges of the flowers and birds, and the motifs themselves look like sketches over smooth watercolor. From far away, it looks like a typical floral pattern; up close, it's something truly special. Plus, how great are these colors?
Midnight Bakery provides more jewel-toned violet flowers. The long stems in this print give it nice movement and a striped quality. The colors bring to mind those old-fashioned glass window ornaments filled with pressed, dried flowers dyed vibrant colors. This dainty flower print is weed-y enough to avoid being twee.
These candy-sweet, pastel shades and large-scale flowers by Jonquil are totally typical for lingerie, but I love how these blossoms have been reduced to a tiny honeycomb pattern. The engineering of the garlands on the back of this robe are lovely, too.
Another queen of the floral print, Christine Lingerie, always has an exclusive print up her sleeve. While I didn't find any to my personal taste this season, I did admire this super unique watercolor pattern in muddled shades of burnt sienna, dusty mustard, and sharp turquoise. With the neon, yellow-green overlay of simple line art flowers, it's an interesting take on a watercolor floral, especially for Spring/Summer.
Finally, Atelier by Va Bien kills it again. The dainty flowers embroidered onto beige illusion mesh look like fancy, antique curtains in the best way. The larger-scale pink blossoms aren't just embroidered; each one is appliqued onto the mesh. The effect is both delicate and impressive.
Embellishment and Engineering
I'm gonna just start this section off with a ton of Mimi Holliday. Look at this mermaid-inspired lingerie set! The panty and garter even have a little glass pearl sewn onto the shell embroidery on this pale blue mesh. This was definitely my favorite piece from the entire weekend. Simple, yet incredibly impactful (and cute as hell!).
I was surprised to see another variation on Mimi Holliday's swan bra this season, but I don't care at all. It's so cute!! This reiteration is probably more marketable than the giant-swans-swimming-on-your-nipples look of the first set, but it still retains that whimsical feeling. There's also a high-waisted panty with a single swan at the top, which will be perfect for bridal.
Mimi Holliday manages to make a dainty pink panty with retro-style black rickrack (in both stripe and bow form), and make it look sweet but not cloying.
Finally, this Mimi Holliday bra was most certainly inspired by Agent Provocateur, but I love the cursive "LOVE" embroidery, carefully positioned right smack dab in the center of the gore.
This bodysuit slipdress by KISSKILL is totally on the nose for trends right now. It's both sheer and witchy and lets you show off all of your leg underneath. Photos don't really do this dress justice; the tiny metallic stars and moons were super shimmery when the fabric moved, giving an effortlessly mystical vibe to whoever might be wearing it.
The flocking on these Silent Arrow panties would look as great with a varsity jacket as with a bondage-inspired top.
Silent Arrow had the above panties styled with a sheer jacket made entirely of this rainbow-colored hanging sequin fabric. If you couldn't tell, I love lingerie lines inspired by ready-to-wear who turn that inspiration into something fitting the lingerie world perfectly.
The flocking on this Only Hearts bodysuit seriously speaks for itself. There are no gimmicks here. The pattern is perfectly positioned for a body-covering, tattoo-esque motif wearable for far longer than one season.
Do you have a favorite embellishment or embroidery for Spring/Summer? Please share it in the comments!