Dottie's Delights S/S 2016: Sweet & Sassy Pin-Up Lingerie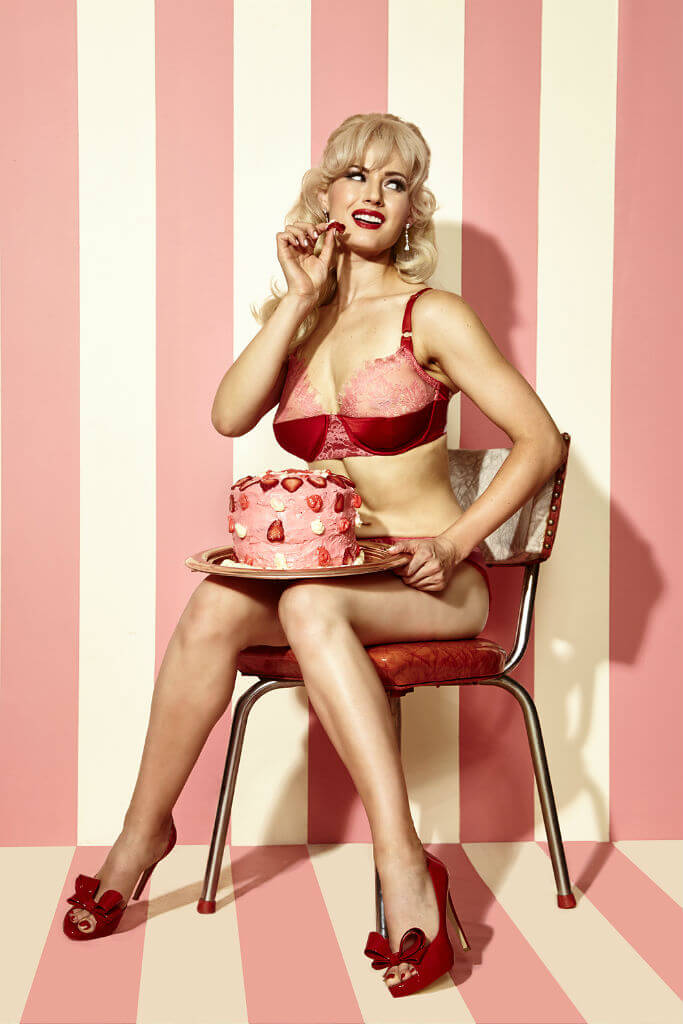 Dottie's Delights has returned to its self-proclaimed cheesecake roots in this adorable lookbook that is, indeed, sweeter than cake. It's a candy-colored confection of pinks and reds, just in time for Valentine's Day. The cherry on top of this delicious new collection? It's modeled by Vogue and Playboy model Gia Genevieve (a huge deal for a small indie label).
The collection is titled "Soda Shop" and was inspired by the soda shops of the 1940's. The pink and white striped backdrop reminds me of those cute paper straws from back in the day. Just as in the pin-up photos of the era, these utilize fun props such as cakes, lollipops, and whipped cream topped milkshakes. It all adds to the sweet and sassy attitude that is the perfect backdrop for Dottie's Delights' retro aesthetic.
You'll recognize many of these silhouettes from earlier collections such as those frothy babydolls and robes. Designer Stephanie Kuhr has perfected a vintage-inspired bra that takes its cue from the bullet bras of the mid-century but with a softer, more modern shape. These bras top high waist panties crafted of stretch nylons with wide elastic bands that nip in the waist. Some of these bottoms include diamond shaped panels in the front that mirror her coveted girdles.
There's an interesting play of textures in the pastel pink Sundae pieces. Polka dot rayon is paired with black lace in a range that includes a bra, girdle, high waist panty, bikini panty, and garter belt. Stephanie's six-strap garter belts sit at the natural waist, with a wide front that provides some tummy coverage for a smooth look under clothes. The standout from this range is the short silk slip. The intricate lace bodice reminds me of her Bricolage bra from a few seasons past. This sweetheart bodice is exaggerated with the cut of the skirt which creates a curved point at the center bust (drawing the eye up). A skimming fit is achieved with princess seams that curve along the body and allow for a bit of flare at the hip.
My favorite range in the collection is aptly titled "Favorite Things". This swingy babydoll top and coordinating high waist panty are crafted in delightfully sheer nylon. Darling embroidered hearts are placed right above the wearer's heart, with the red set calling out "Love" and the pink set whimsically calling out "Whiskey". These couldn't be any more Valentine's Day appropriate if they tried. If I wore this I'd feel like an irresistible walking Valentine, even if it was for my eyes only.
If you're hoping to get your hands on one of these Favorite Things outfits before Valentine's Day, you're in luck! Stephanie plans to have a number of them in stock and ready to ship at the end of the month. Those fabulously frilly robes are also available in time for the holiday. The rest of the pieces will be available beginning early February through April. Please note that Dottie's Delights often uses rare vintage textiles in its collection, and the Soda Shop line is no different. If you have your eye on the Angel Food bra and panty set, know that the pink fabric with white and black polka dots is a limited edition 1940's rayon. It's best to snap that up while the fabric is in stock.
Dottie's Delights bras are available in 32-38 bands with cup sizes A-D (depending on band size). If you happen to be sized out of these bras, please know that almost all other pieces go up to an XXL, with the girdles, garter belts, and robes fitting up to a 3X. Bras start at $155, panties at $50, girdles at $115, and robes at $134. The Favorite Things set will sell for around $120.
Photography: Jane Gaspar | Model: Gia Geneveieve, Wilhelmina NYC | Hair: Kirsten Bode | MUA: Paige Campbell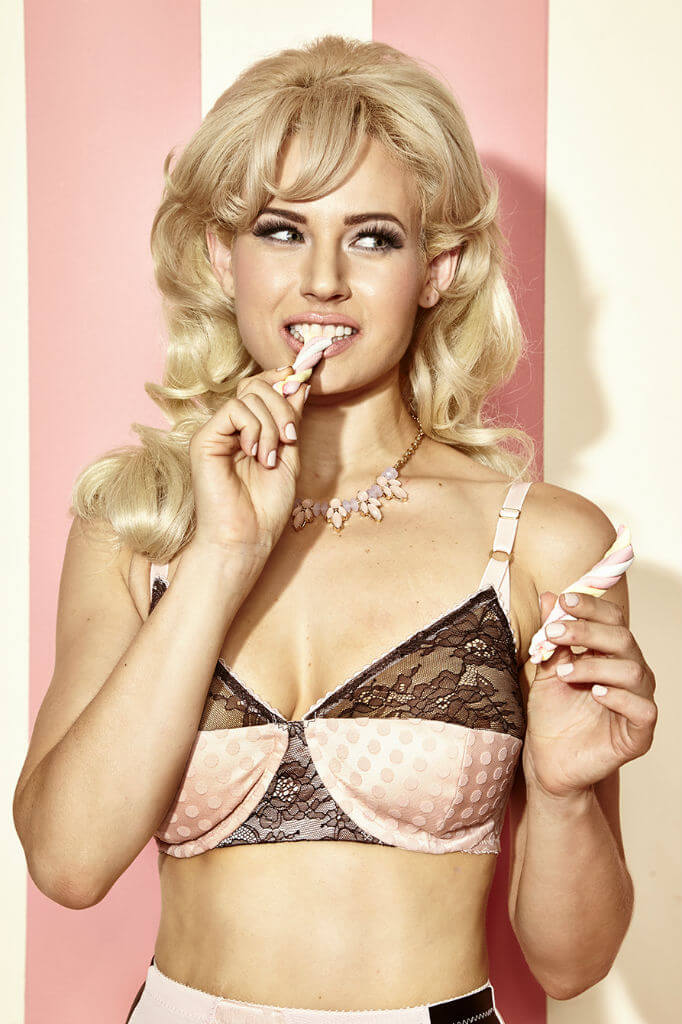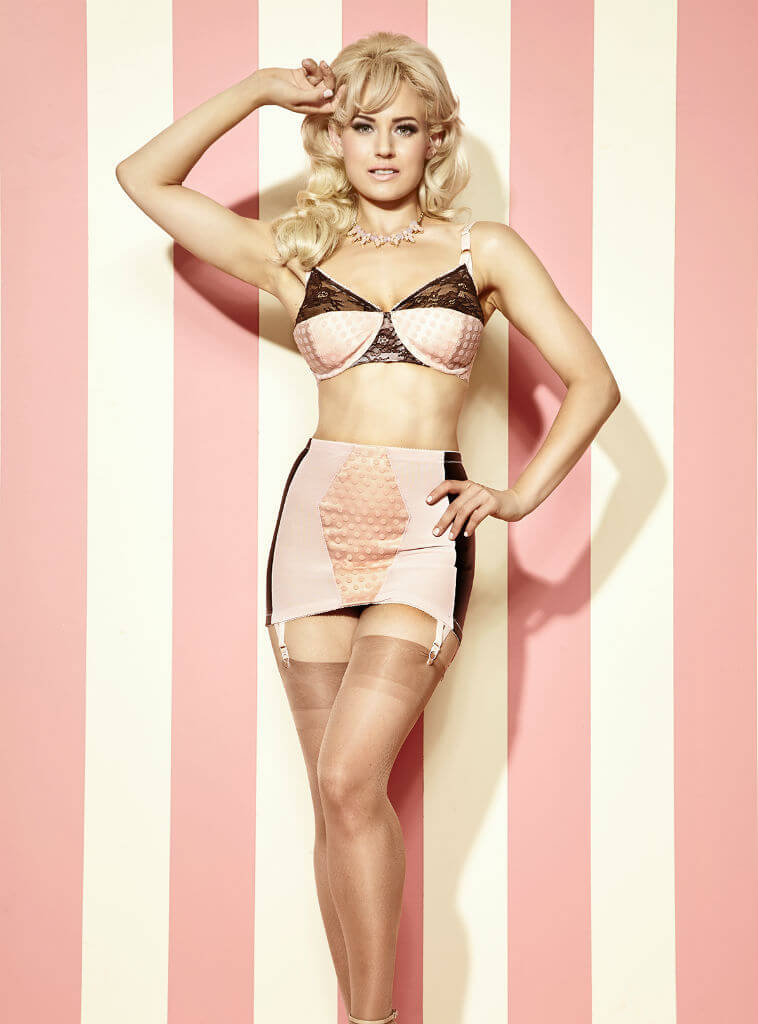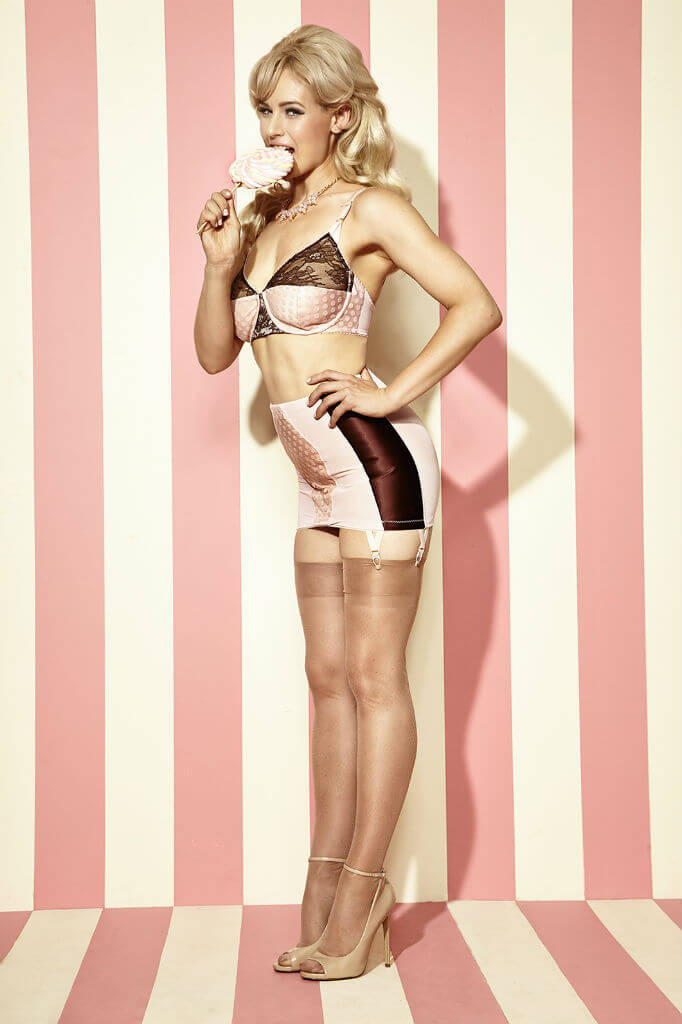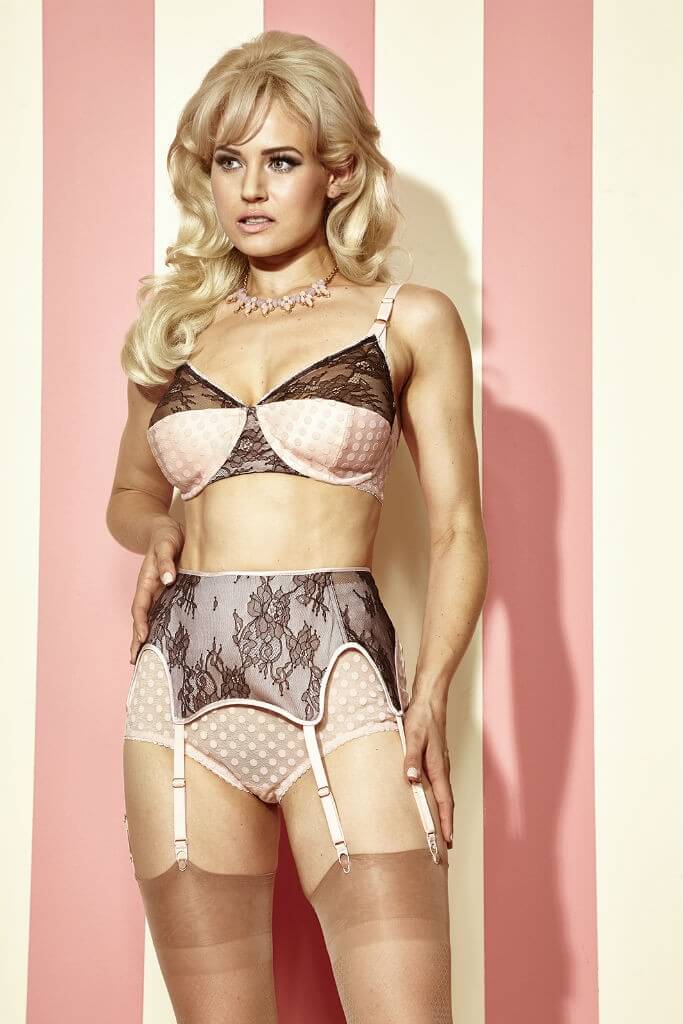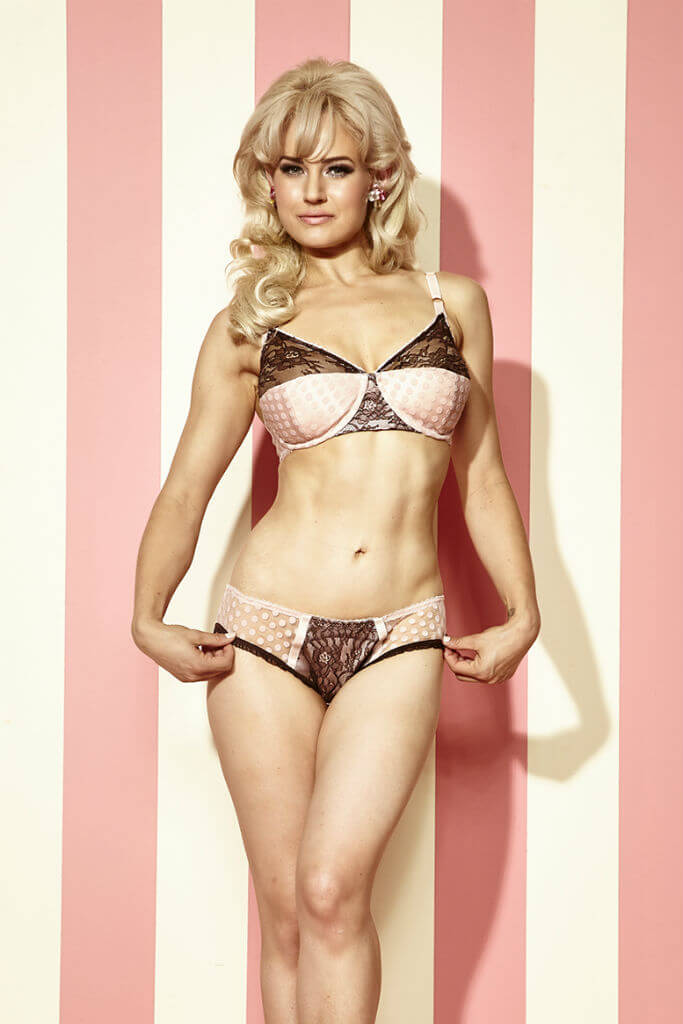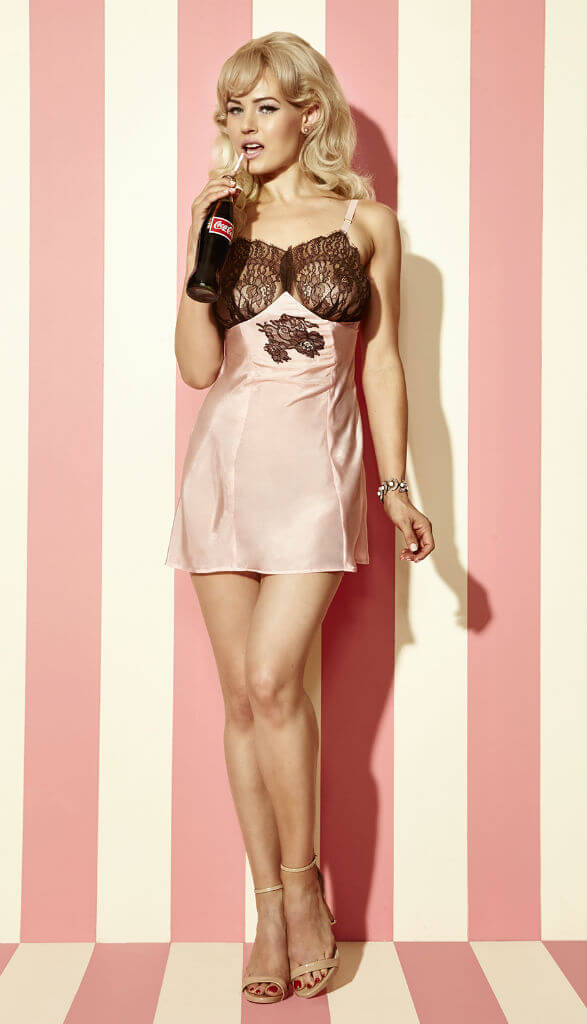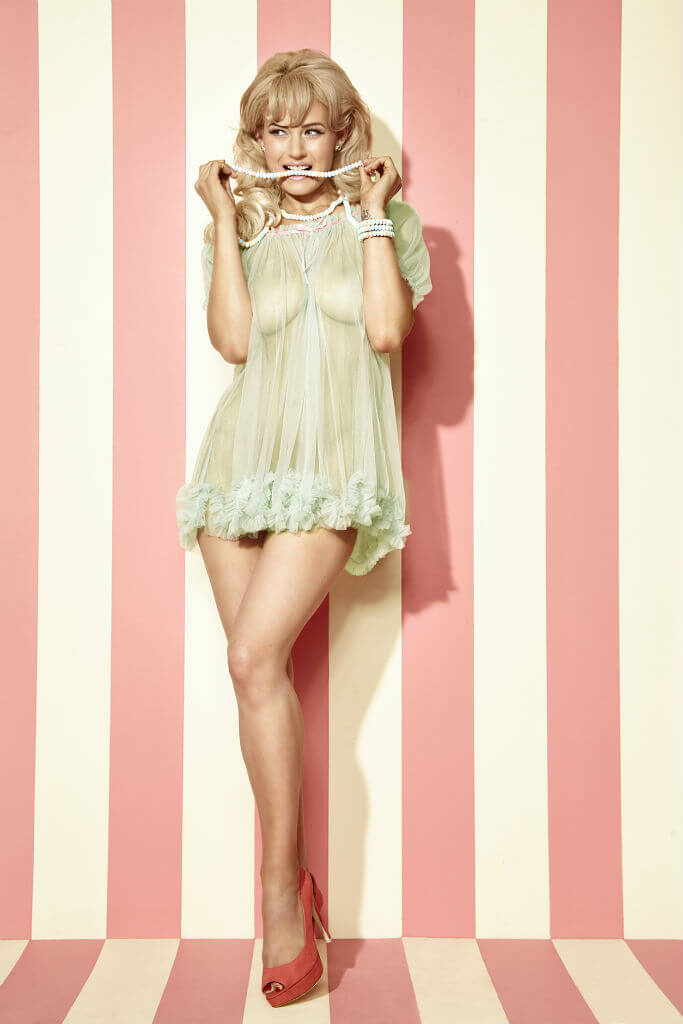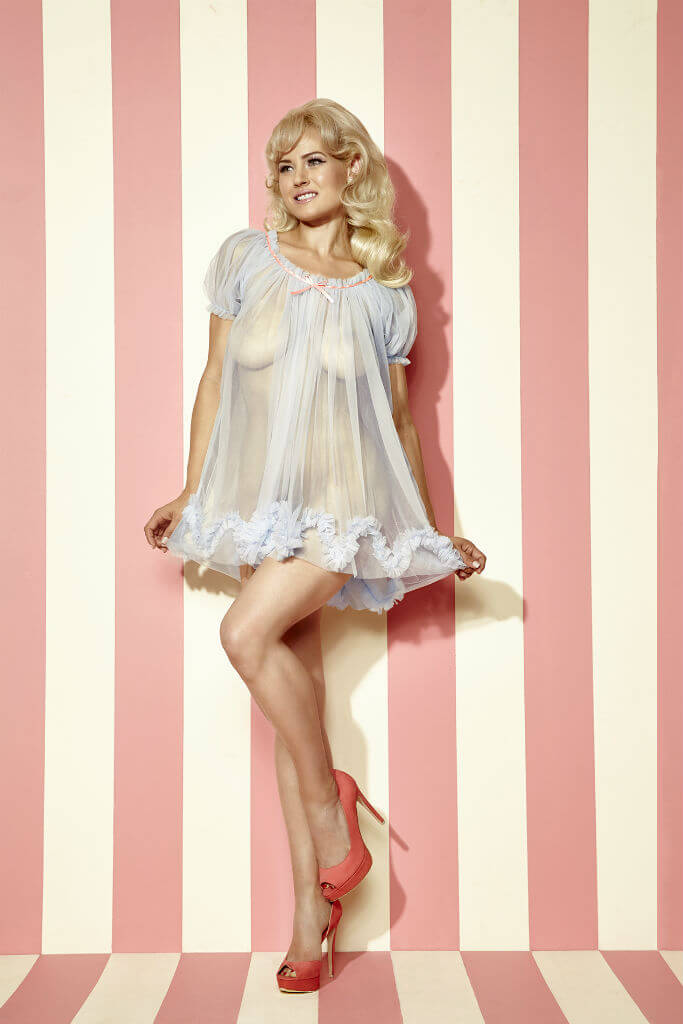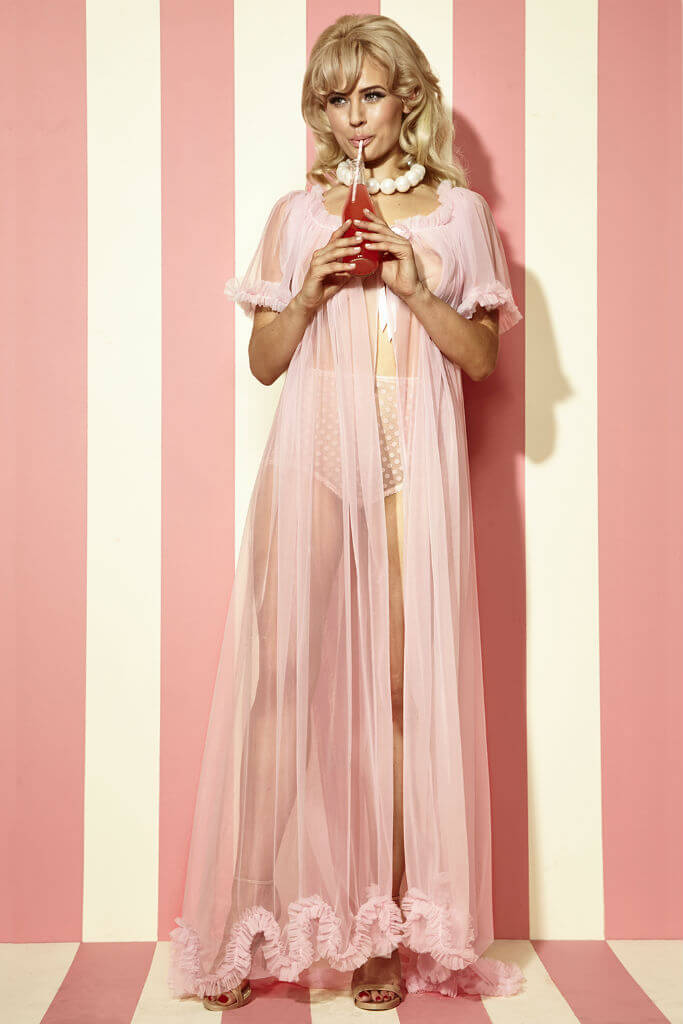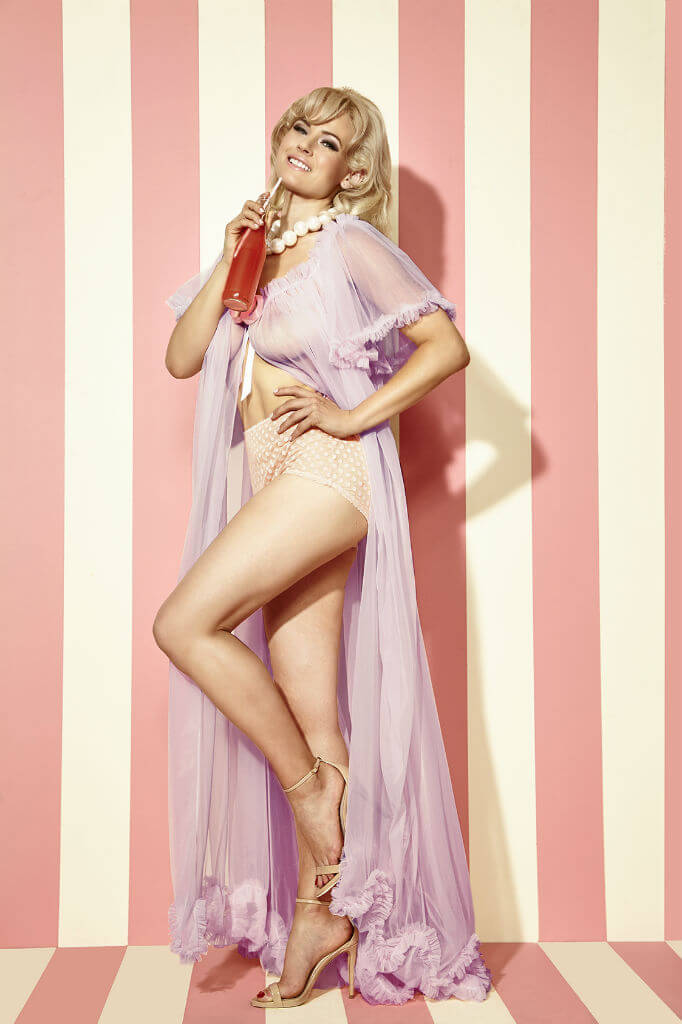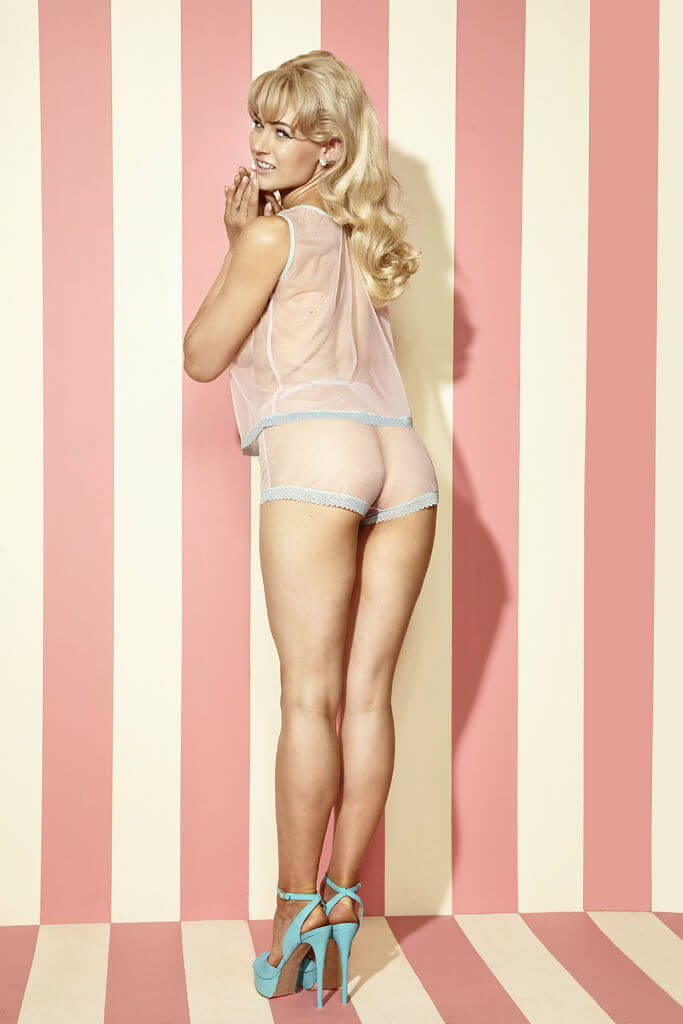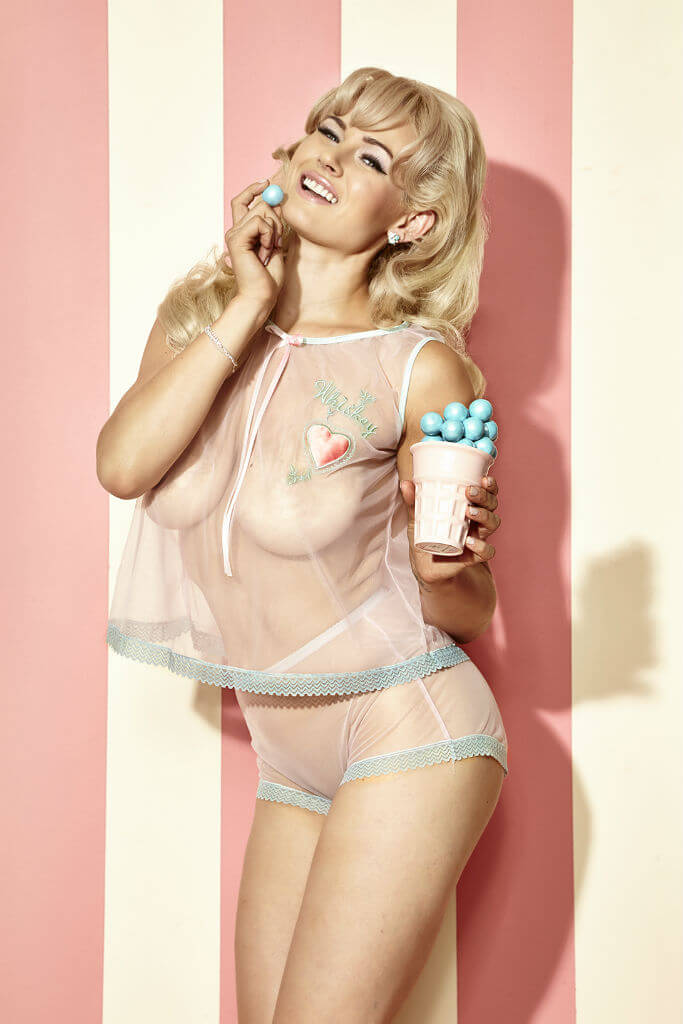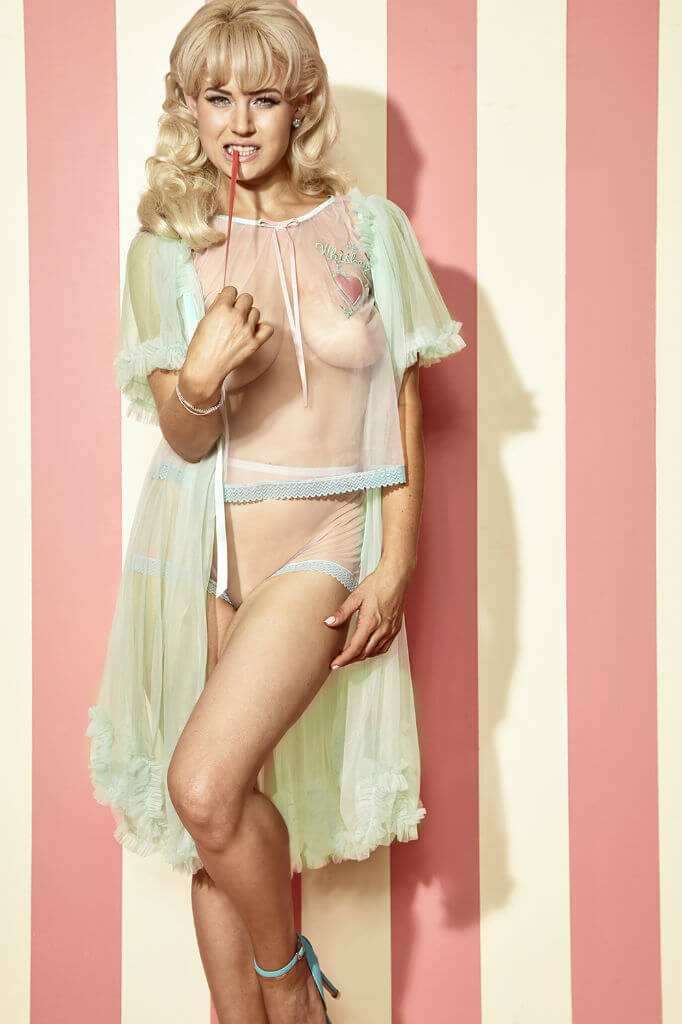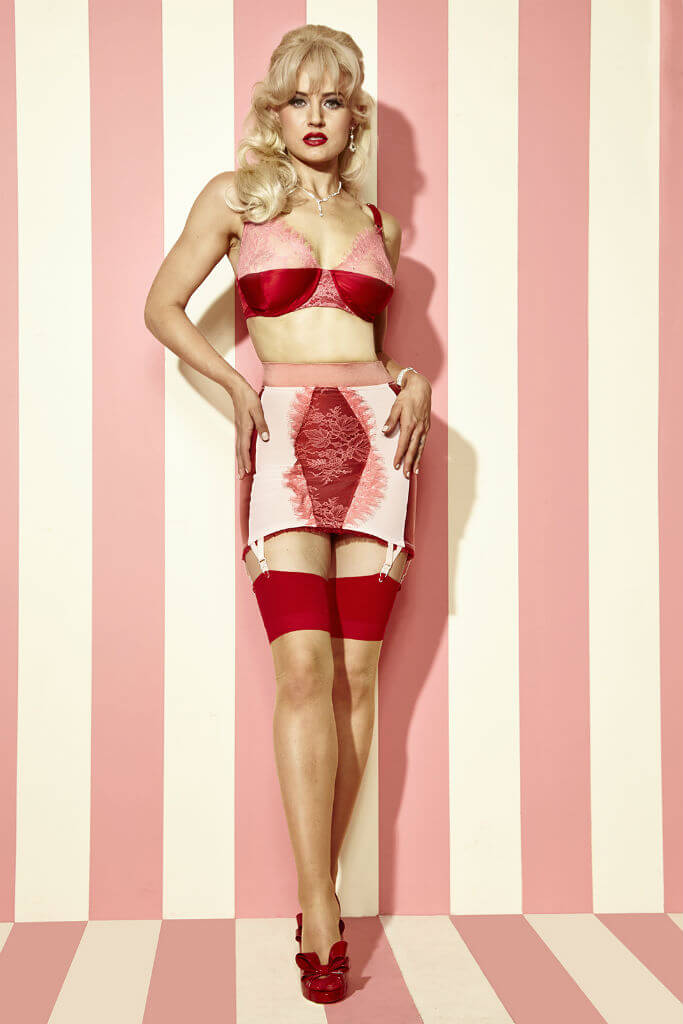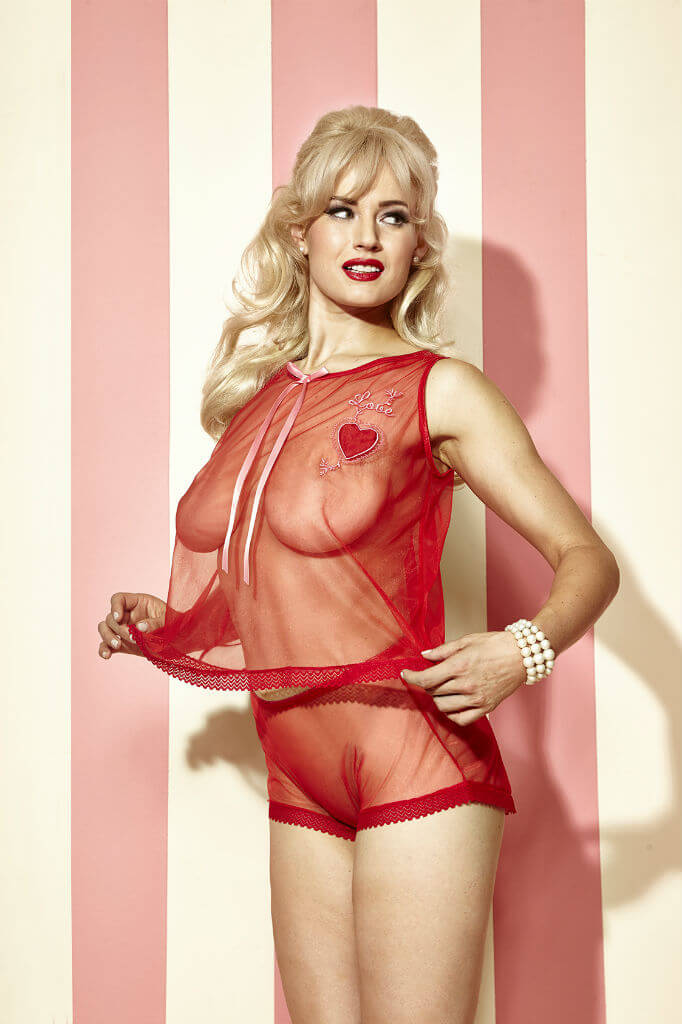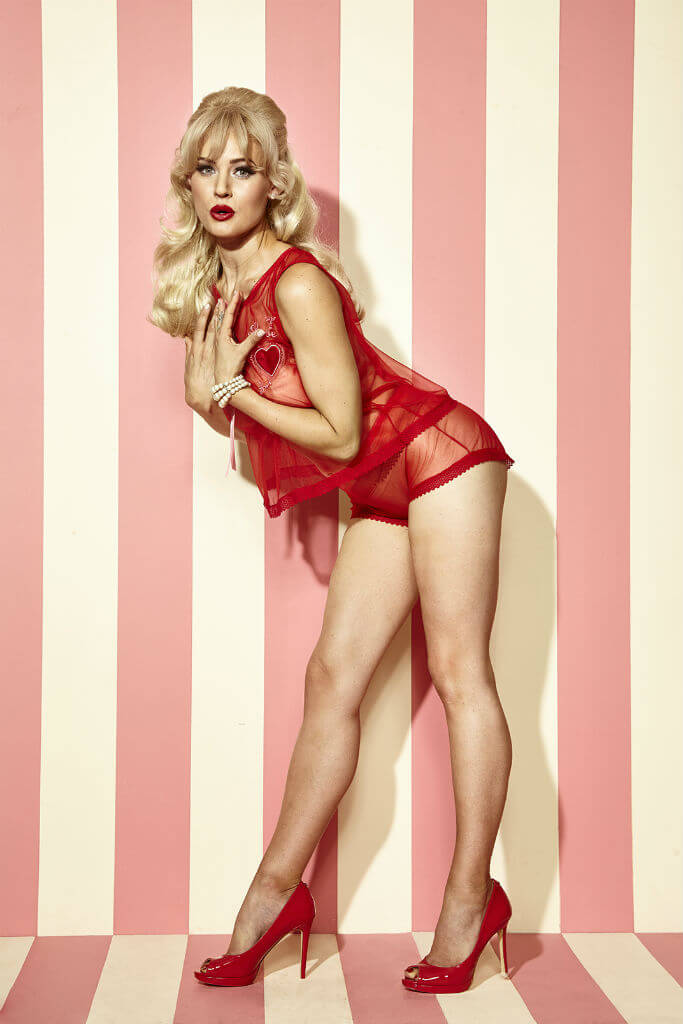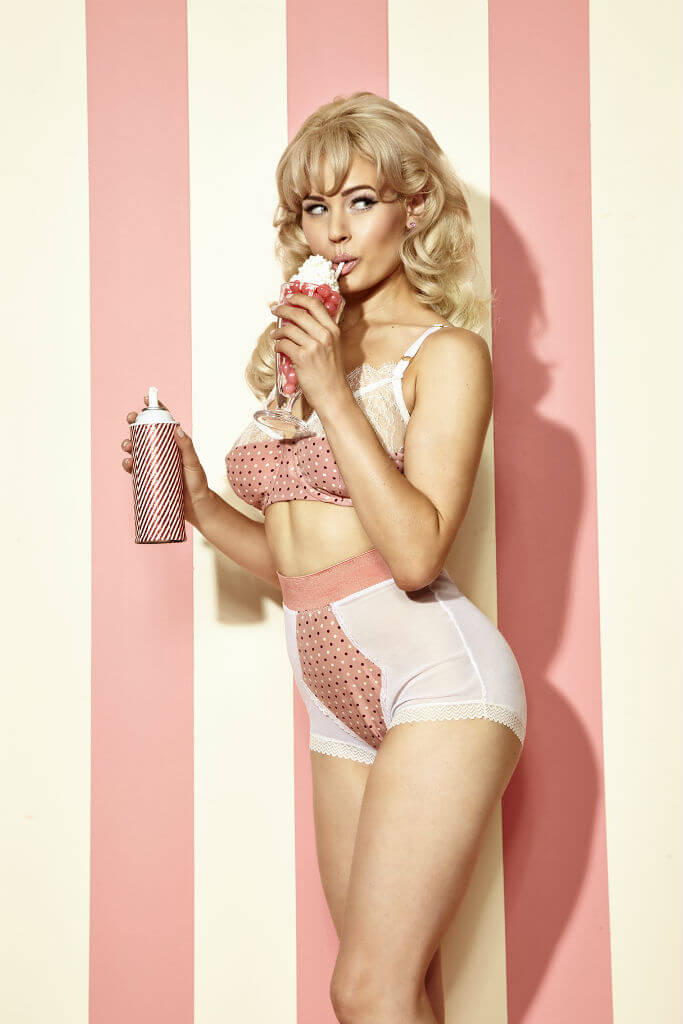 What do you think of the Soda Shop collection? Do you have a favorite look? Are you a fan of pin-up photography?