The Making of "Rose Petal Witch": What Goes Into Debuting a Single Piece of Lingerie?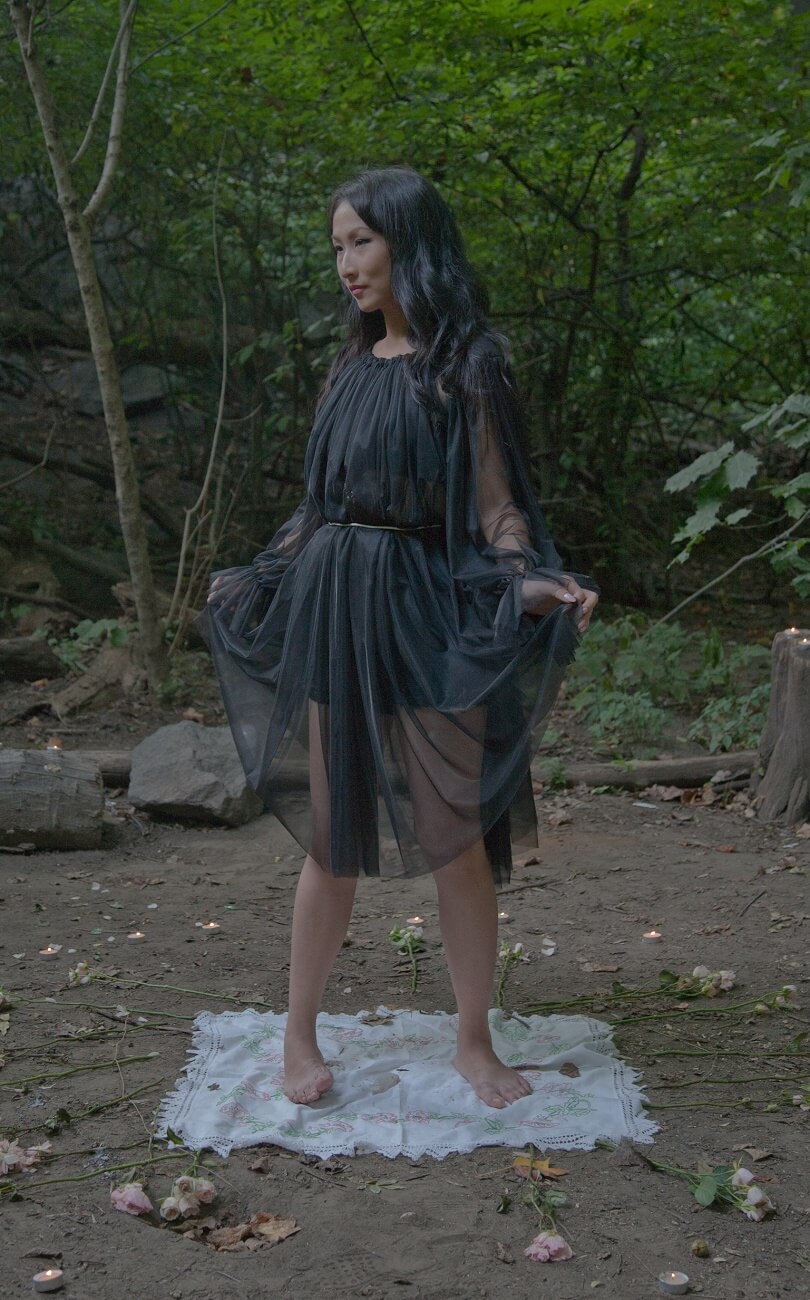 A great part about being a label as small as she and reverie is that we can kind of do our own thing. We can test out ideas, nix the ones that don't work and embrace the ones that do. And by "we," I mean "me" --- I run she and reverie mostly by myself.
This season, I was on a tight budget and running later than usual, so instead of creating an entire capsule collection, I decided to release just one style and combine it with some of our existing pieces to make a lookbook that shows how seamlessly they can all work together.
This process usually takes a lot longer than a few months; most collections are designed a year or more in advance. However, like many other indie designers, I've stopped pursuing wholesale as much as I used to, which means I don't need to think about designing so early. Plus, manufacturing in New York City means I can go pick up my samples the day they're done, instead of waiting 1-2 weeks for shipping time.
This translates to a super-fast turnaround time, where one piece of loungewear can go from conception to release in two months. So what goes into releasing a single piece of loungewear? Probably a lot more than you think.
July 13 to 27: Design
I have a really super in-depth, scientific, mathematical way of designing garments... I listen to my gut. When the perfect inspiration hits, it just feels right, and it almost always results in our best selling items.
Over these weeks, I gathered inspiration and mood images, and was struck by the idea of a flowing, witchy, ethereal gown. Made out of a sheer vintage-style nylon fabric, I wanted to add charms hanging from neckline drawstrings and sleeves inspired by a 1970s silk blouse I own.
Not only is it exactly the direction I wanted she and reverie to go in for Autumn, but a style like this could be one size-only. That means no additional time or money would be needed for pattern grading, and it could fit our customers who might be sized out of some of our more fitted pieces that only go up to a 40" bust.
When designing anything new, I have to make sure it's sweet and whimsical enough to fit in with our brand. Plus, it needs to be multi-functional enough to make sense with the rest of our assortment; in the end, this piece is a nightgown, a lounge piece or an over-dress, can be worn on or off the shoulder, and can be loose or belted. Designing is often more mathematical than creative.
August 4: Visiting the sample maker
Usually a sample maker needs a tech pack filled with diagrams, measurements and very specific illustrations, but the woman who does my patterns and samples is a little different. After a few years of working together, I can just drop off a simple sketch and some fabric swatches and she works her magic. Having someone you trust completely is very very hard to find in the industry and I'm lucky to have worked with her since literally day one.
August 18: Fitting
A few weeks after I drop the sketch off, my sample maker has a muslin, or test garment, ready for me to try out. Since this garment is so free-flowing, it requires a LOT less work during a fitting than, say, a contoured bra or corset. My fit model (a friend of mine) wanted to buy the muslin off her back, which is always a good sign.
Along with adjusting fit, this stage is where you make little changes so the garment looks how you imagined it, or simply works better from a functional point of view. My sample maker put in ruched panels at the shoulders like the blouse I gave her for reference, but this dress needs more stability because of the drawstring neck and the heavy fullness of the gathered sleeves. Plus, ruching is expensive to make, and it looked a little too 70s for my taste. We decided to use a solid woven panel instead; along with stability, it gives a nice effect in contrast to the yards of sheer nylon, and provided a great canvas to stitch our label onto.
I wanted everything as full and flowing as possible, so we added fullness and length to the sleeves so they would blouse prettily, and made each side of the skirt as wide as the fabric itself --- 100". We also shortened the skirt so it was about knee-length.
August 20: Photoshoot brainstorming
Finally sitting down to email my photographer friend Nicole Anne Robbins about collaborating on this photoshoot. We talk about where I'd like to shoot, the mood I'm going for, the type of model I want, and budget, of course. Since I'm on a budget, Nicole and I agree that I can buy her plane ticket from LA and give her a stipend for the days she's here.
I want the shoot to evoke a kind of dusty, enchanted, dark feeling, that still seems sweet, airy, pale, and feminine. For the setting, I want to turn a little nook in a forest into our rose petal witch's hiding spot, decorated with fresh-cut rose garlands, candles, and other magical ephemera.
We decide the shots can be more editorial and pretty than just straightforward product shots, since all of the garments other than the gown have been photographed already. All of this is super important. Photos are everything when you're selling online. We need to be entirely on the same wavelength so the shots are both beautiful and drive sales.
My friend who acted as fit model suggested her burlesque performer friend Agent Wednesday as a model, but Nicole is hesitant to shoot on someone who doesn't model frequently. It's always kind of hard to say how photos will turn out with someone who hasn't done much modeling before, but we both really love Wednesday's look so we decide to go for it.
August 21: Shopping in the garment district.
The garment district is a stressful place; I'm always there with my headphones and sunglasses on to block out the crazy amounts of energy coming at me from all directions. Luckily, my fabric sample yardage had already been delivered and my sample maker has her own supply elastic, so I only needed charms for the drawstrings. This gown is relatively simple.
Figuring out those little details is my favorite part of developing an item, especially when it means searching through bead stores for pretty little charms. I ended up with tiny gold metal keys, clear pink crystal triangles, and end caps that will fit the drawstrings perfectly. Every time I hand over my credit card, I remind myself that all of these costs have to be made up in the mark-up of the final garment.
September 3: Sample is finished!
My sample maker is amazing, but sometimes she gets caught up with work and delivers late. Luckily, she was right on time today and the sample turned out perfectly. This is a high-stress day because if we forgot to make a change or something is off with the sample, then we have to either make quick last-minute changes to the garment, or decide to Photoshop the shots later to reflect the change. We can't sell an item that looks different from the item in the lookbook. At home, I make the charms, glue the end caps onto the drawstrings, and sew a tiny ribbon rose onto the label.
September 4: Model snapshots.
Wednesday comes to my studio in Brooklyn to try on garments and shoes so I can plan out the outfits we'd be photographing. Due to the added fullness, the dress photographs more opaque than I expected, which changes my plans for the shoot exponentially. I decide to only shoot it on top of one basic outfit and shoot the rest of the pieces separately.
September 5: Location scouting.
Shooting in a forest isn't the easiest thing to do when you live in New York City, but there are big, beautiful parks in the Bronx so I took a trip to scout some spots. I spend the whole day traipsing around in Inwood and the Bronx, photographing water features, finding the best forest nooks, and getting super sweaty in the late summer heat.
September 6: Props.
I finally realize that we're shooting on Labor Day, so I need to get the pink roses today or else risk not finding an open shop because of the holiday. This turned out to be a good thing, because having the time to tie the rose garlands beforehand saved so much stress on the day of the shoot.
I also have to tape the bottoms of the shoes we were using for the shoot, put pink ribbons in my Victorian-style boots, buy snacks, and have a meeting with Nicole to talk specifics about the next day.
September 7: Photoshoot.
For the person in charge of a photoshoot, it can often be an exhausting, all-day event, even for a shoot as small as this one. Nicole, Wednesday and I meet in Union Square in the morning and take the train up to Inwood. Wednesday acts as both model and makeup artist, and I act as art director, stylist, assistant, and pretty much everything else, as usual.
Setting up in each location, making sure Wednesday's hair extensions looked okay, making sure we get detail shots, making sure the candles don't start a forest fire... it's a lot, but the feeling that a shoot is turning out exactly how I want it to turn out is one of the most satisfying feelings.
September 19: Selecting photos
Nicole sends me the photos, saying "There are a lot to choose from," and she's right --- neither of us could narrow them down! But I want to get this out for preorder on Monday the 21st, so I force myself to narrow it down, create the perfect "Rose Petal Witch" logo graphic, set up the shop page for the newly-named "Spellbound Gown", and schedule all my social media posts with images appropriately-sized for each platform. I also schedule a few dozen press emails to go out the day after.
September 21: Launch!
Just two months after conception, the Rose Petal Witch lookbook and Spellbound Gown are live!
Was this process more or less involved than you expected? How do you think this experience differs from producing an item at a larger company?