Lingerie Wishlist: Madame Aime ' Rue Des Mauvais Garcons' Underwire Bra + Brief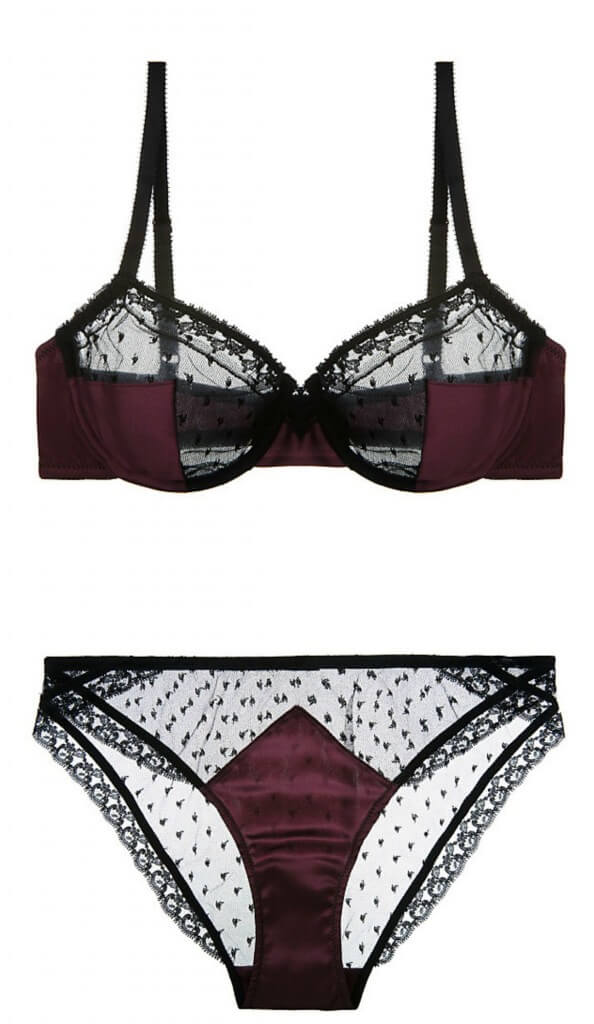 I've had a bit of a secret crush on Madame Aime for a couple of seasons now. We talked about them after last year's Curvexpo (when the brand was still Monette Paris), and they've lingered in my thoughts ever since. In a sea of triangle bralettes and bondage-inspired body harnesses, Madame Aime has emerged as a modern intimates brand reviving classic French traditions. Perhaps unsurprisingly, the label was founded by Princesse Tam Tam's former designer, Assyha Hiridjee. During her tenure, Princesee Tam Tam became a member of Lingerie Francaise, France's coalition of nationally-recognized French lingerie brands (other notable members include Aubade, Lise Charmel, Chantelle, Empreinte, and Simone Perele).
While writing this, I tried to distill what I like most about this particular set from Madame Aime. The color ('raisin') speaks to me, but I don't crave this just because of the shade. The lace as well is a thing of delight, but that's not the sole reason I desire this (though can we, for a moment, imagine a bra and panty set made completely of that lace?). The contrast of the two --- the sheer with the opaque, the smooth with the textured --- is also tantalizing in a sensual way. No, I can't reduce it to any one thing. I think my love of this set is a sum of all those parts. Luxurious, yet wearable, this is would be my choice for a lazy weekend at home... or a dream vacation in Paris.
As a luxury brand, Madame Aime is priced appropriately. The underwired bra is $175 and available in sizes 32B-36D. The knicker is $80 and available in sizes XS-XL. At the time of this writing, Journelle is also having a sale where buyers can save 15% on purchases on $250 or more with the code PREFALL15. At $255, these two pieces, bought together, would qualify.
What are your thoughts on the overall state of French lingerie? Do you believe it's still relevant in the global lingerie industry? How do you feel about new French brands like Madame Aime? And is this set something you would wear? I'd love to hear what you think.