Lingerie of the Week: Michi Medusa Jumpsuit
One of the things I've never shared about these Lingerie of the Week features is that they share a dual purpose. Yes, part of the point is to share what I think is new, cool, exciting, and interesting. But the other part, the other purpose, to these posts is to create a sort of archive, a font of lingerie memories that others can access. So often, I recall a brand or garment that's no longer available, not even in pictures, and then I wish I'd covered them in a lingerie of the week feature or shared their photo in a trend roundup. Particularly when I'm looking back to the early years of this blog, there's so much lingerie history that's disappeared into the aether... all because I just assumed it would always be there. That someone else would find these items noteworthy and memorable and save them. But now I know that's not the case. Most of the lingerie blogs around when I started have gone quiet.
Michi's Medusa Jumpsuit straddles multiple lines: activewear, lingerie, outerwear. To me, it reads like an ultra high-tech catsuit --- the sort of thing a burglar of the future would wear (or perhaps a rebooted Catwoman or Hawkeye). But it's also an intrinsically practical garment, constructed from eight-way stretch, high performance fabrics from Sweden. Yes, it looks cool, and yes, that's deliberate, but this jumpsuit is meant to be incredibly functional as well.
We've covered Michi here on TLA before. Their fashion-forward athletic strikes a chord with me. After seeing that the label's made in Canada, I'm even more interested; lingerie produced in North America has become an increasingly rare specimen. But if I'm perfectly honest, none of those are the reasons I truly like this jumpsuit. I like it because I think it would make feel like a badass, and really, at the end of the metaphorical, that's what I want from all of my lingerie.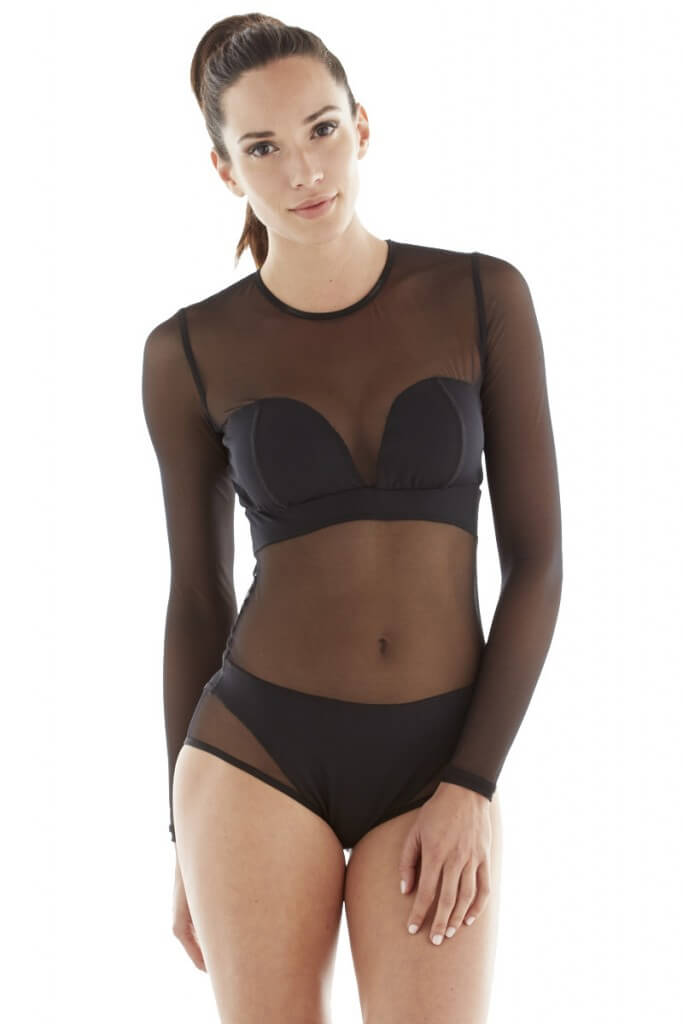 If catsuits aren't your thing, Michi also produces a long-sleeved "Bionic Bodysuit." Again, this is supposed to be athletic wear (perhaps for dance or yoga?), but it works so well as lingerie. I covet it.
The Medusa Jumpsuit is $395. The Bionic Bodysuit is $325. Size range for both pieces is XS-L fitting a maximum US 10 (though, as a point of comparison, I'm a US 8/10 and outside the size chart for their pieces). Garments are an 88% nylon/12% Lycra blend, and many of their products are made on ShopBop (though not these two specifically).
What do you think of Michi? Would you wear something like this to the gym or dance studio?