Sale Lingerie of the Week: Simone Perele Velvet Bodysuit
Disclosure: This blog post contains affiliate links.
It feels a bit weird to talk about a gray bodysuit with velvet trim when we're two weeks and change away from summer. But the fact that summer in exactly 16 days is why this bodysuit's on sale, so let's just go with it.
In terms of brands I view as lingerie staples, Simone Perele is pretty high on the list. They're one of the first companies I tried when I became interested in higher-end lingerie, and though they're not as accessible as they used to be (there's been a definite shift towards UK based lingerie brands as the full bust bra movement has taken off), they're one of my favorites.
I found their fit to be startlingly consistent (which was a big deal to me when I could only buy a couple of nice bras a season), and their now-discontinued Nina set is in my personal lingerie Hall of Fame. In fact, I should probably throw away my old Ninas, but I just can't. I'm too attached. All that's to say Simone Perele is one of those understated, yet worthwhile, brands. They don't do the flashiest ad campaigns or the loudest marketing, but they do make some damn elegant lingerie.
The Velvet Bodysuit, one of our top gray lingerie choices back in October, was understandably popular. Many boutiques bought it, and most of them sold out at full price. While Simone Perele has released two other colorways, purple and white, I confess that nothing's made quite the same impression as the gray.
More artistic minds than mine can probably explain why, but for me, there's a sort of grace and sophistication in the color gray. The lush textural elements of tulle and lace and velvet play off of this understated sophistication. There's an element of restraint (as opposed to overabundance) that makes this bodysuit all the more desirable.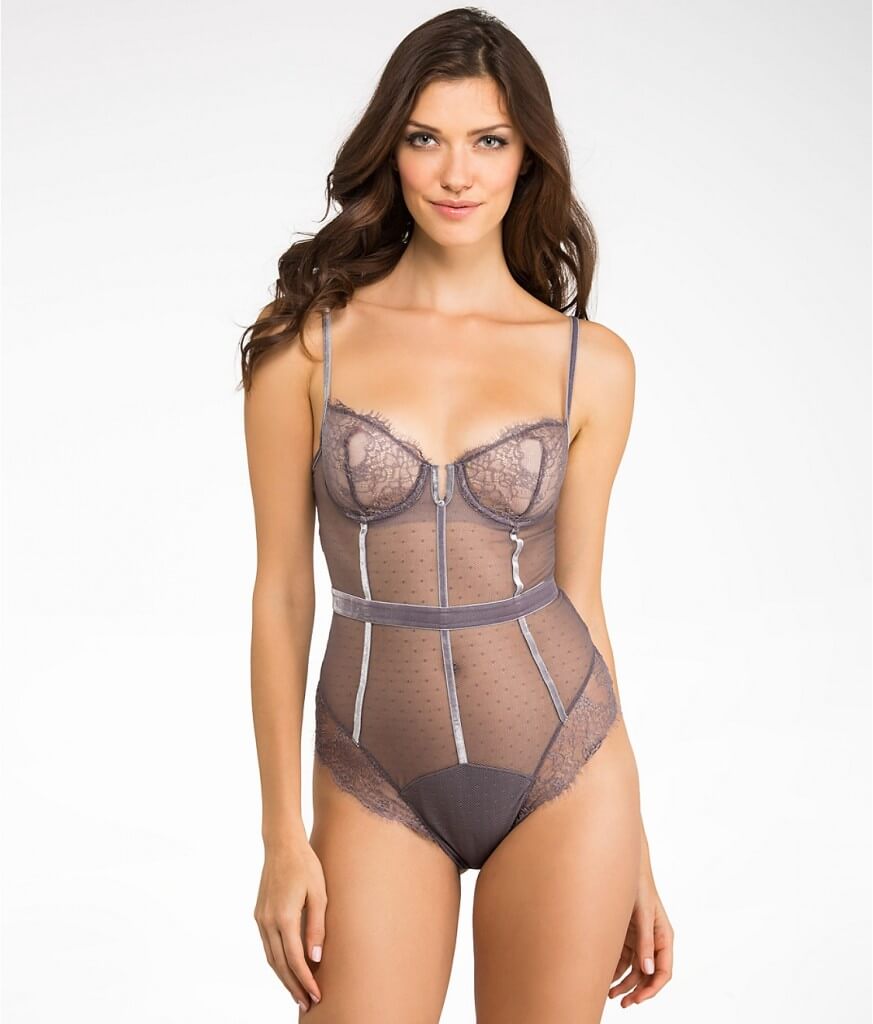 As of this writing, the retailer with the most sizes still available is Bare Necessities. If you wear a 32 C-D, 34D, or 36C, then there's still time to get it. The bodysuit has a thong back and snap bottom closure, and is mostly made of nylon.
The price is 30% off (or $111.99), but every time I visit Bare Necessities, they're running some discount or another, so clear your cookies if you don't get a coupon code offering you 15% off or so.
Here is where I'd usually make some note or another about how to style it, but not this time. Just wear it and be happy and feel wonderful. That's all.
What are your feelings about Simone Perele? Are you a fan?