Lingerie for Newbies: 7 Perfect Pieces to Start Your Collection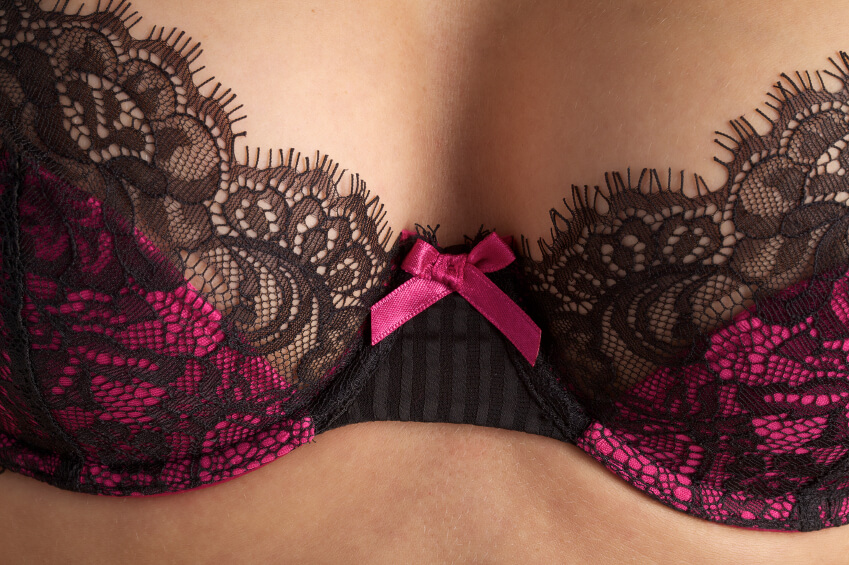 After a couple of weeks of writer's block (mostly brought on by the fact I had a lot going on in my personal life), I've been trying to look at my blog through fresh eyes lately. I've been pretty open about the reasons why I started blogging, and even though I'm not the same person I was back in April 2008 (when I made my very first blog post), I never want The Lingerie Addict to completely lose sight of its roots.
Making lingerie accessible to the everyday woman is what drives TLA,, but sometimes I forget just how much "stuff" I've learned in the last four years. Knowledge I take for granted now would have been completely foreign to me even a year and a half ago. Yet The Lingerie Addict gets dozens of new readers everyday, and judging from the questions I get in my inbox, there are still hundreds (if not thousands of women) who have just started their lingerie journey.
Looking back, one of hardest things for me when I first became interested in lingerie was knowing where to spend my money. There are so many lingerie boutiques and and so many brands (way more than when I started blogging) that just knowing where to start without resorting to expensive trial and error is overwhelming. And I wish I'd had someone to help sort everything and at least give me a place to start shopping.
So this blog post is all about sharing a few of those discoveries I wish I'd made earlier with you. These are my lingerie drawer staples, the brands I buy with my own money all the time. And whether you're new to lingerie or an 'old hand' at it, I hope this list of seven pieces (in no particular order) helps you when you're shopping.
Of course, because this list is personal (I actually do own everything on it), it's also limited, mostly by my size (34B/C up top, Large on the bottom). So if there are brands that work really well for you that aren't included here, definitely feel free to leave them in the comments. After all, more knowledge is more better in my book.
(Edit: There are no affiliate links in this post. Everything I'm recommending here, I'm recommending because I love it.)
1) Rago Lacette Corselette - Also known as a girdle dress or even a garter dress, I consider the corselette to be an an essential piece of shapewear, particularly under dresses and especially under vintage-style dresses. The great thing about this piece is that it's also beautiful enough to wear on its own, either in the bedroom or for the ever-popular boudoir/pinup photoshoot. I like Rago's corselette because it helps you feel shapely and cinched, but not like you're stuffed into a sausage casing (at least if you buy your right size). One small note: pear-shaped women with smaller boobs (like myself) may need to go up a size and purchase bullet bra pads to fill out the cups. But this is one of the first pieces of lingerie I bought and I'm still in love with it. That link above goes to Girdlebound, which I recommend since they can custom dye your corselette any shade you like. They also carry all the other "official" colorways like Mocha and Pink & Black or Red & Black.
2) Hanky Panky boyshorts (or thongs, or briefs, or whatever you prefer) - I only began wearing Hanky Panky last year, but they've pretty much made it impossible for me to wear anything else. This is the comfiest panty in the world, and the stretch lace is fun, flirty, and feminine without being over the top. I tend to take companies' press releases with a grain of salt, but these panties are everything Hanky Panky says they are and more. Believe me when I say they will spoil you forever. Oh! And did I mention you can machine wash these? And that they're available up to a size 24? Accept no substitutes. Everyone's doing stretch lace now, but if the panty doesn't say Hanky Panky, it just won't be the same quality. And if you're on a budget (and who isn't, really?) buy the seasonal colorways when they go on sale. It's still the exact same lace, and they're a great way to perk up your lingerie wardrobe.
3) Eberjey Classic Robe - Have you ever bought something, and then wondered how you lived without it before? Yeah... that's how I feel about my Eberjey robe. I've bought one or two robes before, usually of the sheer, bedroom-only variety. But this was the first robe I bought exclusively for lounging around the house. And now I wear it all the time. It's super soft, super comfy, and covers up everything quite nicely (so you can feel okay wandering around the house in it, even if you have company or kids). I confess I didn't quite understand the point of a robe before I bought this one. Now my only regret is that I didn't get it sooner.
4)  Simone Perele 'Nina' Demi Bra - If you're looking for something a bit more high-end, either because you adore luxury lingerie or because it's a special occasion, I present to you Simone Perele's 'Nina' set. You're looking at stretch French Leavers lace, and it's even more beautiful in person. Even better, the fit of this bra is so perfect, it's mind-blowing (because 'pricey' and 'ill-fitting' go together like oil and water in my mind). In fact, it's so comfy, that you can use it as an everyday set. And did I mention it looks amazing on? Sexy, sexy, sexy. If you're able, invest in every color (especially when the seasonal ones go on sale). You won't regret it.
5) Wolford Satin Touch 20 Tights - It wouldn't be fair to my roots as Stockings Addict to have a list of my seven favorite lingerie finds without including hosiery. And Wolford is the queen of hosiery. Sometimes this brand gets a bad rap for being so expensive, and I get that. But these are worth it. Not only are these tights sheer enough for work (you could call them pantyhose). Not only do they give your legs a gorgeous, "yes, I just exfoliated and moisturized" sheen. Not only do they come in a range of skintones. In addition to all that I just mentioned... they last forever. Unless you machine wash them. Which I really don't recommend because it removes whatever magic these get in the factory. Basically, don't buy these unless you want to be ruined for every other hosiery brand forever.
6) Betsey Johnson Demi Bra - If Hanky Panky is my go-brand for knickers, then Betsey Johnson is the same for bras. While I like all their styles, I'm a special fan of the demi bra. For me, this is the perfect everyday bra. They're crazy comfortable. They fit true to size (maybe even to the point of being generously sized). And they're super durable (yes, mine have taken a turn or three in the washing machine and come out no worse for the wear). Even better, this bra comes in fun, seasonal colors. Oh, and it's reasonably priced. As you've probably already guessed, I stock up when the seasonal colors go on sale (recognize a pattern here yet?), which is every six months or so. Because really, who's going to call you out for wearing last season's underwear?
7) Timeless Trends Corset - One of the questions I'm asked most often, by far, is "Where can I find a good, affordable corset?" And while I'm of the opinion that the best corsets are custom made, I also know that's not within everyone's reach. So when it comes to an inexpensive, off the rack, yet still well-made corsetry, I always recommend Timeless Trends. Now these won't fit as well as custom, and you should never try waist training in them, but if you're wanting an authentic, multi-layered, steel-boned corset that won't tear up or warp or be rendered completely useless after one wearing, this is the place to go. I especially recommend them for people who are brand new to corsets and still on the fence about investing several hundred dollars in a custom one. Because plain and simple, you won't find a better quality corset for less money.
These are the seven pieces of lingerie I wish I'd known about when I first started blogging. If you liked this post, let me know in the comments, and I'll do a Part 2. After all, there were definitely some favorites left off of this list. ;-)