Introducing Divamp: Couture Costume Design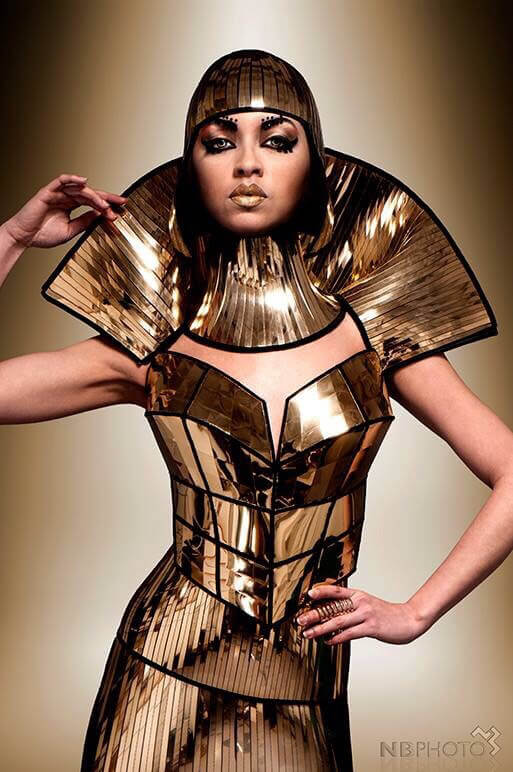 Even if you're not into fantasy wear, it's hard to deny the theatrical fabulousness of Divamp. Barcelona-based designer Boyd Baten has created a line of over-the-top wearable armor that is equally at home on an opera stage as it is at the Black Rock Desert of Burning Man. Part glam gladiator, part futuristic fetish, Baten's pieces are true works of art.
It's no surprise Baten ended up creating wearable sculpture. He grew up influenced by his sculptor father's work. After a brief stint in art school, he began selling costumes during the early years of the acid/house dance scene in the 1990s. Since then, Baten's work has evolved beyond costumes to couture-worthy pieces that are wearable art.
Pieces are created utilizing a polyvinyl material in mirror-like silvers and golds. Meant to mimic metals, the material is firm yet light weight and flexible. It is woven into dramatic silhouettes or broken down into fractured, honeycomb-like textiles to add visual interest. Additionally, many items also feature detailed hand embroidery which adds subtle texture and color or is used to emphasize the linear element of the piecework.
I love how the collection references styles from older eras and repurposes them in futuristic ways. You'll note Egyptian, Victorian, and Edwardian influences are playfully paired with cyborg elements. The bustier pieces are especially fantastic, with piecework that molds to curves, often with built-in Elizabethan ruff collars and dramatic hip fins.
While these certainly appeal to the cosplay crowd, Divamp has also been creating costumes for all sorts of avant garde performers, from Burlesque to drag queens. In a real coup, Boyd Baten has even outfitted Azealia Banks. And while many of these looks are definitely meant for fantasy play or performance, several could definitely be incorporated into everyday sorts of costumes (i.e.. slinky clubwear or cheekily paired with black tie).
What do you think of Divamp's designs? Could you see yourself wearing any of these styles? If so, where would you wear them?