Lingerie of the Week: Fantasy Plus Size Nicole Teddy and Sabrina Tulle Skirt
Disclosure: This post contains affiliate links.
The real trends for plus size lingerie aren't coming out of boutique brands and luxury labels. Rather, it's the inexpensive, "sexy" brands of the industry that are daring to meet the needs of the growing population of size 14+ people. And while there are certainly some valid reasons for why plus size bras have to look a certain or why new brands can't immediately offer all sizes, it's also true that sizeism is rampant in the lingerie industry, and many brands have no interest in serving customers beyond a size 6/8 or so.
I had the chance to preview Fantasy's upcoming collections at this year's International Lingerie Show, and immediately fell in love with the ensemble above. There's this idea that budget-friendly lingerie brands can only do the super-skimpy, super-sexy things, and while that's fine, variety is good too. I love this teddy and skirt pairing because it's soft and romantic and comes in a shade you rarely see in lingerie...a kind of dusty, heathery purple. If teddies aren't your thing, there's also a longline bra and panty option (though I'm still a strong advocate for buying that tulle skirt).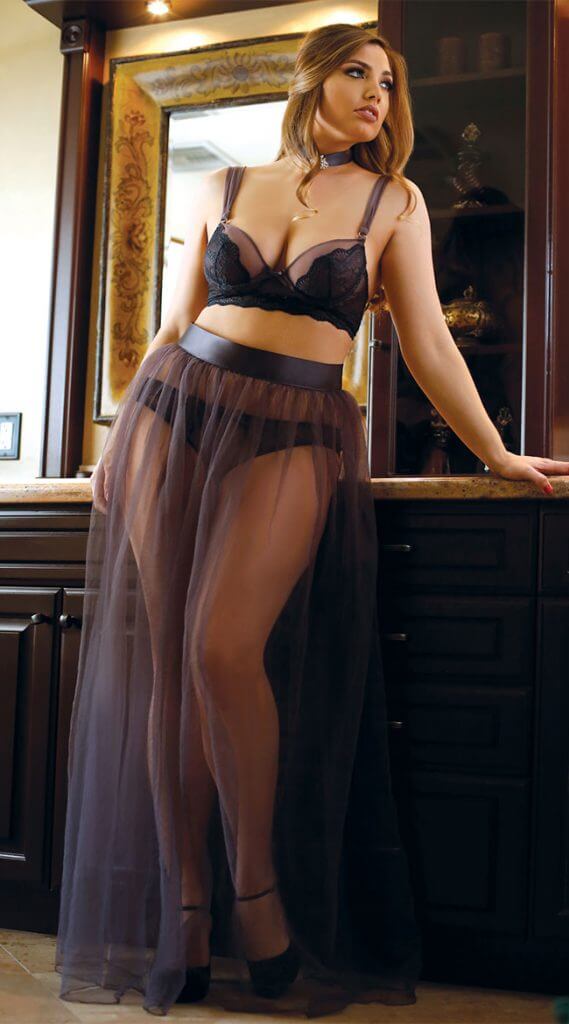 The teddy is available in sizes 1X-3X, though it appears that only size 1X is still in stock (which, as strange as it sounds, is a good thing...if 3X sold out already, that's a great sign to stockists). The tulle skirt is one size, Queen, and appears to have some adjustability with the ribbon tie (though the given size chart seems oddly small for this particular piece). The longline bra and panty set is also available in sizes 1X-3X, fitting a maximum dress size of US 26. If you felt like splurging (treat yourself!), you could pick up all three pieces for under $100. $99.85 to be exact.
One of things it took me a few years to learn is that it's not enough when brands debut new styles in extended sizes. Stores also have to be willing to stock them - not just in 1X, but in the full range, if possible. I absolutely adore how Fantasy is moving in this new, more whimsical direction, but I also love how Yandy picked up these new pieces in all the sizes Fantasy has available. It takes brands and stores working together to offer more options for consumers, and I hope this is a sign of more changes to come.
What are your thoughts on Fantasy Lingerie? If you liked this article, please share it with your friends!
Save
Save