Lingerie Review: DW Danielle Wood Velvet Bralette and High Waisted Panty
Disclosure: I received this set free of charge for review purposes. All opinions are my own.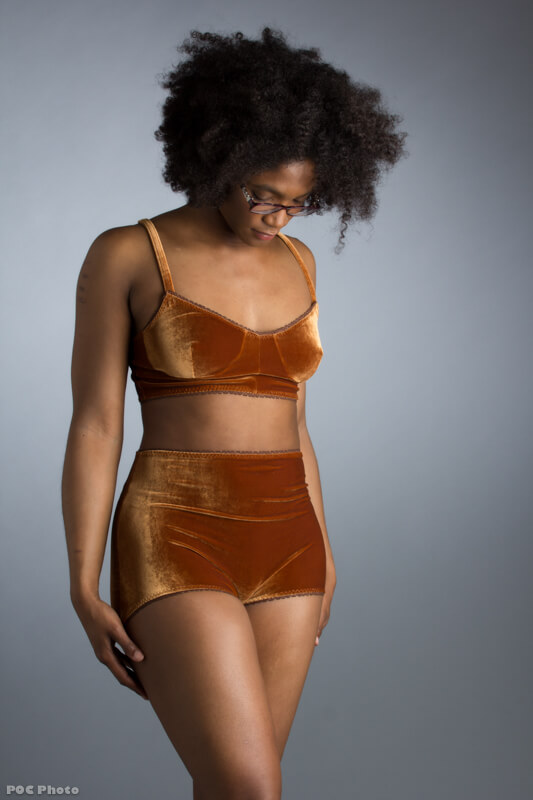 DW Danielle Wood is an indie label we first talked about on TLA back in 2013. I remember being intrigued by their rustic, log-cabin, Pacific Northwest aesthetic. To me, this felt like the kind of lingerie you'd wear while camping amongst the redwoods on a foggy, chilly (but not cold) weekend. In an industry that often seems to swing between the extremes of super sexy and boringly basic, DW Danielle Wood offers an alternative approach to lingerie. Items like seamed longline bralettes and high-waisted briefs are obviously vintage-inspired, but there's also something very grunge/underground/1990's about this look. And I dig that vibe, if for no other reason than that it's unusual and unique.
I was sent the Velvet Bralette in size Medium and the Velvet High Waist Panty in size Large. I'm a size 8/10 US, and according DW Danielle Wood's size chart, Medium fits dress sizes 6/8 and Large fits dress sizes 10/12. I believe the colorway of this set is called Rust, and the velvet fabric is also available in 8 other colors: red, gold, green, navy, plum, pink, black, and white. The bralette has no underwires or hook-and-eye closures (it's meant to slip over the head), and the panty is an old-school brief style with a full coverage back (the kind that almost starts to resemble a boyshort or hotpant).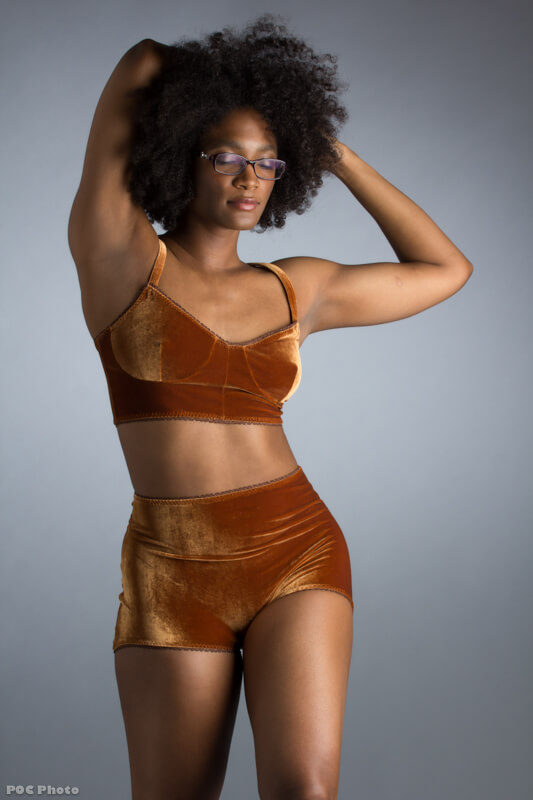 Apart from a few robes, this was my first velvet lingerie set. I don't know the fiber makeup of these pieces (there was no fabric label on either the bralette or the brief, which is something I dislike), but I'd venture to say these are synthetic materials. The outer velvet facing is relatively soft to the touch (though, of course, not as plush as say, a silk velvet), and the inside felt like polyester or nylon and had about the same amount (i.e. lack of) breathability. The panty has a cotton gusset, but there is no other lining, cotton or otherwise, on the inside of the lingerie (though the bra straps are velvet on both sides). The lack of a lining becomes an issue for the bralette, especially as the day wears on, since the exposed, raised seams are right against the skin and can be itchy and irritating (particularly when combined with the stickiness that can come from wearing fabrics that don't breathe).
In terms of fit, both pieces are very stretchy with lots of give. I think either item could likely accommodate someone about a size larger than what's given in the size chart, and both pieces have a kind of ease to them that I believe is perfectly suitable and appropriate for this style. The bralette in particular is more of a lounging piece, and is not meant to give support. The "cups" are more or less decorative features and don't really hold or otherwise constrain the breasts. As it's made of velvet, this set can be a bit bulky under clothing; I'd say it works under loose blouse and skirts though of course the bralette can also double as a crop top for outerwear. Also, I think these pieces could work well as more gender neutral lingerie. Finally, this set is warm. Velvet really keeps the heat in.
Overall, I'd say these pieces are best-suited for late autumn/early spring lounging around the house. I found them both to be very comfortable, but I believe the bralette could be improved with an interior lining of some kind or at least seams that are somehow covered or flattened. I don't think of my skin as especially prone to irritation, but those seams were absolutely an issue after a few hours of wear. And while DW Danielle Wood's velvet bra set doesn't necessarily match up with my personal aesthetic, I do like the fact that quirky options like this are available, and I'd like to see the designer push a bit further in this direction, with perhaps a few additional details that add to the comfort and overall wearability of these pieces.
What do you think of velvet lingerie? And have any of you tried DW Danielle Wood before?