Sale Lingerie of the Week: Stockings & Romance 'Seduction' Mesh + Satin Corselette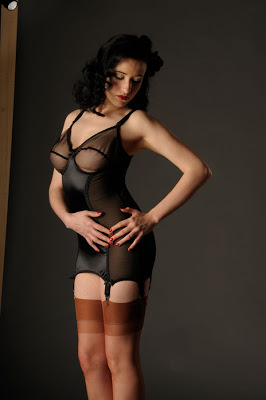 If you've never heard the name Stockings & Romance before, they were a vintage-inspired lingerie brand that has recently gone out of business. I last mentioned them about a year ago, but in a lingerie industry that's become ever more-crowded, it seems they just couldn't get the market share to stay afloat.
Girdlebound, a specialty retailer of retro shapewear, still has some of their items in stock, and this 'Seduction' corselette (which I thought was a highlight of Stockings & Romance's relatively short run) is on sale for $40...a 50% reduction from the original $80 price. I actually picked up one of these myself not too long ago (have I mentioned I'm a bit of a collector/hoarder?), and I'm quite happy with it. I've always been a fan of corselettes, and girdle dresses are among my most favorite items of lingerie (though I will say shallower or more pendulous breasts may have some trouble filling out the relatively unstructured cups).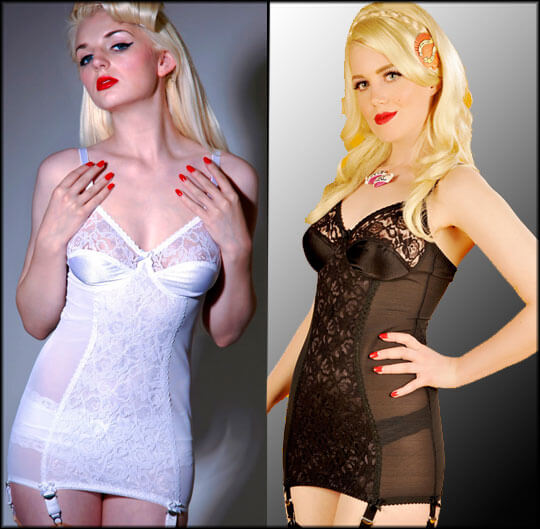 The Seduction corselette is a fun piece of lingerie that's perfect for the ever-popular boudoir photoshoot and is a great introduction to the world of girdles, garter belts, and pin-up style shapewear. As of this writing, it's still available in sizes S, M and XL, and also in a second gold/black colorway. And, if lace is more your style, there are a few lace variations on this silhouette from the same company for around $35.
Had you heard of Stockings & Romance before now? What are your thoughts on corselettes?