Lingerie of the Week: Josie Natori Whimsical Robe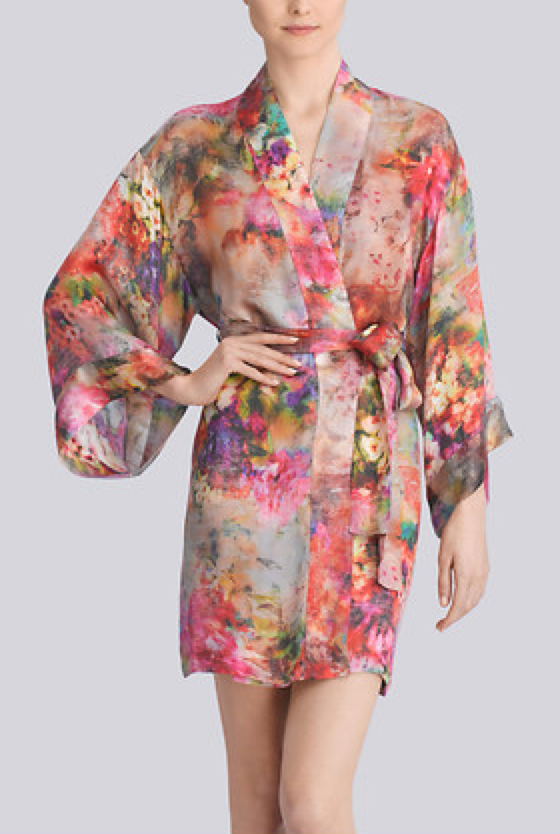 This week's Lingerie of the Week is also a bit of a Lingerie Lust Object. I mean, I know most people can't afford a 100% silk, $395 robe from Josie Natori, but it's so wonderful, I had to write about it on the off-chance one of you could. And regardless of the price, gorgeous lingerie like this deserves to be appreciated for the beautiful objet d'art that it is. I would frame this robe. Or package it in tissue paper and only pull it out when guests are over. It's just so pretty that I sigh a little bit every time I see it (which has been rather often over the past few weeks).
The Josie Natori Whimiscal Wrap is 35" long (so a bit on the shorter side) and comes with the suggestion to hand wash or dry clean for best results. It's available in a single color (this beautiful multicolor print) and five sizes ranging from XS thru XL. If robes aren't your thing, there's also a chemise and a caftan. Personally, I prefer the caftan to the chemise... because who wouldn't want to be covered shoulder to ankle in silk? Though Mother's Day is over, I think a silk robe is a perfectly appropriate gift for Mom. And, of course, it goes without saying that this is a perfect gift for yourself as well.
What do you think of this week's Lingerie of the Week? And are you a disciple of beautiful robes?