5 Choices for Plus Size Pinup Shapewear (Sizes 2X Thru 8X)
Because I started off as a stockings blogger, pinup lingerie has always had a special place in my heart. I'm talking items like tap pants, high-waisted knickers, camisoles, slips, corsets, and, yes, girdles. No offense to Spanx, TC Fine, and their ilk --- but I hate how the bumpercrop of ugly, beige, boring shapewear in today's department stores has turned off so many people to even the idea of nice shapewear. Shapewear doesn't have to be a torture device; it can be pretty, beautiful even, and I think pinup shapewear in particular is a wonderful blending of function and fashion.
Unfortunately, many retro lingerie brands, like the rest of the lingerie industry, top out their sizing at a L or XL. As someone who wears a large herself, that means there are a lot of women who aren't getting into those ultra-foxy girdles. So if you're plus size woman wanting to expand her pinup horizons, take a look at the five brands below. And of course, it goes without saying that if you know of a pinup shapewear brand making a size 2X or beyond, please include them in the comments!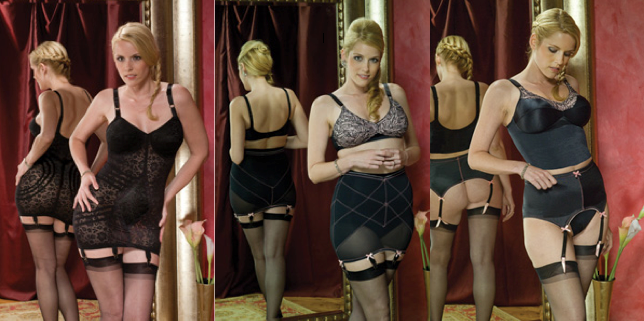 Rago - In existence since the 1950s, NYC-based Rago is one of the most popular shapewear brands in the world. American Shapewear, Rago's own direct-to-consumer retailer, carries every single size and style this company makes (including the ones you're not likely to find stocked anywhere else). Classic items like their Lacette corselette (probably my most favorite thing they make) are available up to a 48DD, while other items like their retro shaping briefs and girdles are available in up to a size 8XL (fitting a 46" waist and 56" hips). Garter belts and waist cinchers are available in up to a size 6XL. If you've felt frustrated about the lack of pinup shapewear in your size, start here.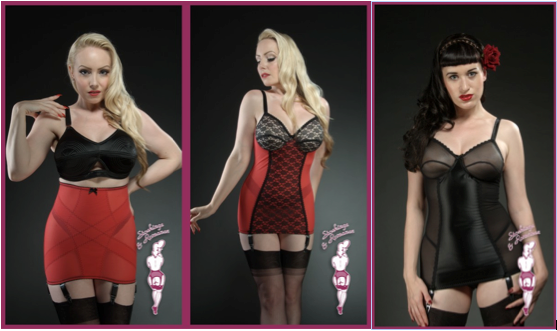 Editor's Note: As of July 2014, Stockings & Romance appears to no longer be in business. 
Stockings & Romance - A UK company, Stockings & Romance focuses on retro 1940s and 50s lingerie. They make their girdles and corselettes in up to a size 5X (fitting a waist size of 39-40") and they also do some more fetish-y pieces like ouvert girdles and latex girdles. Bullet bras are available in up a to a size 46E. If you're a lingerie retailer or brand, Stockings & Romance is also available to do private label for companies that wish to stock their products.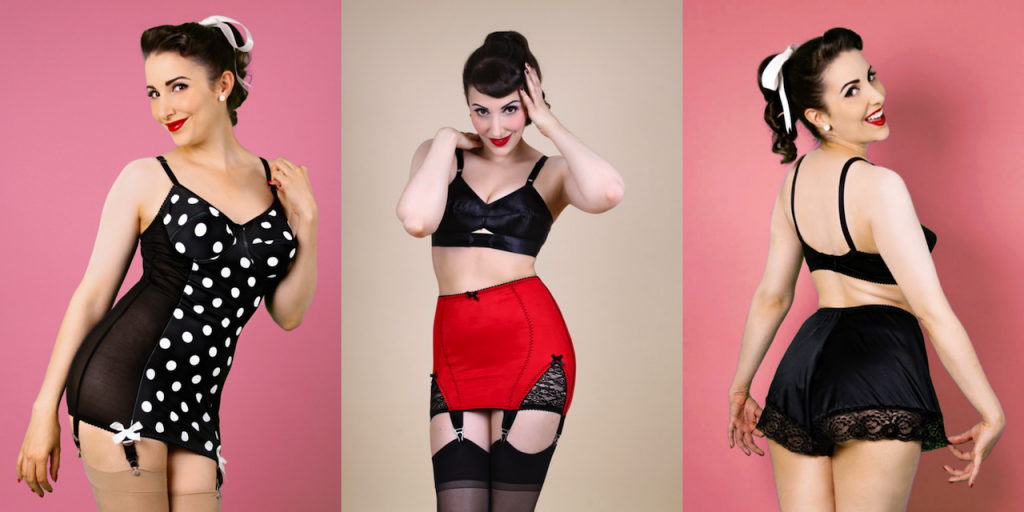 Joanna's Wardrobe - Online since 2008, UK retailer Joanna's Wardrobe sells lingerie from brands like Kiss Me Deadly and What Katie Did in addition to her own label of vintage-style girdles and corselettes. Cute and kitschy, this is the playful side of pinup lingerie. Girdles are available in up to a size 3X, knickers (including french knickers/tap panties!) in up a to a size 2X, and bras in up to a size 38DD. While the 3X isn't included on Joanna's Wardrobe's current size chart, their 2X fits a waist of up to 34" and hips up to 44". I've personally ordered from Joanna's Wardrobe, and I can attest to their excellent customer service.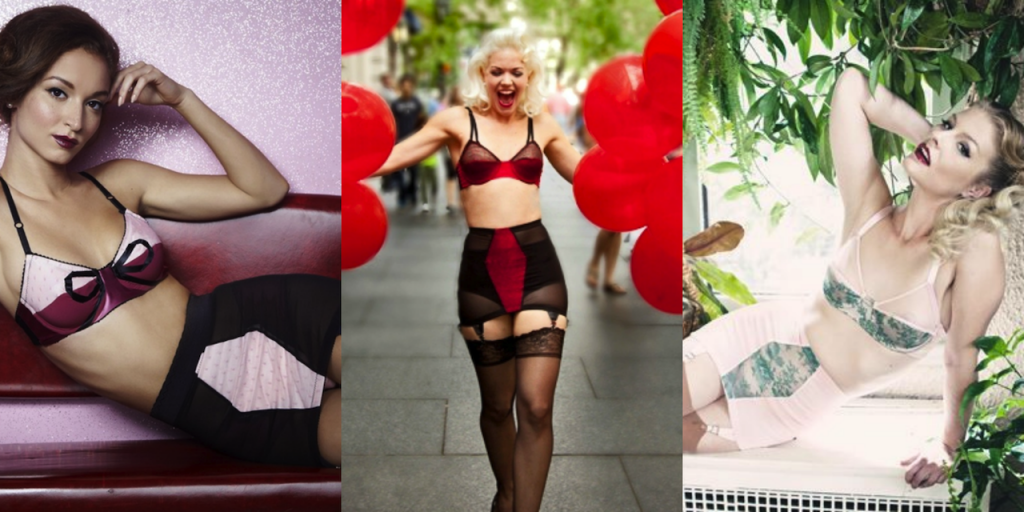 Dottie's Delights - The only custom designer on this list, the fabulous luxury retro brand Dottie's Delights handmakes everything to order, which means you can not only get her regular S/S and F/W collections in plus sizes, you can also collaborate with Stephanie Kuhr (the designer herself) to have a custom, one-of-a-kind creation made to your exact measurements. I've seen the lingerie from Dottie's Delights in person several times, and it is, quite simply, breathaking. Think the best laces, the best silks, and the best powermeshes... all tailor-cut for your individual figure. I often hear from women of size who wonder where the luxury, high-end lingerie is for them... well, Dottie's Delights is making it.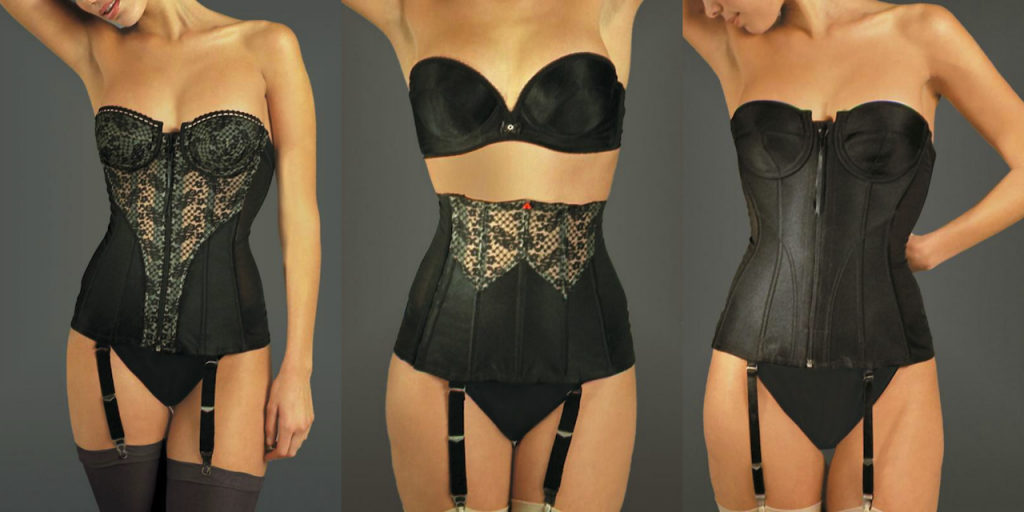 Lady Marlene - This recommendation is a little unusual, as the company Lady Marlene actually went out of business a few years ago, and the only place I can still find a decent selection of their shapewear is on Alexis4U, BUT I think it is totally worth picking up a piece while you still can... especially since it's all out of production. When Lady Marlene was still manufacturing, they made waist cinchers up to a 4XL and bustiers up to a 44D. This is one of the brands I tried when I first started blogging, and the quality is excellent. Like I said, I know it's weird to mention a brand that doesn't even exist anymore, but I think you absolutely should grab one of these pieces before they completely disappear, especially if you're both plus-sized and smaller-busted. I'd also try searching eBay, as there are quite a few brand new items in a variety of sizes floating around there as well.