Harlow and Fox S/S 2015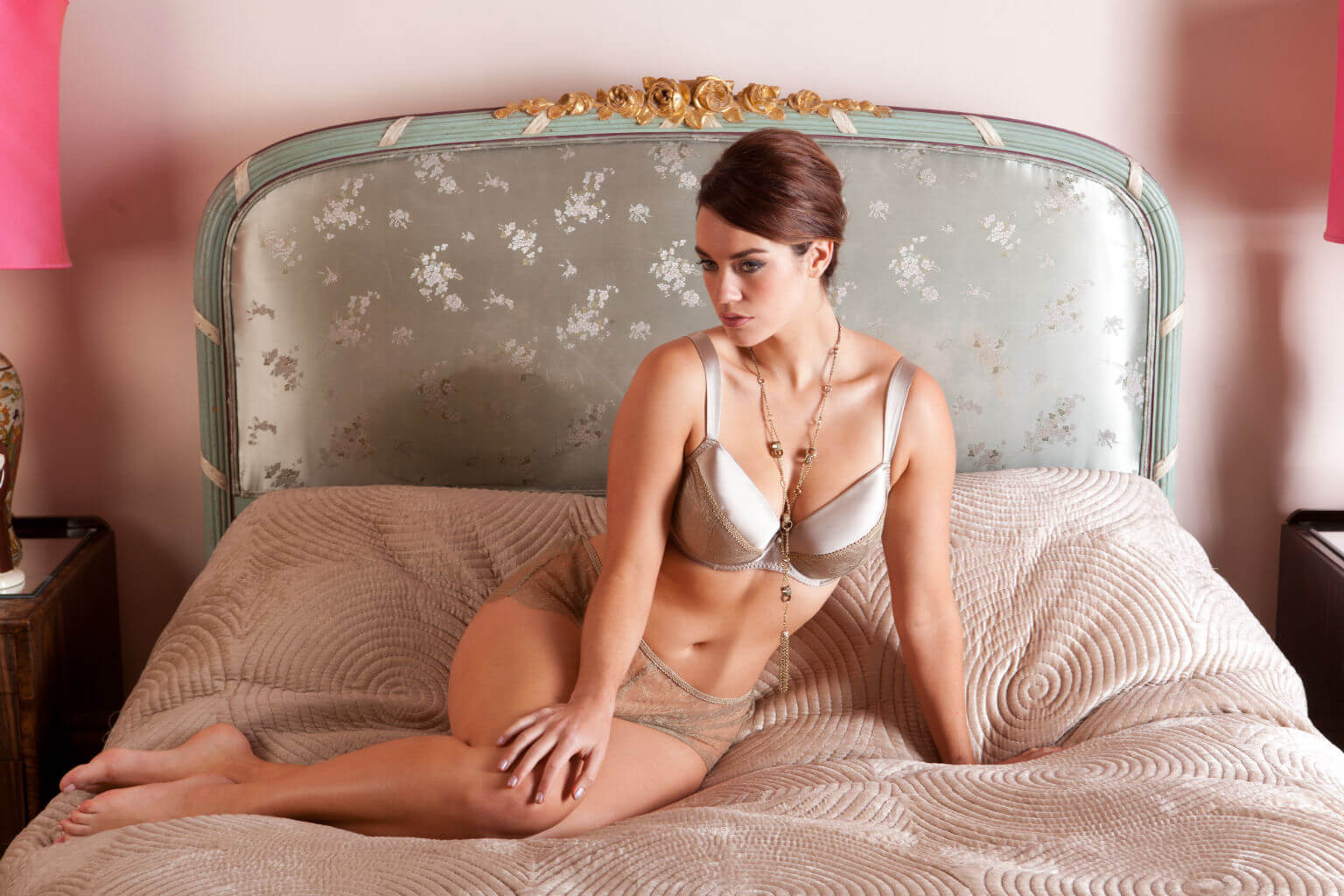 There's been a great deal of well-deserved excitement in the industry about UK-based lingerie brand Harlow & Fox. Luxury intimates, especially bras, are rarely offered beyond the DD+ range. Fit becomes much more challenging in this size range, especially when items are crafted of fine, delicate fabrics. Harlow & Fox is transforming the way full bust women view luxury lingerie, offering gorgeous lingerie in exquisite fabrics specifically designed for DD-G cups.
What makes Harlow & Fox so special is their incredible attention to detail. As our columnist, Krista, pointed out this week in her review of the Eleanor bra, these bras are exceptionally well constructed, offering superior support for full busts without compromising on luxury fabrics. These bras are lined with their silks to feel sensuous against the skin. This is no small feat, having a well fitting bra that is lovely enough to practically be worn inside-out.
You may remember seeing a preview of their A/W 2014 line, which included rich fabrics and a dramatically fringed suspender belt and robe. Their S/S 2015 line is crafted in a similar vein. In this, their third collection, the Eleanor bra is offered in ivory silk with a matching half slip generously trimmed with lace. I'm so thrilled to see a classic half slip offered in this collection! It seems as if slips have nearly disappeared under the barrage of no-nonsense shapewear in the market. Surely wearing this slip would make one feel incredibly glamorous, not to mention sexy with the slide of silk against the skin. There's something to be said for foregoing shapewear and enjoying the act of dressing (and undressing!) before an evening out.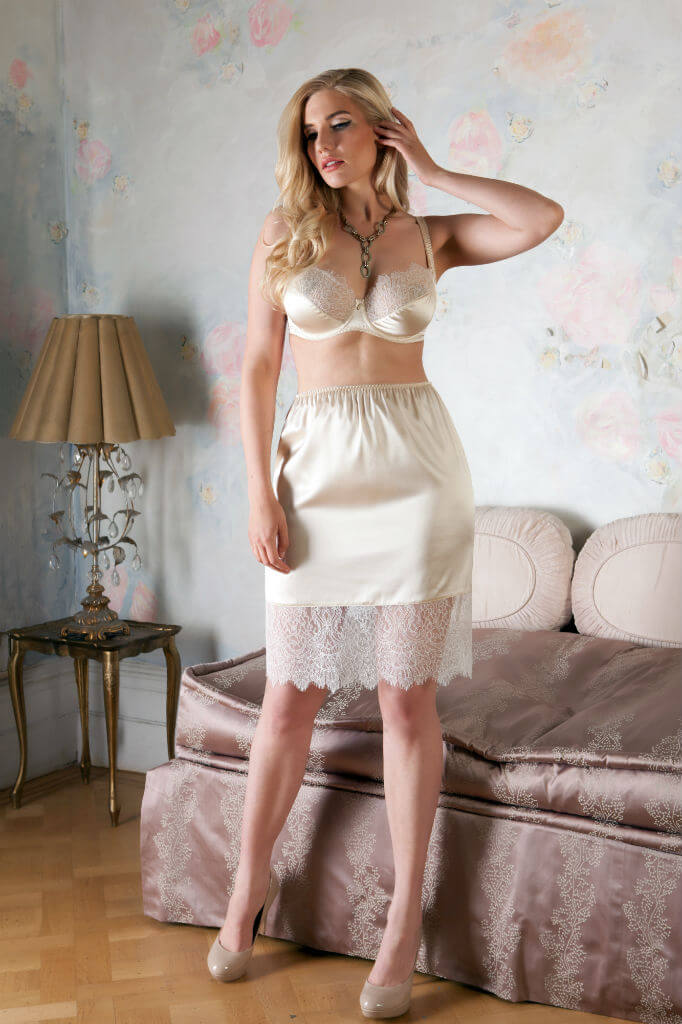 The Ophelia set (at the top of this post) utilizes taupe silk with an overlay of French gold lace that has subtle metallic threads running through it to give a hint of shine. The scalloped edge of this sheer lace is used to great effect in the matching panties and to adorn the bodice of a sweeping dressing gown. The gown is like a fairytale come true, with billowing chiffon that floats away from the gathered band beneath the bust. It is delightful to see a full bust gown that is designed to accommodate larger cup sizes without using copious amounts of fabric. This gown is meant to skim the bust, with lace showing off your lovely décolletage, shoulders, and back. The front floats around the body to give peeks of what you want to show off (your gams!) while discretely camouflaging other areas if you'd like.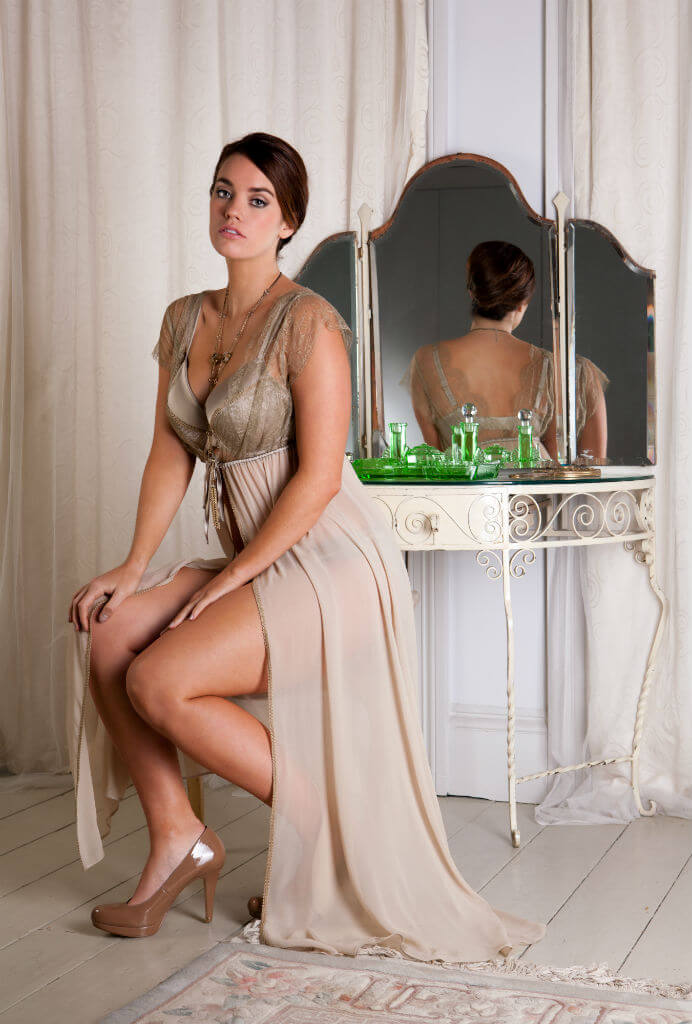 The Adrienne set features silk in a cappuccino shade with a coordinating Italian embroidered lace with a richly patterned leaf design. This range includes a balconette bra, classic bikini panties, high waist briefs, and a figure-hugging slip that all work together to show off design elements. The body-conscious slip is crafted of sheer tulle that provides light smoothing. There is a center panel in both front and back made of stretch silk that is lined with an additional layer for both smoothing and a decadent feel against the skin. I love how these silk panels are curved to emphasize the wearer's curves, emphasizing an hourglass shape. Harlow & Fox has put a great deal of consideration into these pieces, with the lace of the panties or briefs meant to show through the sheer tulle of the slip to add an additional design element. This same thoughtfulness extends to the design of the suspender belt, which can be worn either above or beneath the high waist briefs for two different looks.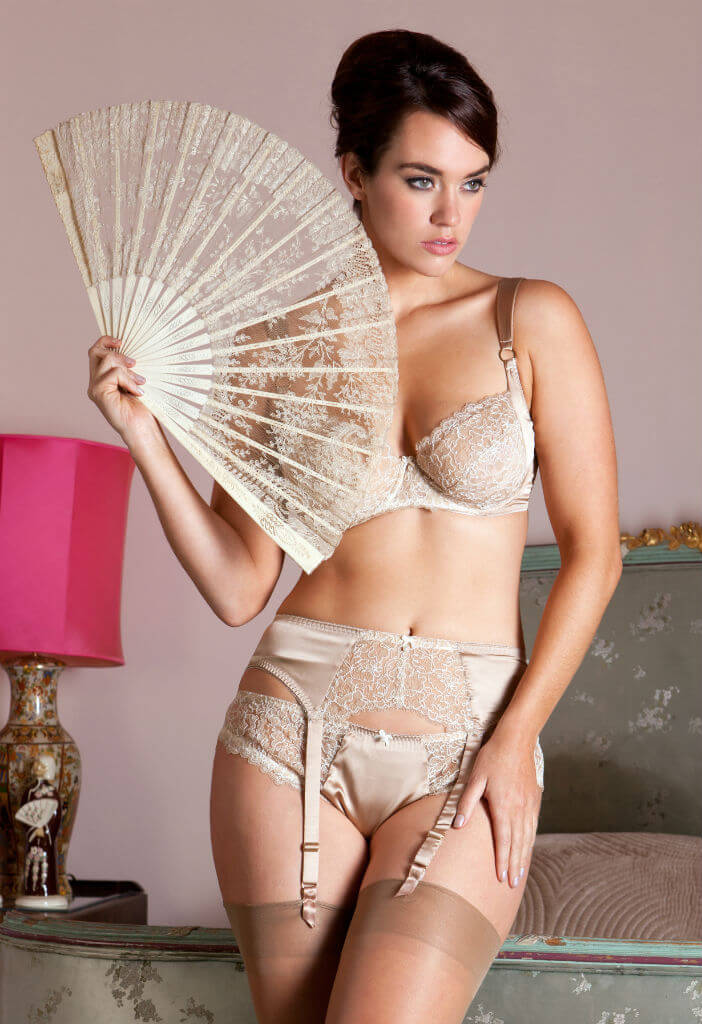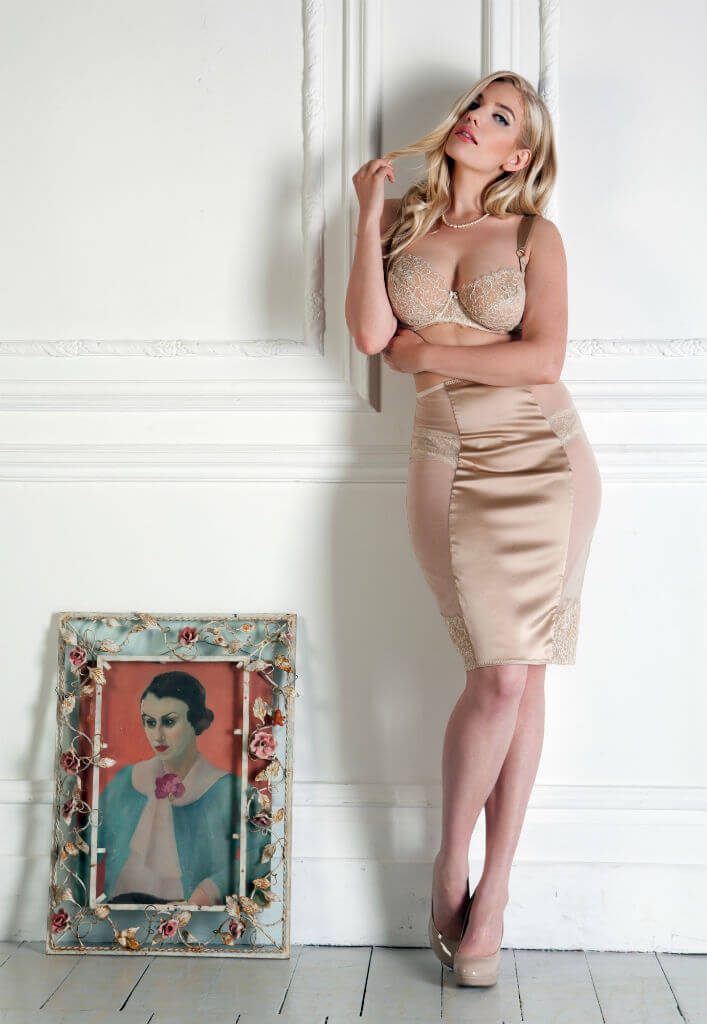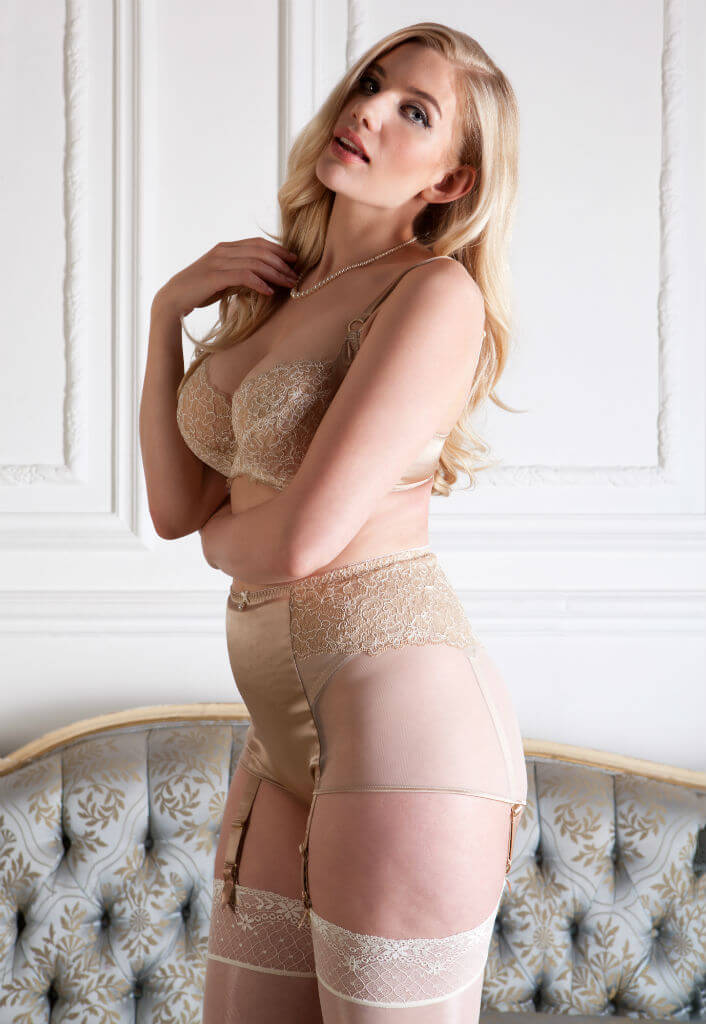 The real showstopper, though, may just be this floral print robe. While not as focused on full bust fit as the other lingerie pieces, the fresh print of English roses over mint silk will have women of all sizes pining for one of their very own.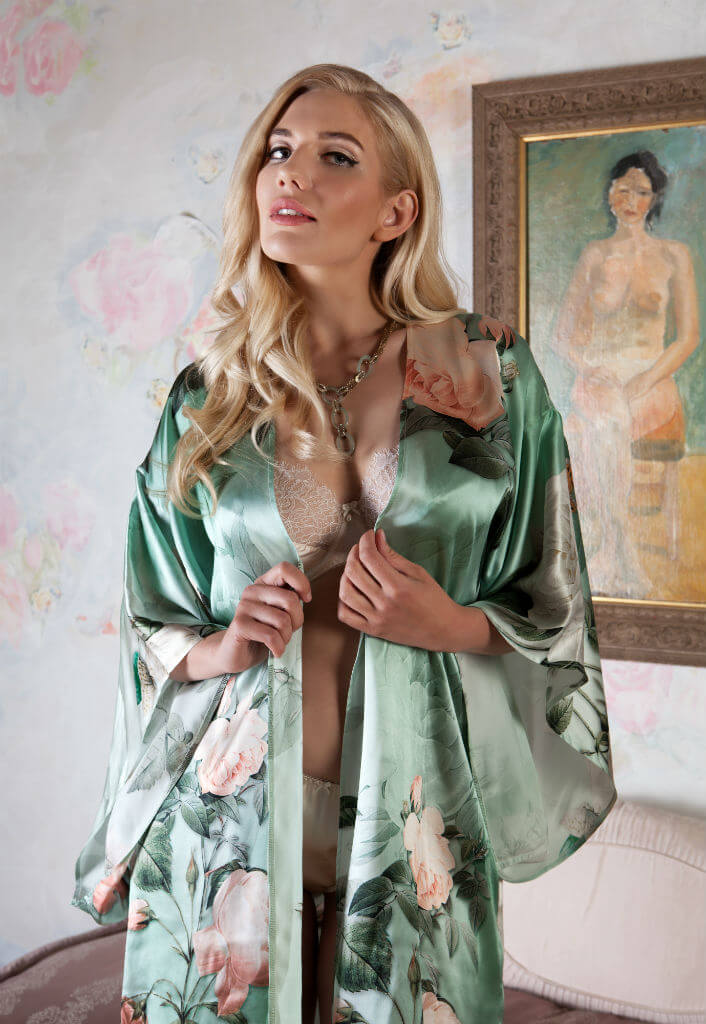 Harlow & Fox has produced a short film to celebrate the release of their S/S 2015 lookbook (items are available for sale in March). This dreamy video is based on the myth of Theseus and the Minotaur, with plus size models Laura Wells and Erika Elfwencrona wandering through a glamorous labryinth. Apparently he finds these silk and lace fancies irresistible as well!

Harlow & Fox SS15 from Harlow & Fox on Vimeo.
What do you think of the Harlow & Fox S/S 2015 collection? If you are a full bust woman, would you splurge on luxury intimates such as these? Do you have a favorite item you wish you could buy?