More Brown Bras, Please: The 'What's Your Nude?' Campaign
Contributed by Tara Raines of What's Your Nude?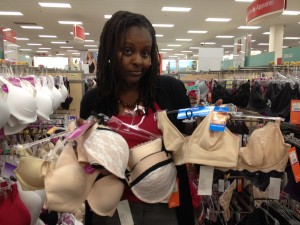 If you're like me, you probably have a drawer full of black bras. Not because you think they're sexy, and not because they're your favorite – simply by default. Because most major lingerie brands and retailers don't believe it's a priority to make or carry brown bras.
If your skin is honey, caramel or cocoa-colored, there's no nude bra option in the marketplace for you. And if you want to purchase a brown bra, you may have to visit five or six stores to find one and even then, there's no guarantee that you'll like the style or that it will compliment "the girls."
But you can be assured that every store you visit will be well-stocked with peachy, beige, buff-colored nude bras. Nevermind YOUR nude.
One day, while unsuccessfully searching for brown bras, and being inundated with the availability and variety of nude bras, the wheels begin to turn. So I did what most consumers would do, I sent an email to one of the largest lingerie retailers in the US asking for more bras. And I received a lukewarm response that failed to assure me my feedback would be taken seriously.
And since this was an issue that was bigger than me, I decided to reach out to other women who I knew shared my frustration. I launched the "What's My Nude" campaign and urged friends and family, journalists, and social media users to help me reach out to bra makers and retailers. What resulted was a tsunami of support that reinforced my belief that there's great demand for brown bras in the marketplace and that the issue deserved swift action.
But while women everywhere were lending their voices, and sending virtual high-fives via Facebook and Twitter, bra makers and retailers were largely silent. Sure, they sent the customary polite responses, thanking us for our correspondence and promising to 'look into it.' But as the daughters of women who have been buying nude bras and dyeing them brown for the last 30 years, I feel that we're entitled to more than a form letter from a customer service representative.
So, why the silence? According to Jené Luciani, notable style expert, and author of The Bra Book, "The bra industry is pretty old-school and it will be tough convincing retailers something will sell in their intimate apparel departments that hasn't already been selling there already."
"It would be very expensive for brands to produce dozens of varieties… typically, the brands will stick to the most popular sizes and hues, and offer only those, which is why so many women are frustrated that they can't find their size or their shade," Luciani continued.
And these are the very same points that are echoed through the hallways of major lingerie brand and retailer headquarters everywhere. Essentially, women of color aren't buying brown bras and even if they were, it would be too expensive to manufacture them – a perspective that's beyond heartbreaking for minority consumers who have invested millions of dollars with these brands for decades.
But despite the complacency of the industry (which we hope to change), there is light at the end of the tunnel, and more importantly, a different perspective. Sadia Sissay, creator of BeingU (www.beingu.me), a nude lingerie collection for women of color, is determined to make sure brown girls are well represented in the marketplace.
In fact, she challenges the notion that women of color aren't buying brown bras, because 'how can they buy them if they are not in the stores?' And while major brands harp about the cost of manufacturing brown bras, smaller entities like BeingU are moving full steam ahead, and creating beautiful collections that brown girls can be proud to wear.
BeingU launches in the US in April 2012, assuring women of color that someone hears them. And this is a huge step in the right direction.
But that doesn't mean that we're ready to let the multi-billion dollar entities we've given our money to over the years off the hook. We have no intention of letting lingerie brands and retailers sweep this issue under the rug.
So we've extended the 'What's Your Nude' campaign, and starting today through February 10, we're asking women (and men) to participate in the Brown Bra Scavenger Hunt. To participate, visit major retailers in your area and take photos or videos of brown bras or the absence of brown bras. Then post your photos or video to our Facebook page at www.facebook.com/morebrownbras or on Twitter using the #whatsyournude hashtag. At the conclusion of the scavenger hunt, a random participant will be selected to win a beautiful brown bra from BeingU.
After 24 years of wearing mostly black lingerie, Sadia Sissay doesn't want her teenage daughter to be forced to follow the same path, and neither do I. It's our responsibility to speak up not just for ourselves, but for the next generation of women of color.
So join us, and help us SHOW the lingerie industry that brown girls deserve to feel and look sexy too, and a big part of that is looking like ourselves.
For more information about the 'What's Your Nude' campaign, visit www.facebook.com/morebrownbras or www.twitter.com/whatsyournude. For details and instructions on how to participate in the Brown Bra Scavenger Hunt, visit www.youtube.com/whatsyournude.
Last Updated on