Make Your Own Lingerie: Where To Start?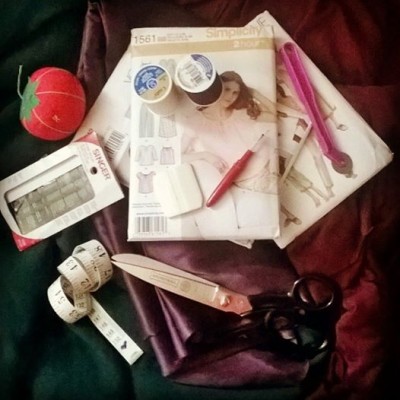 Most of us addicts work on a budget, and even though we'd love to devote entire pay checks to our lingerie collections, spending that much money is not a practical decision. So how can you help cut that cost while still adding beautiful and unique pieces to your wardrobe? Make your own! Not only will you be saving money by avoiding overhead costs that are factored in for retail sales, your garments will have a customized fit.
In this monthly column, we will go over an array of topics that will help spice up your wardrobe. These articles will include making lingerie from store bought patterns, altering patterns, drafting patterns, revamping old lingerie and proper lingerie sewing techniques. If you are feeling a bit overwhelmed by this idea, don't be. You do not need any sewing experience to start these projects. We will start with very simple patterns and work our way up to more complex projects. There will be pictures detailing every step of the way.
If you would like to join in, here is a list of supplies that I would recommend having on hand.
2)     Thread
5)     Shears
6)     Snips
7)     Pin Cushion
8)     Pins
9)     Seam Ripper
10)  Tailors Chalk
11) A few Packages of Bias Tape
12)  2-4 Yards Woven Fabric
13)  2-4 Yards Knit Fabric
14)  1-2 Yards Lace
15)  1-2 Yards Stretch Lace
16)  2-5 Yards Satin Ribbon
17)  2-5 Yards Lace Trim
18)  2-5 Yards Lingerie Elastic
You can find fabric and trims at the following online stores:
1)     NY Fashion Center – Beautiful collections of silk, cotton, and polyester in a wide variety of colors.
2)     Mood Fabric – Designer fabrics, a wide variety of print, color and fiber
3)     Spoonflower – Custom patterns from various indie designers. Can be printed on a variety of cotton and silk fabrics.
If you are at the beginner level, I highly recommend purchasing The Readers Digest Complete Guide to Sewing. This book has very easy to read and understand information and directions. I recommend reading up to page 91, and practicing the seams.
Next Month we will start working on some basic loungewear using Simplicity Pattern 1561, focusing on patterns D (top), E (chemise) and H (shorts). Use the chart on the back to determine how much fabric you will need for each of the patterns. You will also need to purchase 1/4" wide Elastic and 1" wide Bias Tape.