3 Wildly Creative Lingerie Sets from Etsy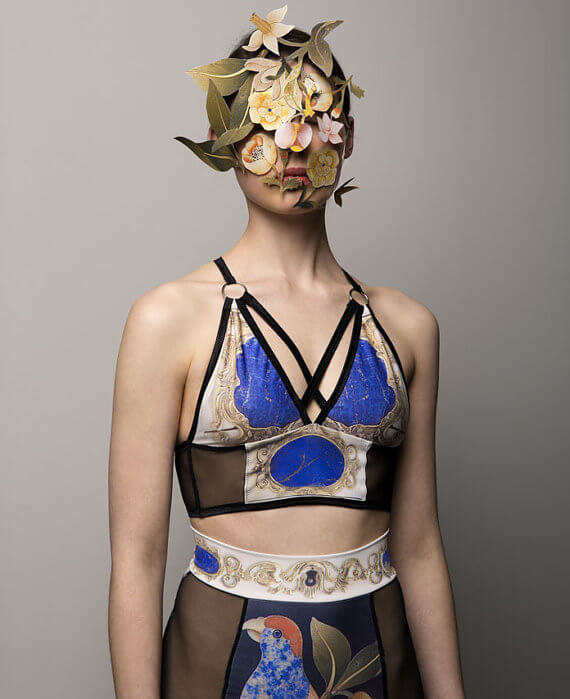 When it comes to creativity, artistic expression, and sheer risk-taking, no one beats the indie designers of the lingerie industry. While large brands have to cater to the "average" customer, small labels are under no such limitations, and so they can really let their wildest dreams run free. As someone who's always on the lookout for what's new, exciting, and interesting in the world of intimate apparel, this is thrilling to me. Nothing makes me geek harder than seeing something that's truly unique and innovative. Here are three designs that've caught my eye lately.
I am no artist. I like what I like, but I'm not a person who could be described as especially "artistic" in any way. That said, I can certainly appreciate the creativity of others, and this digital print lingerie set by Canadian designer I Heart Norwegian Wood is breathtaking. The bra and panty set above is part of a digital collaboration project I Heart Norwegian Wood had with the Rijksmuseum in Amsterdam in 2013, and the print is based on sections from an elaborate cabinet made between 1660 and 1670. I don't know about you, but I would love to see an entire series of pieces like this.
Belgian designer La Chaton Bottée has been on my radar for awhile. Their rabbit skin print collection from a couple of seasons ago was especially intriguing, however the new, black mesh range is also very interesting. I confess, I've never read Girl With The Dragon Tattoo, but based on what other people have told me of the novel, this set looks like something the main character would wear. I really dig the voluminous hood and flame appliques. And maybe my geek is showing a little, but if you're into World of Warcraft, this looks like the perfect set for a would-be mage.
I've known about Dark Ladies Wear for ages (ever since my first few Etsy-related blog posts on TLA), but as I've grown away from being a stockings and garter belt-focused blog, I haven't had as much opportunity to talk about them. That world just isn't as much a part of my life anymore. That said, I am enamored with Dark Ladies Wear's creative take on a garment that is decades old. I mean, look at the lattice work on this garter belt. This isn't just 12 straps hanging straight down; this is an ornate frame... meant to show off the thighs, the hips, the buttocks, and the waist in a spectacular fashion. Yes, there's a John Willie-esque fetish element to it, but that doesn't undermine the originality and talent shown here at all.
What are your thoughts on these three sets? They're all a bit "off the beaten path," so to speak, but I firmly believe the world of lingerie needs items like this too. Have you run across any unusual or exceptionally creative items lately?