Swimwear of the Week: Topshop 'Peony' Maternity Swimsuit
Disclosure: This blog post contains affiliate links.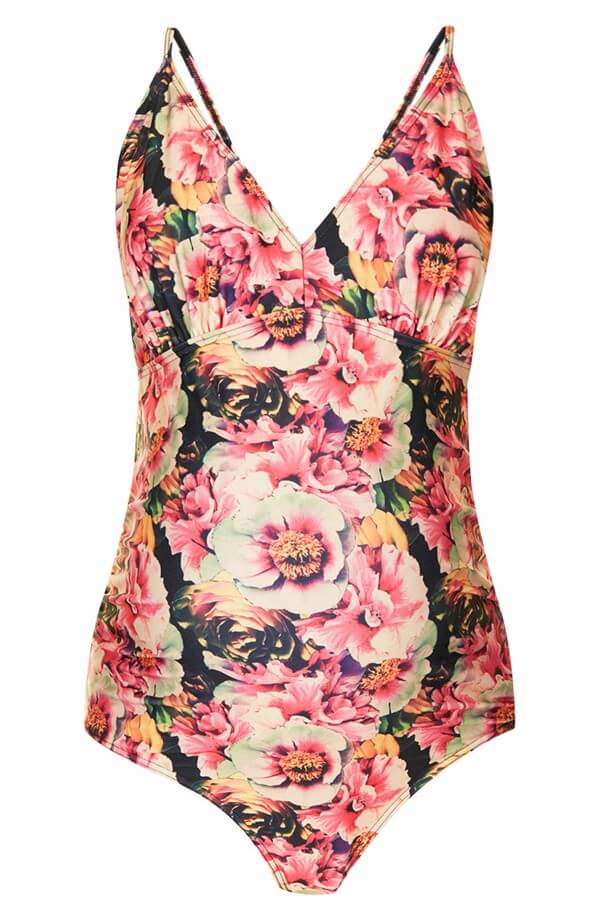 When it comes to the wide world of intimate apparel, maternity options are often "left out in the cold" so to speak --- not just in terms of bras and panties, but also swim, hosiery, nightwear, shapewear, and pretty much everything else. While there are definitely more maternity options in the marketplace than ever before, they're still treated as a sort of supplemental addition... which is a shame, since the experiences of pregnancy, childbirth, and breastfeeding are things billions of women (and some men) have in common.
I chose TopShop's Peony print swimsuit as this week's "Swimwear of the Week" because it's a fun, modern option that puts fashion first and maternity second. When I'm looking at pieces outside of the "core" size range, the first thing I ask myself is, "Is this something I would wear?" If not (because it's too boring, bland, or just plain awful) why mention it here? After all, what's the point of offering a maternity option if it's widely regarded as wildly unattractive?
While the size range for Topshop is still very limited (this suit maxes out at a size US10 on Nordstrom.com and a US12 on Topshop.com), at less than $60, it's a good price point... particularly for an item you'll only wear one season. And if one-pieces just aren't your thing, it's also available in a tankini cut.
What do you think of Topshop's 'Peony' swimsuit? If you were pregnant (or if you are pregnant), is this something you would try?