Raine & Bea Lingerie: The Officers Mess Collection A/W 2014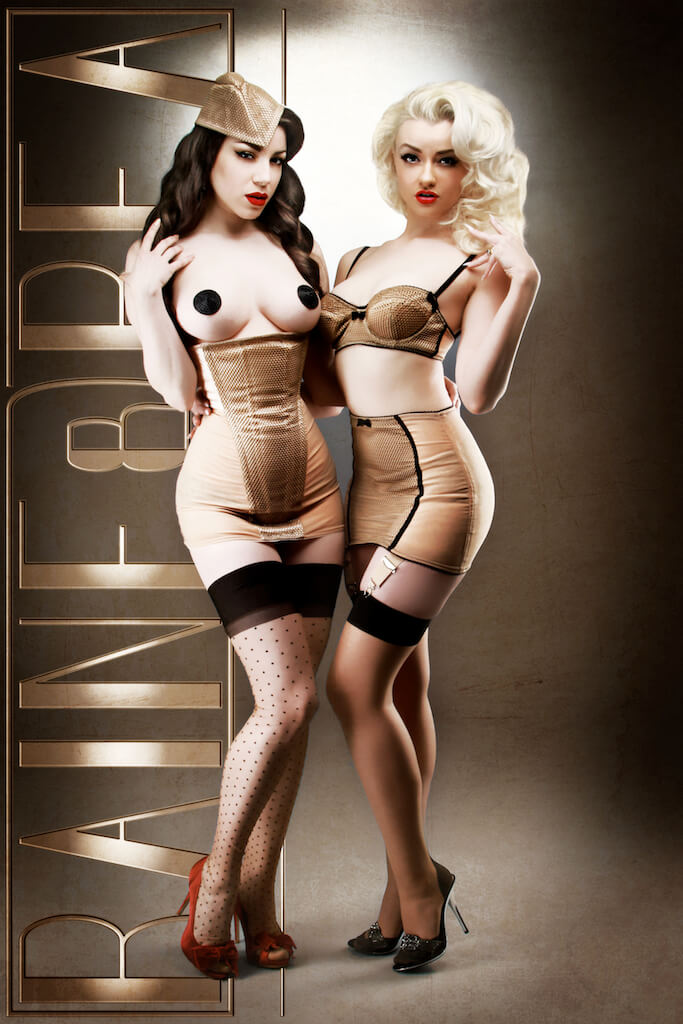 Inspired by vintage pinups and military colors, the photos for Raine & Bea's new "Officer's Mess" collection have just debuted, and they're a lot of fun. Raine & Bea (and their amazing feather skirt) were one of our standout brands from last year's Moda, and it's definitely a pleasure to see this UK-based brand for a second time.
With every single look, there's an element of theatricality here... not just burlesque, but also hints of vaudeville and cabaret. Better yet, Raine & Bea fully embraces that dramatic aesthetic. I see Swarovski crystals, woven gold net, red sequins, and black ostrich feathers among their lingerie materials. This is obviously a brand that doesn't care even a little bit about blending in. Nor are they terribly concerned with making lingerie that will fit under blue jeans and t-shirts; these undergarments are meant to show off (even if the show is just for yourself).
Highlights for me include that gorgeous, steelboned beige corset girdle shown above and below, those amazing red cutout, wideleg pants (could I just wear those out and about with some black Wolford pantyhose?), and the black silk and lace corselette with cutaway bra cups a bit further down (for sitting on the couch and watching Netflix, of course). There doesn't appear to be an e-commerce section on Raine & Bea's website, so I'd recommend getting in touch with the brand directly for any sizing or pricing questions (they're on Twitter and Facebook). This collection was shot by Dollhouse Photography and the models are Sinderella Rockafella (blonde) and Threnody In Velvet (brunette).
What do you think of the pieces below? Any standout favorites for you?