Vintage Inspiration with a Twist: Impish Lee Lingerie
Editor's Note: NSFW images below.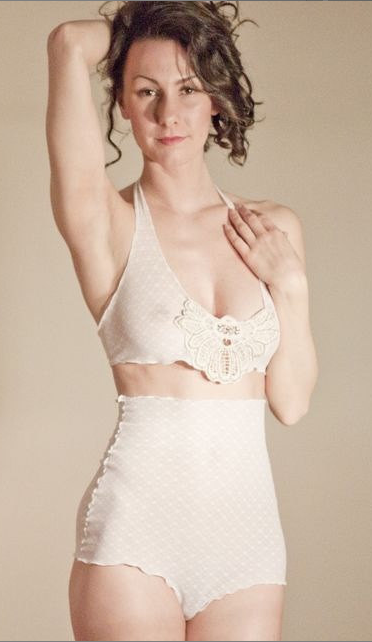 Like a lot of new lingerie brands I'm discovering now, I first found out about Impish Lee through Pinterest. I actually think the dotted lace bodysuit below may have been the first thing of hers I saw, and I remember being impressed because no one's doing 80s-style teddies with the high cut legs right now... except Impish Lee.
Like a lot of Etsy lingerie designers, Impish Lee's pieces are soft and unstructured. There's a definite loungewear quality to all their intimates; it's not "just" lingerie. And while the historical inspiration is obvious (I'm seeing elements of four different decades in a collection that only has about a dozen sets), it's not "vintage" lingerie. And while I do love my 50s-style girdles and garter belts as much as the next person, I also dig lingerie from later decades, so it's great to see some other shilouettes at work here.
Standard sizing runs S-XL, fitting a maximum US size of 14/16, but they also offer custom sizing, so even if you're outside their technical, I definitely think it's worth getting in touch if you see something you like. Complete sets (including bodysuits) range from $110 to around $170. A lot of their items appear to limited edition, so that's something to keep in mind as well.
What are your thoughts on Impish Lee and what do you think of the general resurgence of independent designers? Are there any items in this post you'd love to own?