Lost in Wonderland A/W 2014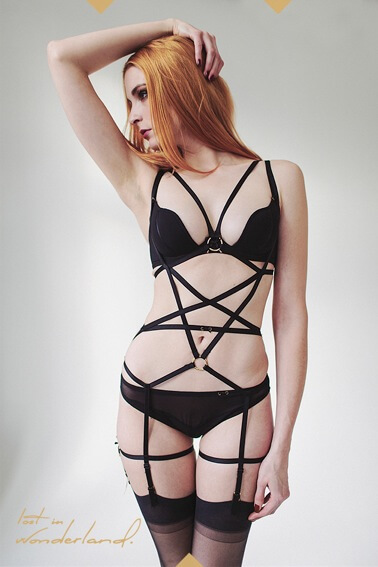 Yes, it is already time for A/W 2014 sneak preview images. The lingerie industry is currently in the middle of market season (Paris and London shows were last month; the New York show happens next week), and a lot of exciting things are happening right now. Though I was a longtime fan of Spring/Summer ranges, I think I'm starting to prefer A/W lines right now. The colors and materials tend to be richer, and there's often a bit of edge to the brand's story behind the collection. Case in point, Lost in Wonderland's new Autumn/Winter 2014 range, named "Gold Smoke & Opaque Visions."
Inspired by cozy winter evenings sipping wine or drinking tea and the cut and structure of Art Nouveau leaded glass windows, this range is all about sensual sophistication and complex, yet balanced, silhouettes. While the on-trend strappy bodysuit is perhaps the most visually striking piece of the new collection, I prefer the subtle luxury of the bra sets. While the red wine plunge bra would do amazing things for my boobs, I'm even more intrigued by the lace cutaways in the black bra and the gold lace overlay on the bra just beneath that. Lost in Wonderland is also an ethically-produced vegan label, and this range proves that lingerie with a conscience can still be beautiful without a hint of kitsch or cheek.
The pastel romper does feel a little out of place to me, as though it belongs in the current Spring/Summer range; I think it would have been a better fit, colorwise, if it was made from that gorgeous burgundy fabric or even black with gold lace accents. However, I fully allow that I just may understand the designer's vision in this case. Regardless, it's a treat to see that Lost in Wonderland is still producing beautiful pieces, and I can't wait to see their next collection.
What do you think of this range? Do you see anything you would buy?