Lille Boutique Lookbook - Winter 2014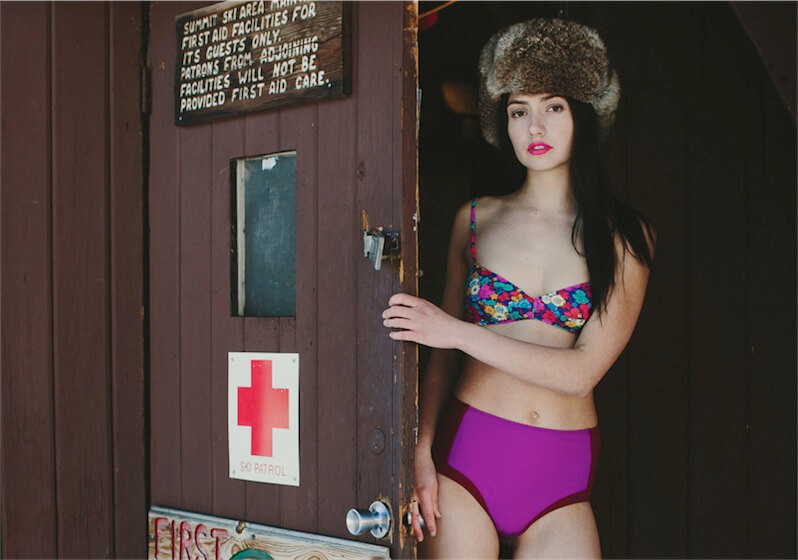 Lille Boutique was perhaps one of the first lingerie stores to release a seasonal lookbook. To be perfectly honest, they're still one of the only boutiques to do so. I'm genuinely not sure why this concept hasn't taken off more, especially among some of the more well-known lingerie businesses. While brand-produced lookbooks are all well and good, I love getting a sense of what the boutique itself is really like. What their personality is. What kind of customers they're trying to attract. What story they had in mind while selecting the pieces for a particular season. And even if I don't "get" every selection (there's always something that makes me go, "Huh... how does this fit in?"), that sneak peek into the psyche of a boutique owner is really thrilling to me. I can only imagine that an aversion to the expense of a custom photoshoot --- at least if you want a good one --- must be the motivating factor.
Anyway, this season's Lille Boutique lookbook is photographed by Hart Portland and set in what I imagine is a snowy ski resort. And as you've probably noticed from a quick scroll down the page, it focuses exclsively on Resort Swim, an interesting (and perhaps, ironic) juxtaposition considering how much of the country is blanketed in snow and ice right now. I'm pleased to see the return of Huit's Maillot, albeit without that wonderful Art Deco detail from season's before. Unfortunately (but understandably), it's already sold out again. I also like the white suit with black piping further down, though it doesn't appear to be listed on the Lille Boutique site yet. While I won't pretend to understand why some pieces were chosen to be photographed over others, I would have loved to get pictures of either of the two Araks' swim sets in the shop... the Eli & Emina bikini or the Elmar one piece. They're both so striking and the bright colorblocking would have looked fantastic against the snow.
In response to reader request, I've also been wanting to include more swim on TLA lately, and I think of this lookbook as the first step in that. While a season ago, I may not have featured this lookbook precisely because it was swim, now I'm making an effort to be more inclusive and to train my brain to pay attention to the world of swim (as opposed to just passing it over as I did in years past). If nothing else, discovering the nuances of this brand new side of the industry (brand new to me anyway) is exciting in and of itself.
What do you think of this season's lookbook from Lille Boutique? Are there are any pieces you would buy? And while we're at it, what kind of swim features do you want to see more of on TLA?