How to Bra Shop for Your Daughter: Things I Wish Someone Had Told Me When I Was Buying My First Bra
I'm really excited to publish today's guest post from TLA reader Celeste. You may already know this, but I have a list of topics I'd love to get guest posts about here, and one of them has been buying that first bra for your daughter. It's a question I get fairly often on the blog, but I'm not very knowledgeable when it comes to answering. Thank you, Celeste, for sharing your thoughts on this topic!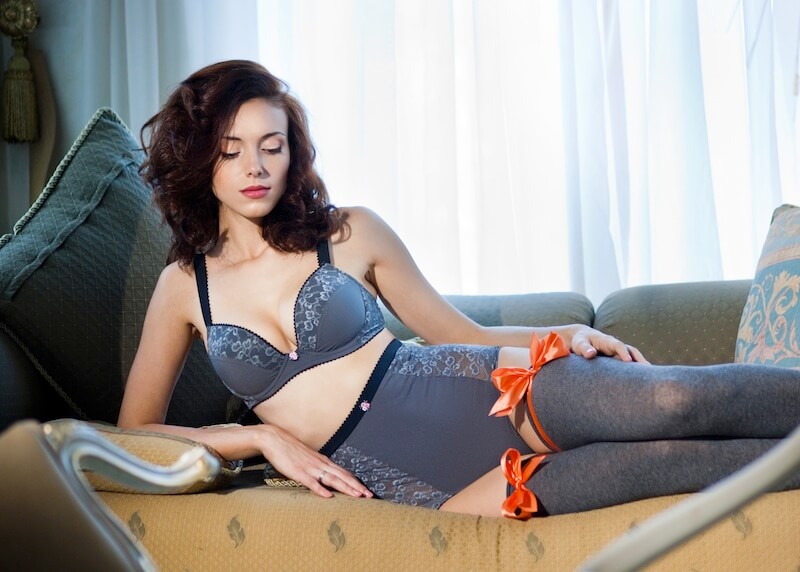 I vividly remember my first "bras." I was 11, in my final year of primary school, and had very recently started to develop breasts, which I was incredibly self-conscious about. My mother solved the problem I awkwardly admitted to her by buying me a multi-pack of white Bonds bralettes in the smallest size available. Which was an 8. I mean, I was small, but not that small, and wearing crop tops three sizes too small everyday filled me with a hatred of all things bra- and breast-related for the next couple of years.
Tip 1: Take your daughter with you. If only so you buy the right size.
In early high school, I noticed that more and more of my peers were wearing increasingly vivid coloured and patterned bras, and, let's be honest here, I was dead jealous. They looked cool. Of course, the chances of explaining to my mother that really, what I wanted more than another multi-pack of white crop tops (we'd sorted out the sizing situation by this point, thankfully) was a bright red triangle bra with electric blue straps and loveheart print were fairly minimal, so alas, this dream went unfulfilled.
Tip 2: It's about her.
Ask your daughter what her friends are wearing and/or if she knows where they shop. If she's in early high school, it's pretty likely much of PE is spent gossiping about what other girls were wearing in the changing room, and that she has a spot-on idea of what's 'cool.' Buying something she's going to feel good in should be the priority of a first bra shop, and it's not too likely that you'll find it in the children's underwear section of your local Kmart, so think outside the box. Do you know of any brands that make bralettes, or have small band sizes? That might be a good place to start. Where do you shop? Do they have a youth department? Remember, it's really, really, really not about you. You might think what she'd like is the ugliest thing in the world, but if its what she wants, run with it. She probably thinks most of the things you wear are hideous, and really, what does it matter if she's wearing a bra with the faces of One Direction on each cup?
That said, there are some things she won't know and might benefit from: that skin-tone is better than white under white/sheer shirts, that those weird hook-loop things can be used to make some straps into a racerback, etc. Think of the little things you've worked out slowly (and often with a look of "wow, am I stupid") over the years. That's the kind of stuff to pass on.
There is nothing worse than an ill-fitting bra, and there's nothing scarier than getting professionally fitted for the first time. I mean, what just-barely-a-teen girl wants to let a random adult see her shirtless? Some changing rooms have those "handy dandy tips to know if your bra fits" signs, which can be some help, but there really is no substitute for a professional fitter.
Tip 3: Get fitted.
This one has a few caveats. If she's not comfortable with the whole process (make sure she knows what's involved), then either offer to go in with her, or try and do without by brushing up on your own knowledge of fitting practices before you leave – testing strap tightness, band fit, whether the gore is flat or not, if the breasts are double-booming, that kind of stuff. That way you can check some things without it being too invasive.
Tip 4: Remember, your daughter is growing.
The number of times I had to use my own pocket/birthday/Christmas money to buy bras is ridiculous. Whilst your daughter is growing into her body, make sure you remember to take her shopping fairly frequently. Maybe stick something in your diary for five or six months down the track every time you guys go shopping? We all know wearing a bra that doesn't fit sucks, so combatting that by making sure what she's wearing still fits fairly regularly is a pretty good idea.
Something that goes hand in hand with this is the "problem" of boy/girlfriends. Sure, accepting that your daughter is becoming a sexual being is going to be a rough transitioning period for all of you, but that doesn't mean she shouldn't be able to own bras that make her feel sexy as hell. Something I noticed with my friends' mothers was that the second they got a boyfriend (or girlfriend, in some cases) they went from buying their daughters whatever lacy/mesh/etc thing they wanted, to sticking to neutral colours and cuts. I'm not sure how this trend started, or what the reasoning behind it is, but I can assure you that little more than casting your memory back to when you were 16 and awkward will be needed to remind you that the chances of your daughter instantly becoming a boy magnet the second she owns a nice bra are fairly limited. Oversexualisation is a much less pressing issue than making sure your daughter feels comfortable and good in her body.
Good luck and have fun shopping! This can be a great opportunity to reconnect/strengthen your relationship!