The Making of a Lingerie Fashion Show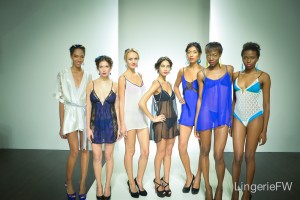 Designers of pens care about making strong lines; designers of plastic bags care about sturdiness; designers of lingerie care about feeling, allure, attitude. The finished product isn't meant just to accomplish a task, but to inspire feelings AND to do something. This is why I became a lingerie designer, because I am intrigued by the interplay between looking and being looked at. It's fun to play with my tools (silhouette, fabric, color) and tweak them and mold them into a tangible product that comes alive when worn.
Lingerie is perfect for live fashion shows. Lingerie is meant to be looked at, and fashion shows are made for spectacle. Until recently, though, there was no fashion week for lingerie in New York, so brands who wanted to present a live show could produce their own event independently, or tag onto New York Fashion Week, which is focused on ready-to-wear and such a behemoth that it would be easy to get lost in the fashion pandemonium.
Then, early in 2013 Lingerie Fashion Week was launched by Lauren Rich, who specializes in PR in the intimates industry. A handful of intimates brands participated, and chose either a runway or presentation format to unveil new collections over the course of three days. Last week was the second Lingerie Fashion Week, with brands showcasing their Spring/Summer 2014 collections.
I unveiled my new collection from Lola Haze there --- and it was electrically fun for me to see all my babies come to life under bright lights and on live models. People ask me all the time about what it's like to be a designer, and I always apologize before deflating their fantasy of swimming pools filled with champagne, pristine skylit design studios, models lounging at desks in eight-inch heels and perfectly reddened lips. Mostly my days are filled with the same headaches and mundane toil as everyone else's. But not during fashion week. So THIS part is the fun part, the part I'm happy to finally report is AWESOME.
So here it is, the making of a show. Casting models: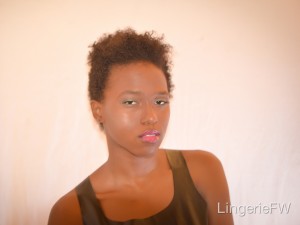 Everyone wonders about models. They're the visible face of fashion, and they're beautiful, so they are often overemphasized or overconsidered by people not in fashion, and hold a place of mystical intrigue in popular imagination. They've become celebrities, icons. But fashion is a business of clothing, not of models, and models are chosen to sell the clothing. Most working models do not have the kind of jet-setting lives people imagine. They stand up all day in uncomfortable shoes being prodded and talked around, and have to perform silently --- if they are lucky enough to get jobs.
As for the much-discussed issue of model choice (why they look homogeneous, why they're so tall and thin), there are reasons why a company would choose models who look similar to each other for a fashion show. By definition, things that stand out draw attention. If you're looking at a desert horizon and it's interrupted by one cell-phone tower, your eye will go to that object; if a wall is all red except a giant purple paint stain, you will notice the stain. By the same token, if models are all similarly built, and two models are different, the viewer will notice the differences. This is a diversion of attention away from the purpose of the show: the clothes. Runway models are meant to bring the clothes to life in the most beautiful way possible, without stealing the show.
I held a casting call with the help of my friends at the e-tailer Gojee, who lent a large space in downtown Manhattan. All different looks of very pretty girls showed up, but ultimately I ended up choosing the models who fit the samples best. The most important attribute isn't necessarily beauty, but charisma and the build best suited for fitting the samples.
The morning of the show I set my alarms (yes, two, in stereo) for 5:30 AM and showed up at the Metropolitan Pavillion at 7:00 to set up, do any final fittings, and direct the hair and makeup team. It took a team of around 15 hair and makeup artists two hours to transform 13 tired girls into glamour queens. A fellow designer, Monica from Uye Surana, was showing her new collection alongside me, so we shared the backstage with models from both shows crisscrossing and juggling space.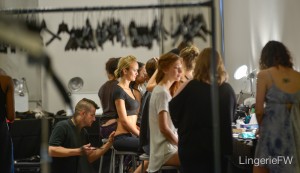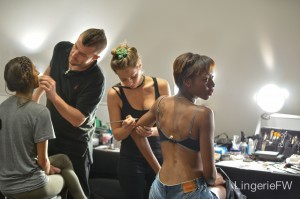 My Lola Haze collection for Spring/Summer 2014 was inspired by a trip to Mexico, so I chose styling for the models that would highlight the vibrancy of the clothes and play up the mood of the collection: bright green eyeliner, juicy pink lipstick, and ribbons of silk woven into messy braids, set off by tropical dangly earrings.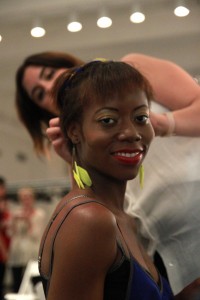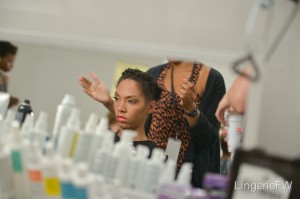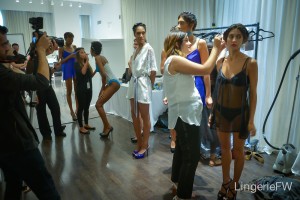 It's always a bit nuts right before the show, but everything this time was smooth with no major fashion catastrophes. Last minute instructions to the models about blocking and attitude, and then --- voila! It's show time!