Lingerie Fashion Week Spring/Summer 2014
The second ever LingerieFW happened a few weeks ago (August 1-3, 2013) but I've been a bit slow with my roundup because I've been turning over a lot of thoughts about the event. It's no secret that I was one of the sponsors for this year's Lingerie Fashion Week, and so I've been grappling with a way to talk about LingerieFW in a way that's both respectful of that relationship and authentic to my actual thoughts and feelings about what I think is going to be a pretty major development for the lingerie industry.
Lauren Rich-Lama Amador (whose name may be familiar because she runs one of the best lingerie PR firms in the country --- RichPR) is the founder of LingerieFW. She approached me last season about getting involved, but it was bad timing for me as I just about to get married. When the opportunity came around again for me to get involved, I decided to become a Digital Media Partner as I felt that was the best way to leverage my site in support of LingerieFW. For those who aren't quite sure what that entails, it means I paid money to LingerieFW to help make sure the event happened, and in exchange I was one of the featured brands on site. The Lingerie Addict had a media lounge complete with charging stations and iPads for people to keep up with the event, as well as a monitor broadcasting live tweets.
Please know that I'm happy I sponsored LingerieFW. The intimates industry is notoriously slow to change (I regularly speak to brands who treat the internet like an enemy, and this online thing has been around for a couple of decades now), and I knew it would take awhile for something this new and this different to take off. A lot of people are confused about the role of a fashion week in the intimate apparel industry. Some believe that tradeshows, like Curve and Lingerie Collective, are enough. Others are distrustful of press and want to micromanage publicity in a way that'd be very difficult in a fashion week setup. And even those brands who do understand why and how a Lingerie Fashion Week is important are taking a wait-and-see approach... which is understandable, but could also result in something like this ending before it's even really had a chance to become what it can be.
I really believe the lingerie industry needs a Lingerie Fashion Week. We need a venue and an environment that's accessible to both press and buyers and that helps to generate the kind of stories and interest the mainstream fashion industry enjoys. We need people talking about lingerie designers in the same way they talk about their favorite fashion brand. Lingerie is exciting. There's no reason at all to make it dull.
However, like most new ventures, LingerieFW is experiencing some growing pains, and I would feel dishonest if I didn't admit to them here. A couple of the brands presenting just weren't very interesting, fashion-wise, and several brands noticeably faltered when it came to styling and pacing. A runway show shouldn't be boring. It should be a carefully curated selection of your finest looks, styled in a way that not only gives insight to your brand, but that's also memorable (ideally, in a positive way) for attendees.
While I completely understand that LingerieFW needs a certain number of brands to even get the event off the ground, I found myself wondering, more than once, if some of the shows I saw actually turned away interest on account of being so long and bland and unmemorable that exciting, fashion-forward brands (or even less exciting brands who know how to edit a selection and style a variety of looks) may have chosen not to get involved. Speaking as press, there were a couple of shows that I know I would have been profoundly disappointed in were I not a lingerie blogger. And I'm just worried about those first impressions during these critical early fashion weeks. If people become disenchanted now, will they come back later?
But enough of that... here are the highlights from my first ever LingerieFW. The brands that really stuck out for me were the ones that used the unique environment of Lingerie Fashion Week to their advantage, sharing something new, exciting, unique, or different about their brand that I wouldn't have been able to "get" or understand otherwise. There were definitely some names I hadn't paid attention to before that are on my radar now.
Like many people in the lingerie world, I heard of Rococo Dessous because of their big gimmick --- super luxurious lingerie made with 24k gold thread. These ultra high-end pieces start at $1,500 and only go up from there. I'm talking bras that cost $6,000 and can go even higher based on what the customer wants. I went in fully prepared to be underwhelmed by this line, and had the completely opposite reaction. These lingerie sets are beautiful. The embroidery, stitching, and detailing is not only extremely well done (I had the opportunity to meet the designer for coffee later that week and saw the entire collection up close and in person), it's also just really, genuinely gorgeous lingerie and very much the essence of luxury. While I doubt I'll ever be in a position to spend four figures on a single bra, I can certainly understand the clientele Rococo Dessous is going after. And honestly? Good for them. The brand saw an untapped market for the exceedingly wealthy and went for it. Also, their runway show was really pretty; the deep red rose petals were the perfect touch.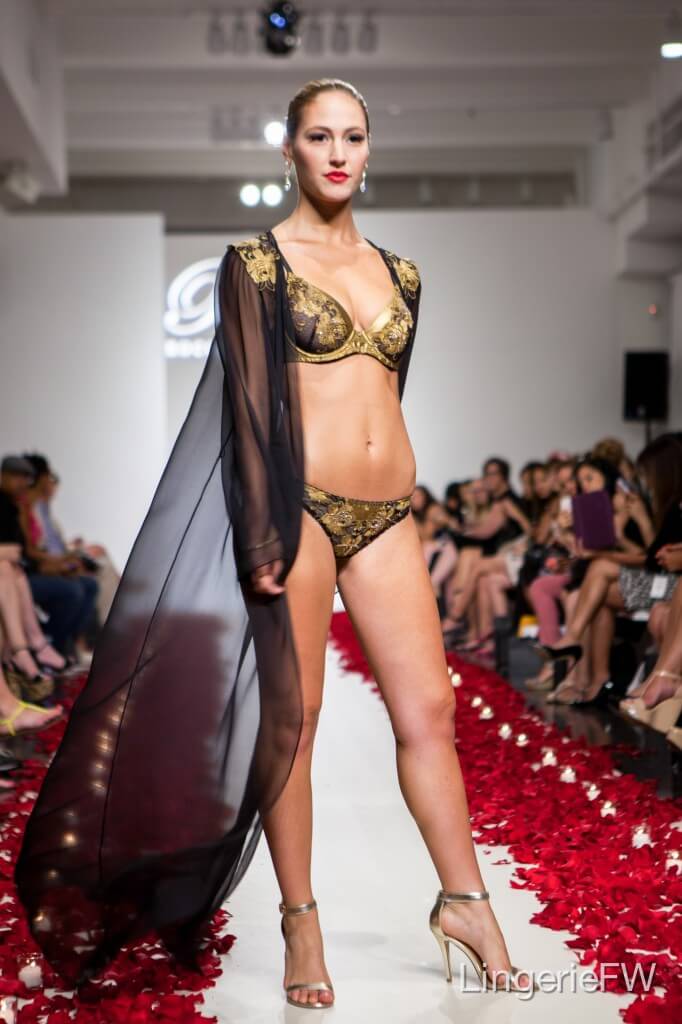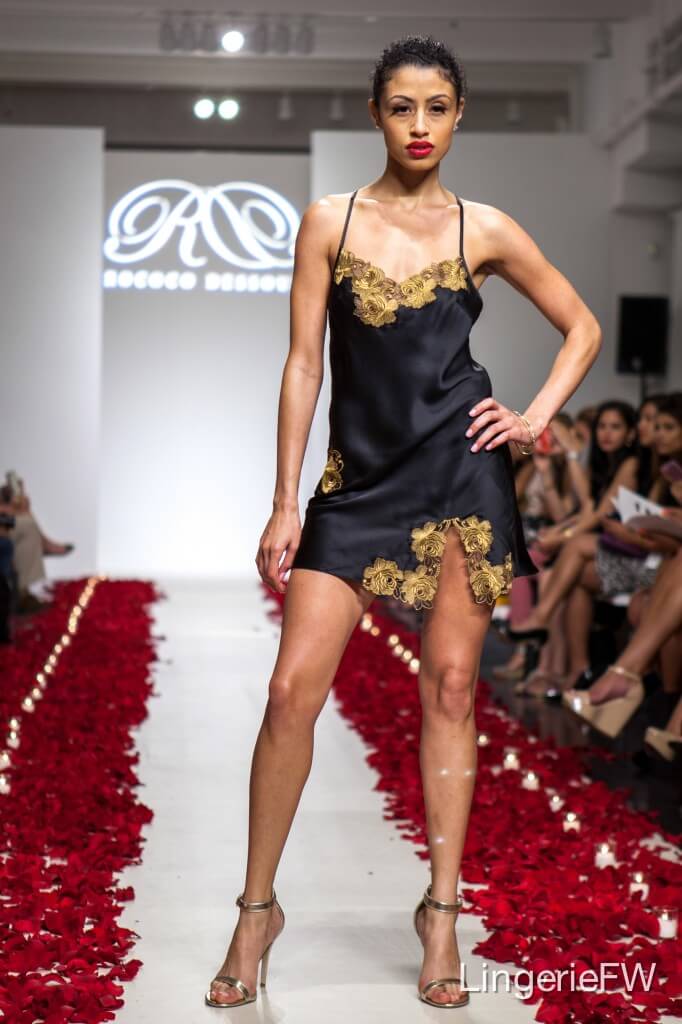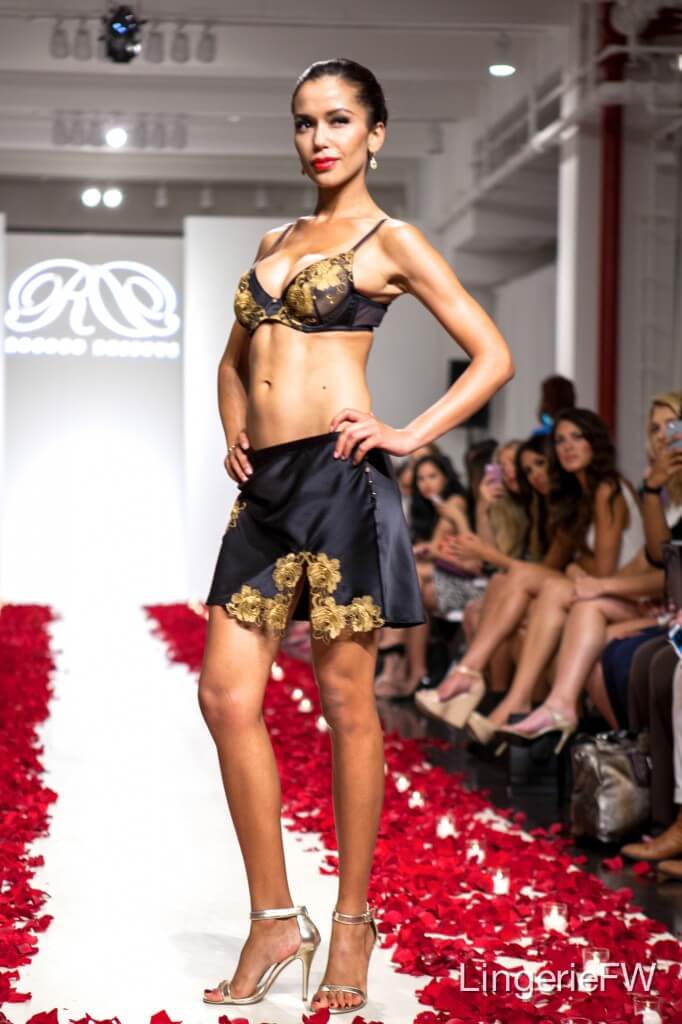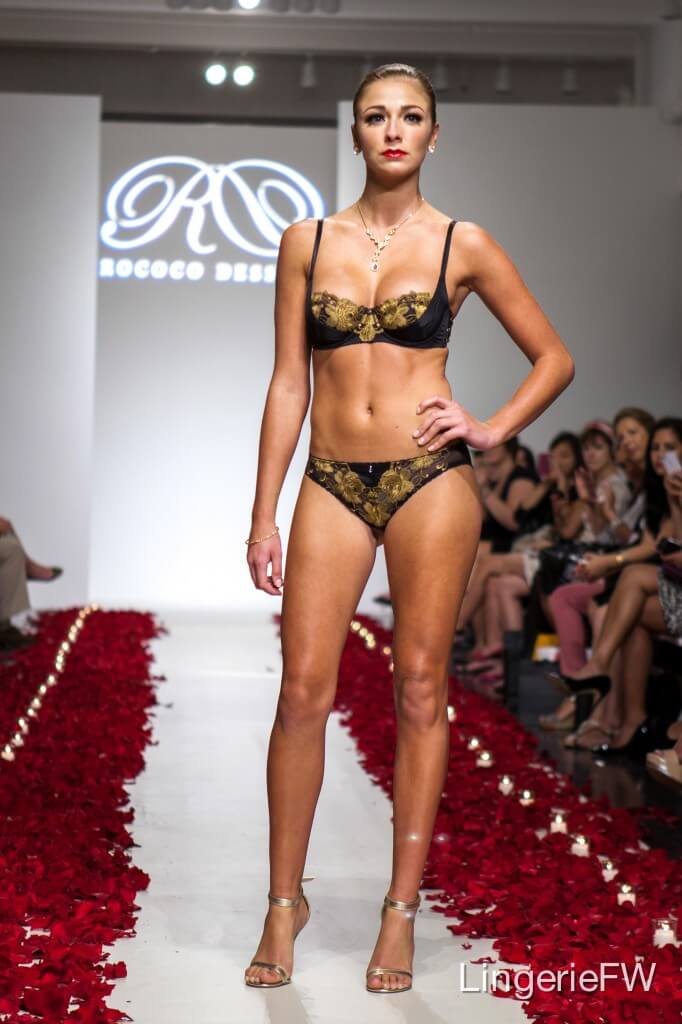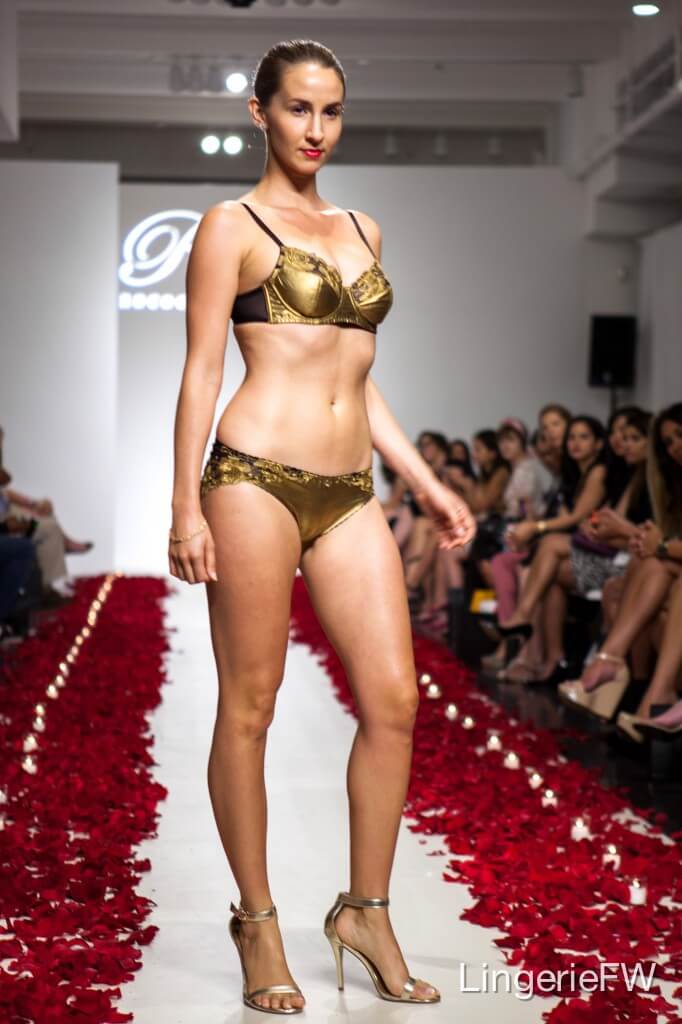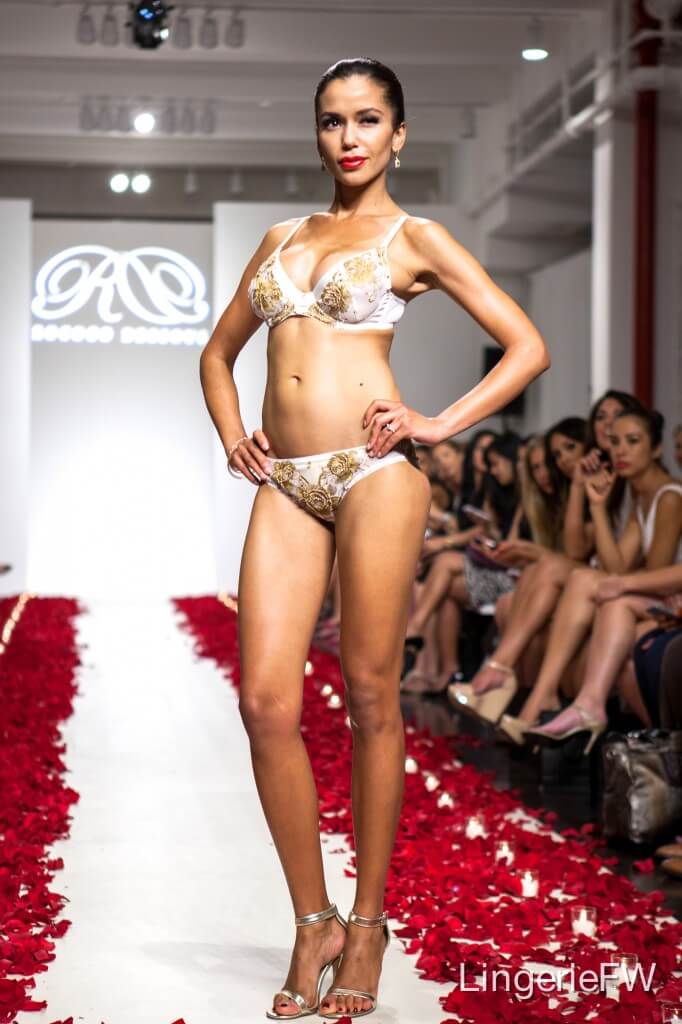 You! Lingerie is another label that got me really excited after their runway show. I'd heard of the brand before; new maternity lingerie crosses my desk at one time or another, but I didn't really get what made You! Lingerie special until after their runway show. This brand was all about fun intimates for expectant moms. There wasn't an ounce of stuffiness or pretense on the runway, and when I met the designer after the show, I understood exactly why... You! Lingerie's fashion show was a perfect reflection of this brand's aesthetic and values. The models were styled well, and I saw several pieces I want right now (and no, I'm not pregnant). This is an example of a brand using the Lingerie Fashion Week platform right.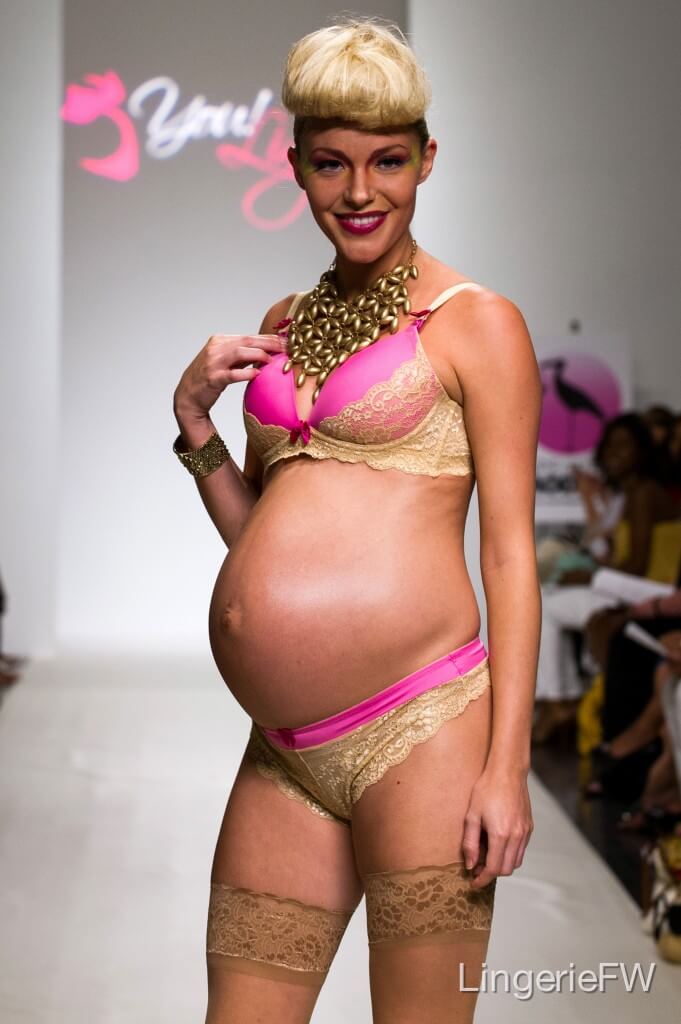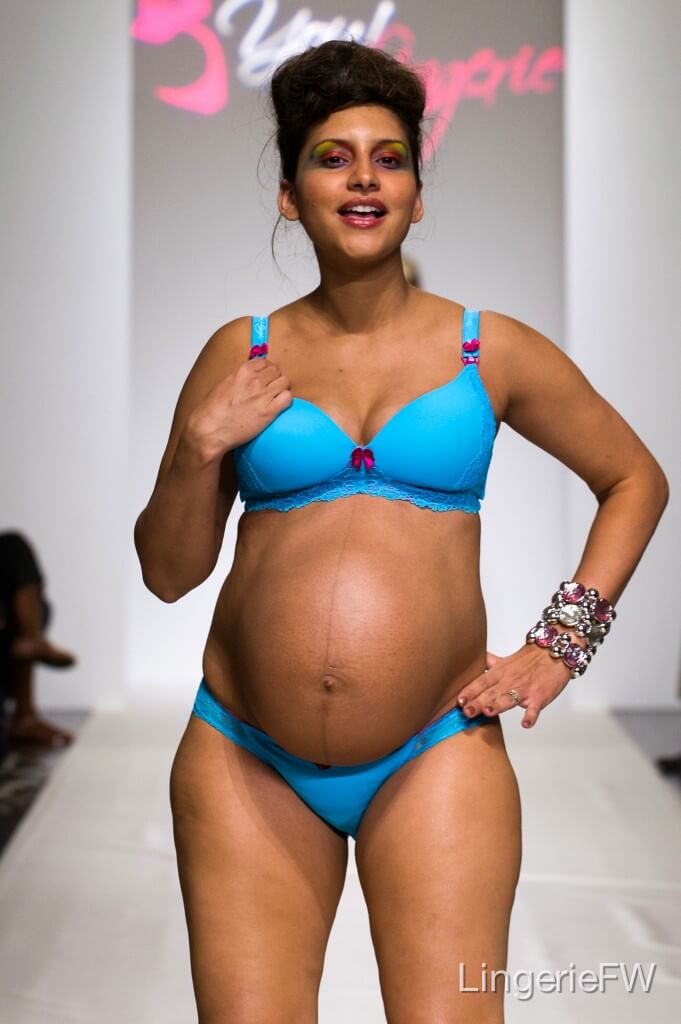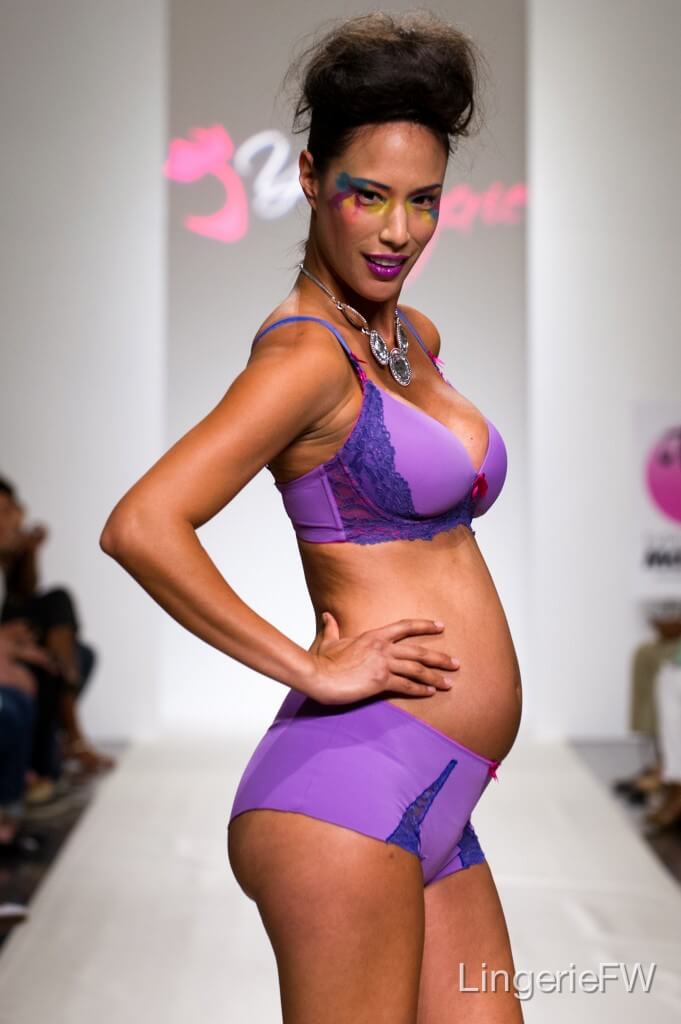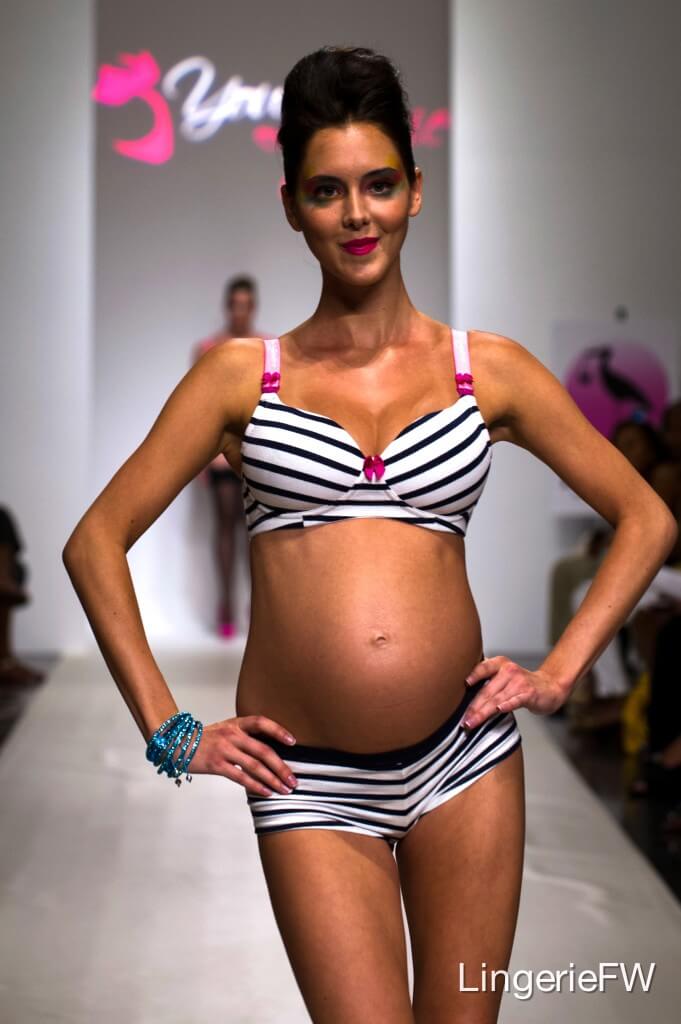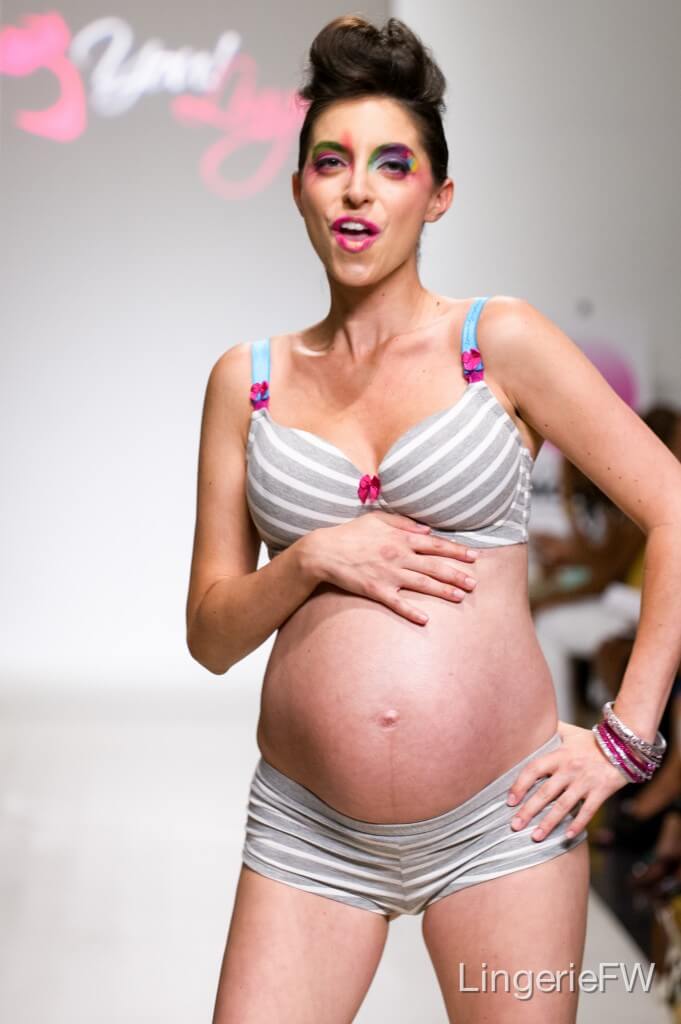 Interspersed with the runway shows were presentations, and these spots were primarily occupied by independent designers. Though I do hope that larger, more well-known brands become a part of Lingerie Fashion Week in upcoming seasons, I am glad there's such a visible indie presence now... and I hope that never goes away no matter how successful LingerieFW becomes. The brand that impressed me most with their presentation was NOE Undergarments. This is a brand I've gotten several press releases about, but I never really felt excited about them. I couldn't "get" what was happening through a few images, but then I saw the collection in person, and now I understand. This is Fifth Element/LeeLoo style lingerie for the super-futuristic, punk, warrior babe. And though most of it isn't really my personal style, I absolutely understood this brand's point of view after LingerieFW. Again, here's a label that understands what it means to make an impression, and they're on my radar now as a result.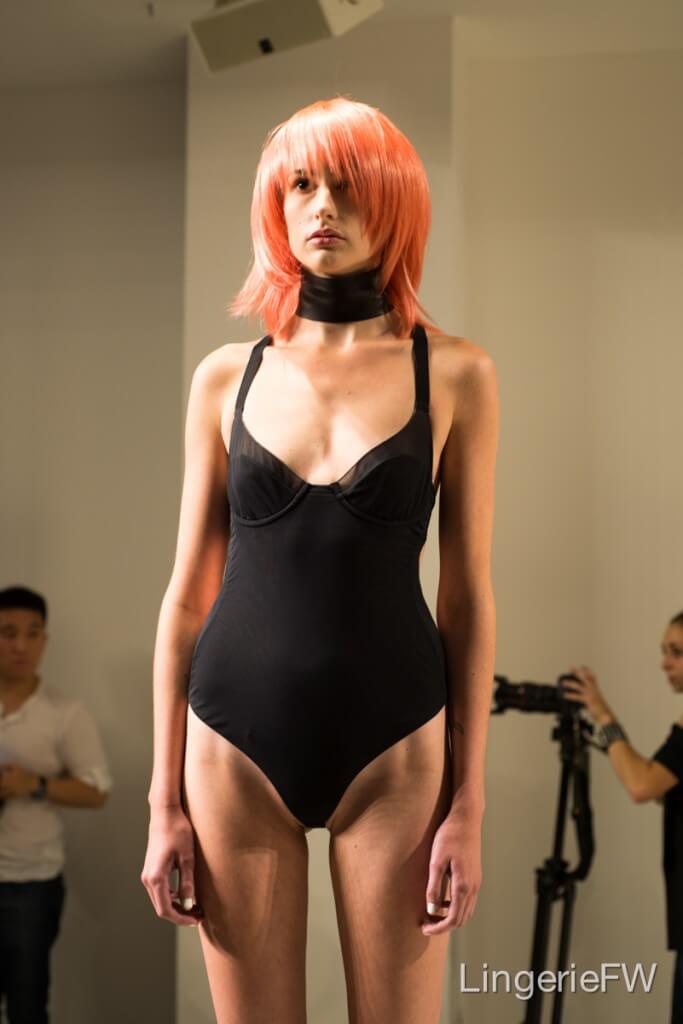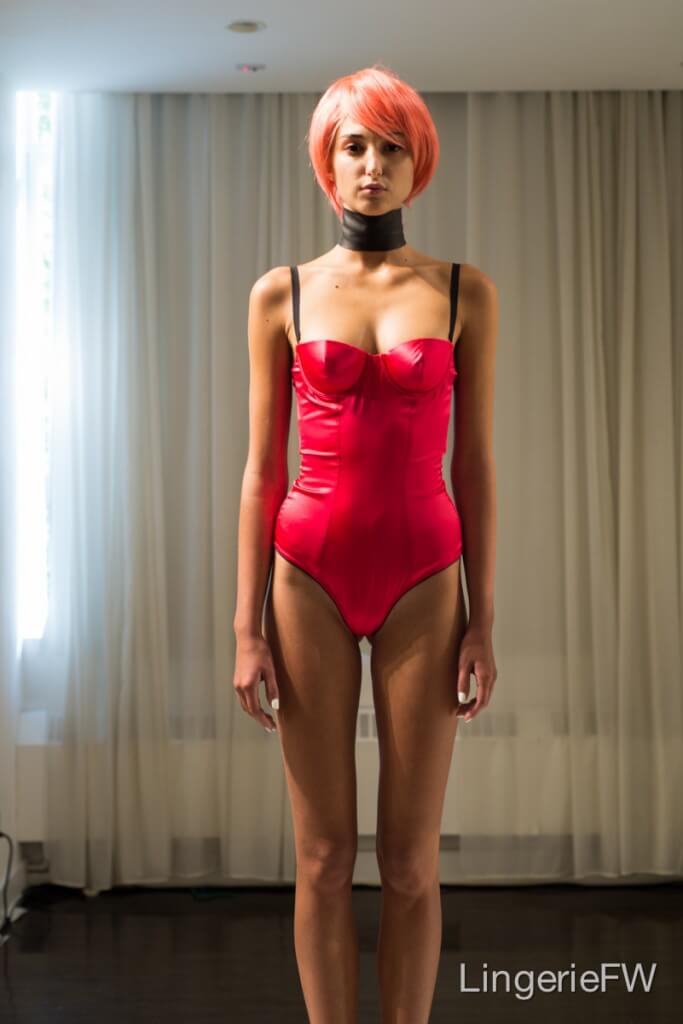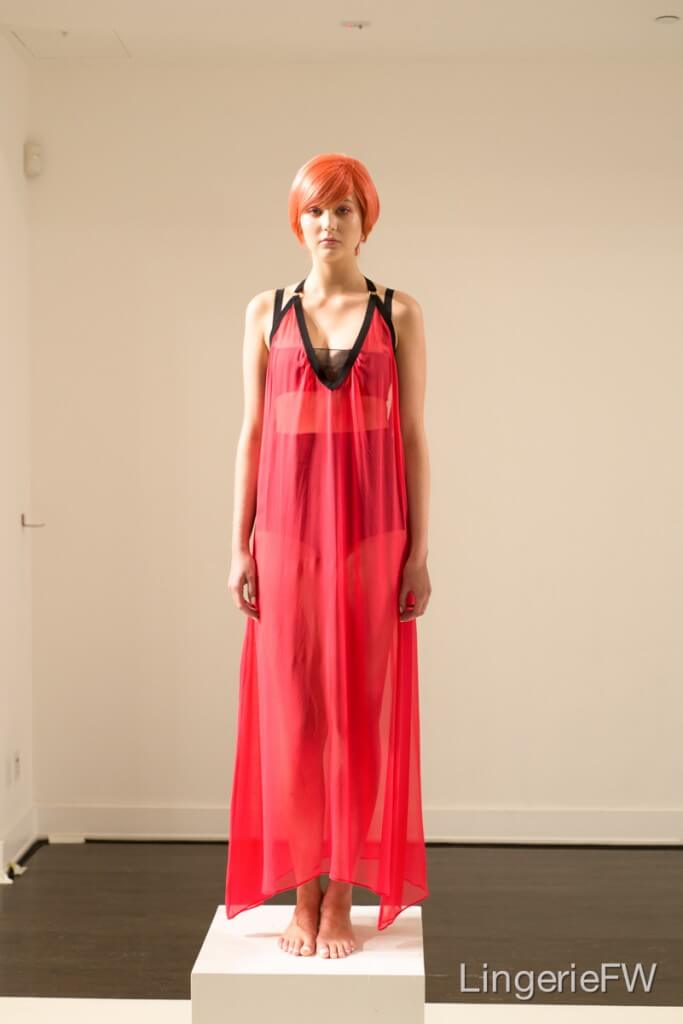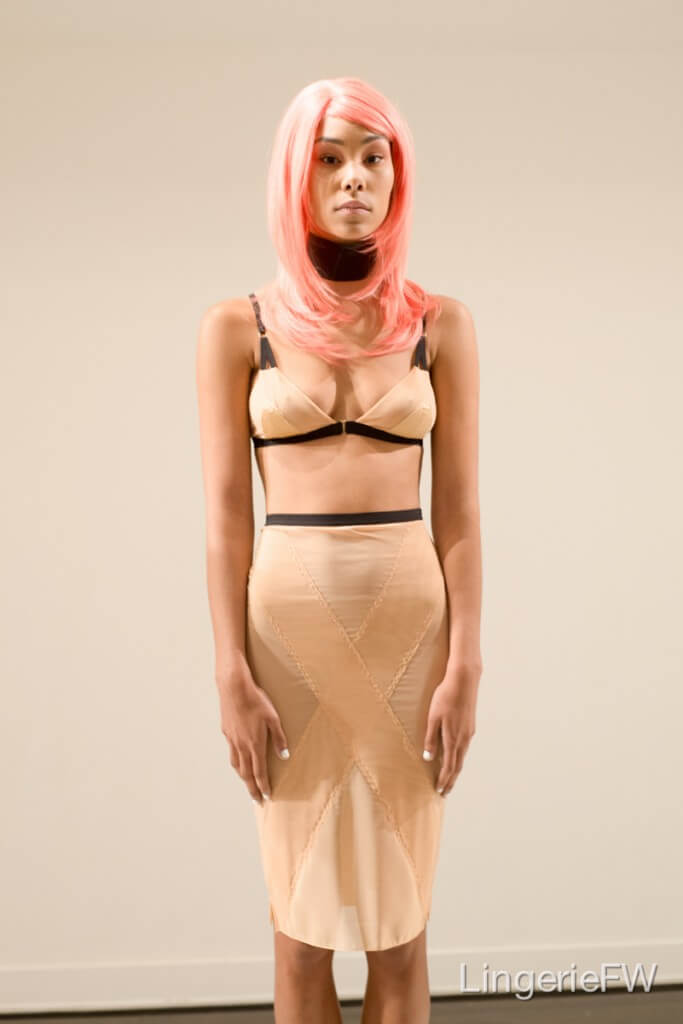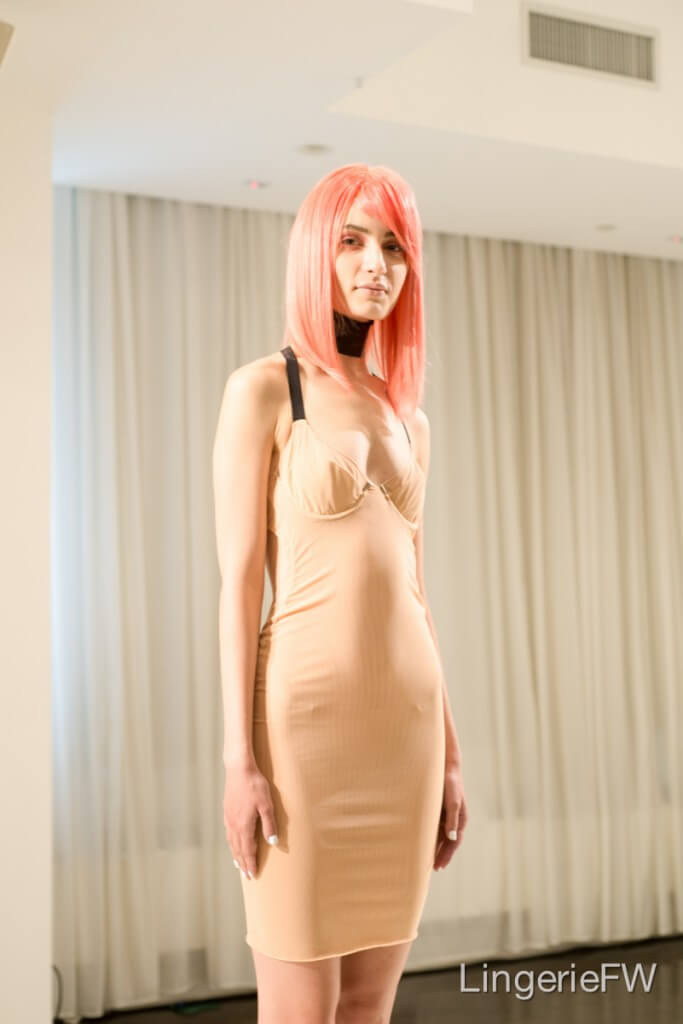 Uye Surana and Lola Haze
Finally, the last two presentations I'll be talking about are Lola Haze and Uye Surana (Disclosure: Laura Mehlinger, founder and designer of Lola Haze, is a writer for The Lingerie Addict). These two independent designers exhibited at the same time, and I dug their more relaxed vibe. I've been a fan of Lola Haze for years, and I really appreciate her creativity and point of view. There's something very fun and funky and irreverent about her designs, and I think lingerie could use more of that. Laura plays with fabrics and shapes and textures in a way I find unique and refreshing. The presentation was my first exposure to Uye Surana, and I liked her simple, easy silhouettes. Her pieces feel like lingerie I would wear to lounge around the house, and I can always use more of that.
What do you think of this season's Lingerie Fashion Week? If you attended, whether for the first or second time, was it what you hoped it would be? Are you excited for the next one? And if you've been keeping up with LingerieFW through blogs, what are your impressions of this new event? It's not often we get to see something that could really huge start from the ground up like this, and I'm interested in hearing what you think.