OYE Swimwear: Sheer, Fashion-Forward Styles for the Pool or Beach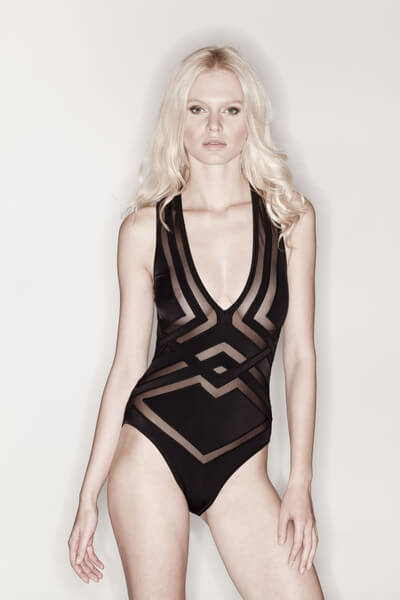 I've never been much a swimwear fan. I mean, I know swimwear is a thing that exists, but it's never inspired the same kind of passion for me as lingerie or loungewear or hosiery. It's just been a thing... mostly for other people. But all that's been changing lately. And while I still love a classic pin-up bathing suit, these ultrachic swimsuits from OYE Swimwear (OYE is short for 'Open Your Eyes') have really set my heart aflutter.
For me, unsurprisingly, a lot of the appeal has to do with the strategically placed sheer designs. Not only does the line seem like a modern interpretation of the classic Cole of California swimsuits (with their infamous mesh inserts), it also fits right in with the slightly dark, somewhat moody trend for high-end lingerie that's out there today (with nary a bow, flower, or ruffle to be seen, OYE reminds me of brands like Bordelle and Lascivious). And this super sleek, super modern swimwear has one more thing in common with luxury lingerie... it's super expensive.
Swimsuits start at $350 ( though I would also check the OYE Swimwear Twitter account for discounts). OYE swim is available in sizes XS thru L (fitting a maximum US 8). Suits can be purchased directly through their website.
What do you think of OYE? Just the right amount of risqué or a little too revealing?