Review: Aerie Lingerie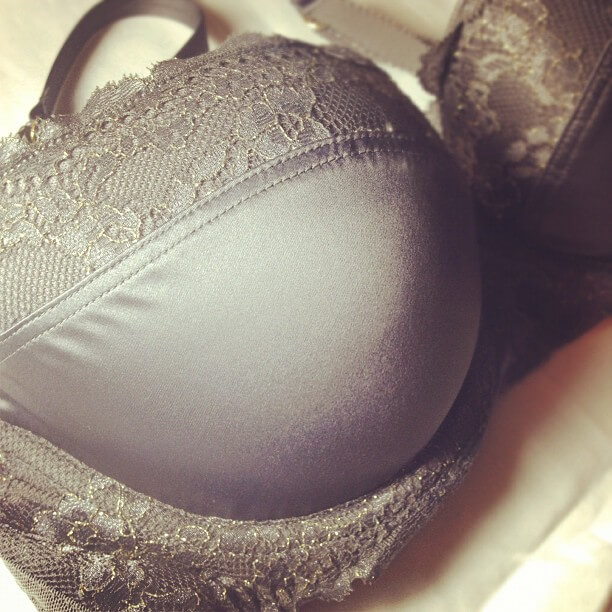 Disclaimer: All lingerie in this review was provided by Aerie. Opinions are my own.
Just before the holidays, I received a very special delivery from Aerie Lingerie --- their entire holiday lingerie collection. Though I've purchased Aerie bras on my own before, I was looking forward to trying out the complete range: push up, demi, multi-way, etc. (plus the matching panties). This also seemed like a great opportunity to share my thoughts on Aerie as a whole, especially since I've been getting more and more private inquiries about the fit and quality of their products.
If you haven't heard the name before, Aerie is a subdivision of American Eagle Outfitters clothing brand. Founded in 2006, Aerie targets the 15-21 year old female demographic... basically high school and college students. Sizing runs from AA to DD in the cups and 30 to 40 in the band (dependent on style). Prices range from $19.95 (sports bras) to $54.95, but bras are frequently on sale for around $19.95
Three of the bras I tried --- the Harper Memory Lift Lace Push Up, the Reese Limited Edition Push Up, and the Scarlet Adjustable Cleavage Push Up --- are both currently on sale at Aerie. The other two bras (a blue push up plunge and a gray satin with metallic lace demi) appear to no longer be available. All five bras were worn and washed multiple times before writing this review, and I even used (cue dramatic music) the washing machine.
The first thing I want to say is all the bras fit surprisingly well, exceptionally well even. They all met my three bra fit criteria, and were more than comfortable enough to wear all day long. I'd also say the quality was adequate, especially considering the budget-friendly price point. The satin was soft. The lace wasn't scratchy. Things stretched where they were supposed to stretch and didn't stretch where they weren't supposed to stretch. In fact, two of the bras (the Reese, and the unnamed grey bra at top of page) have made it into my regular rotation. That said, I have one very significant complaint about Aerie's bras, and it reminded why I hadn't purchased another one since my first experiment with them a year or two back.
Every single bra is a push up bra. And not just a little bit of push up, a lot of push up. As in, "Oh dear, why are my boobs suddenly in my peripheral vision?" push up. The Scarlet bra in particular was push up overkill, but each bra was padded to a significant degree. To be fair, the padding is comfortable (at least if you're the one wearing it... my fiance disagreed when he tried to hug me), but it's also quite a shock if you don't know what to expect. On the other hand, if you're wanting that kind of lift and cleavage, I'm sure you'll be very happy with the results.
A couple of other notes, the cups fit my breasts near-perfectly. That's great for me, but if you have breasts which are fuller on top, I can see spillage being an issue. I'd also recommend sizing up if you tend to be on the border between one cup size or another. But overall I'd say I was happy with these bras, especially the ones with light or removable padding. I think Aerie is a good fit for young women --- especially those brand new to intimates or on a tight budget --- who still want pretty lingerie. They also represent a mainstream alternative to Victoria's Secret, which I think is both welcome and long overdue.
So what are your thoughts on Aerie, fellow addicts? Have you tried the brand? Did you like them? Let's chat in the comments!