Lingerie School, Year 2: Jellyfish Lingerie!
It's my second year of lingerie studies and my first term is soon coming to a close… along with a rush of deadlines! Consequently, the past few days have been a flurry of lingerie activity in order to get my first design project ready to hand in. Even though it's still missing the finishing touches, I thought you'd all like to see how my first lingerie project of the year has turned out.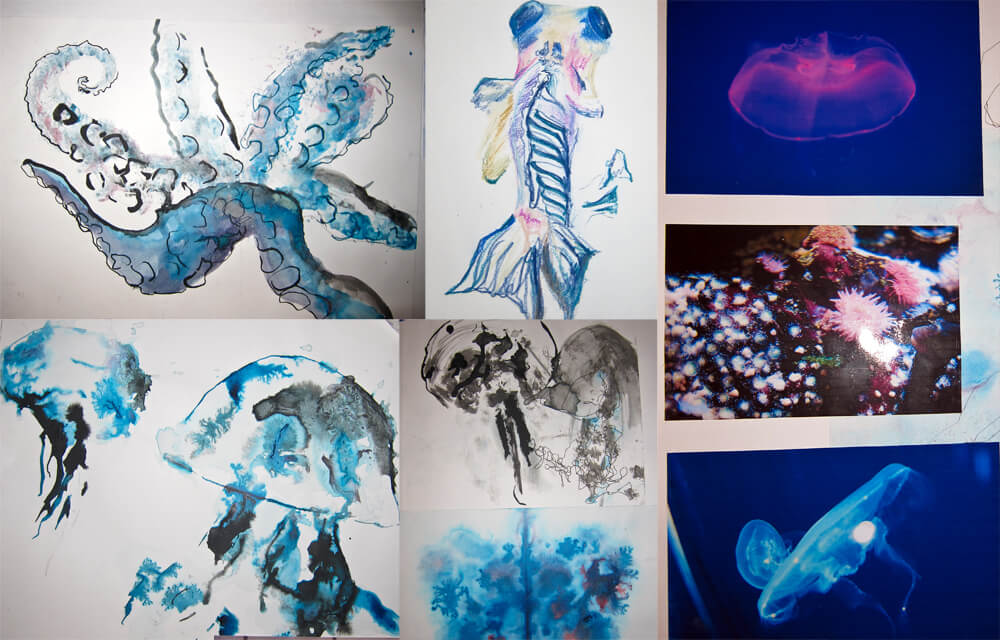 Initial sketchbook work: photography and exploring shapes and colours
Our project brief gave us relatively free rein – requiring a bra, knicker, and suspender belt with relevant technical accompaniments. I chose the starting point of jellyfish and sea life, having always been fascinated by the shapes and colours – flowing, light and delicate. There are so many ways these qualities can be transferred to lingerie.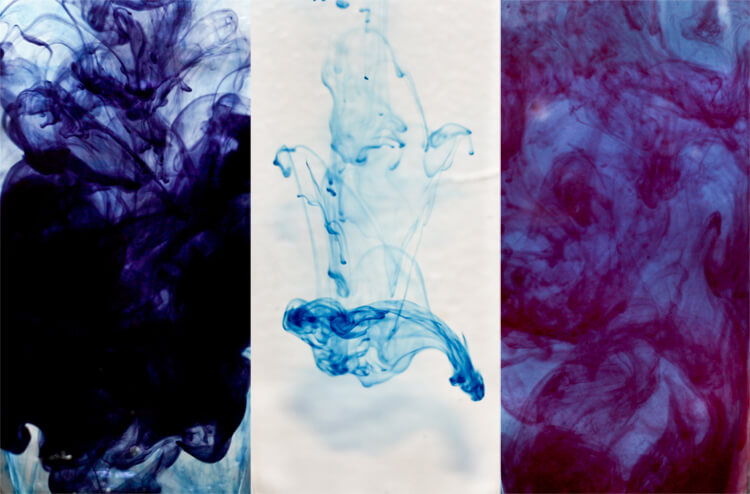 Photographs of ink in water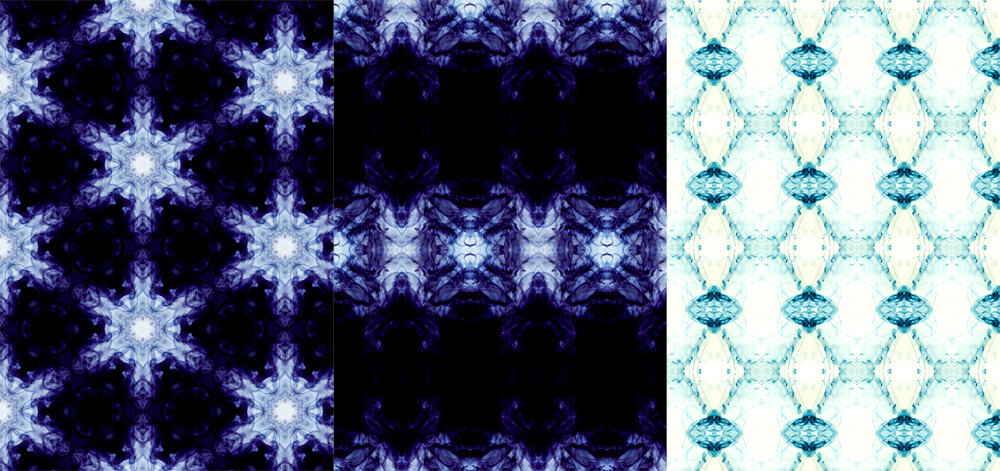 Print ideas - the centre design ended up being used in my final garments
As well as exploring these qualities through drawing, I had a go at photographing some ink in water to try and capture the amazing shapes and colours. I loved some of the photos so much that I even had a go at designing some repeat prints with them.

Looking at garment details. L-R - La Perla, La Fille d'O, Fleur of England
I began to look the lingerie world for inspiration. I was feeling particularly inspired by designs that mixed sheer and opaque fabrics. I also noticed that quite a few of my favourite designs utilised straight lines – a technique that's particularly difficult to get right when pattern cutting lingerie, especially in a manner that looks good on the human body. La Perla's AW12/13 collection has used these particularly effectively. I also love the crispness and use of panelling in La Fille Do's designs and the use of graphic black with sheer tulle by Fleur of England.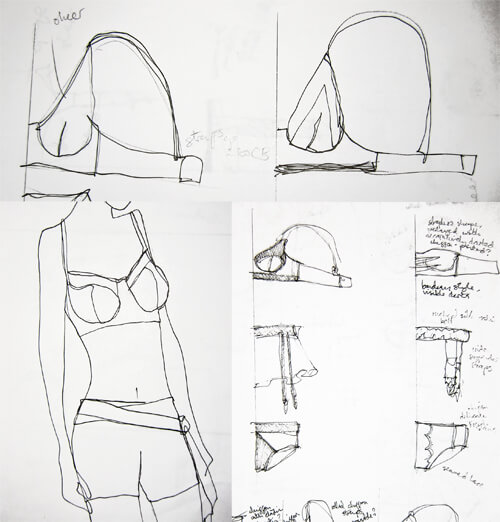 Design ideas and scribbles
I began to have a go at sketching my own designs. Unfortunately, drawing is not my strong point – my design ideas are nearly all scribbles that probably don't make sense to anyone but me! Nevertheless I had a very strong vision of what I wanted for my final designs. I wanted immaculate attention to detail and perfect finishing – tiny and perfectly sewn pin stitches on each seam, and purely elegant garments. I also began experimenting with creating partial bras and cups to get a clearer vision of my designs.

Final fabrics - silk satin, silk habotai, silk chiffon, and stretch mesh.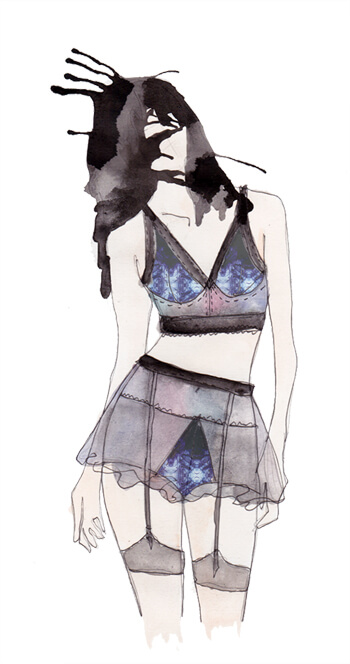 Illustration of my final designs
Everything came together in my head when I finally went fabric shopping. I found the perfect silk chiffon – ombre reds, purples, and blues that exactly echoed my sketchbook starting points. I knew exactly what I wanted my garments to be.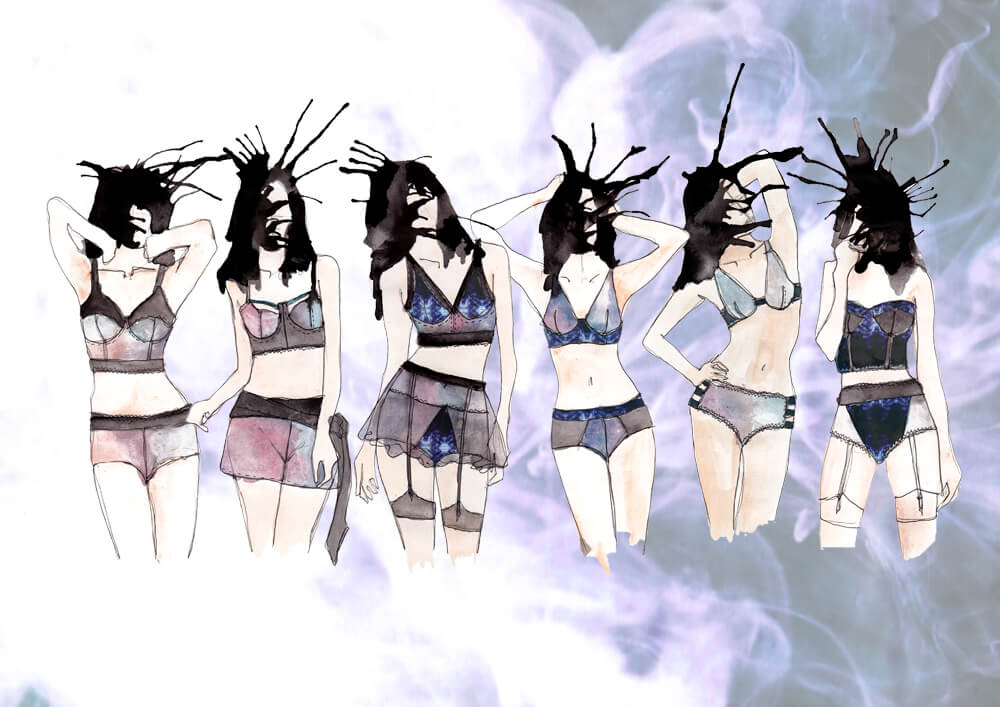 Illustration board of my 'collection' - luckily I only have to make one set!
In the final week before the deadline I've finalised my designs and am still in the process of actually finishing my garments; unfortunately I don't have any of the fantastic industrial sewing machines in my own house and have to wait for studio time to use them! Nevertheless, you can get an idea of what my final designs will be, even if they are just pinned together.

Garments in progress: pinned together bra (hence still looking lumpy and shapeless!) and my final skirted suspender belt
So in the next few days I will be panicking about finishing technical packs and drawings (incredibly boring but a necessity for any garment to go into production!), market research and photoshoots. You will just have to watch this space for the final outcome!
Readers: Do you think I've been successful in following my initial ideas through to literal garments? What are your favourite parts of the project?