Lingerie of the Week: Wolford Marilyn Stay-Up Stockings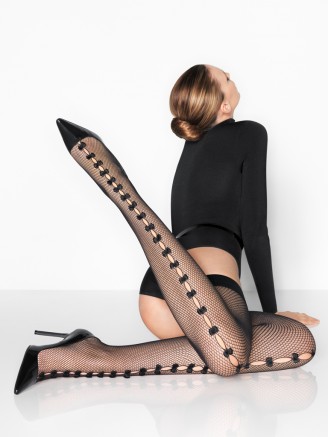 When I first started blogging, I used to regularly do "lust" features, which were basically items of lingerie I loved but would never be able to afford. This week's Lingerie of the Week is very definitely a lust feature.
Wolford has always had a special place in my lingerie-loving heart. Every season, they come with brand new styles and trends and patterns that make everyone else's hosiery look, well, average. And the quality of their hosiery is always impeccable. You can buy a pair of Wolfords today, and with handwashing and proper care, still be wearing them years from now. Literally.
Wolford's Marilyn Stay Ups are very French can-can to me. The fishnet combined with the flirty bows and the little flashes of skin is a little bit fun and a lot seductive. Hopefully, I'll be able to snag a pair on sale. Though, in retrospect, maybe that's the wrong choice of words.
What do you think of the Marilyn stockings or of Wolford hosiery in general? Let's chat in the comments.
Stockings available via La Petite Coquette and Wolford's online shop for $165.00