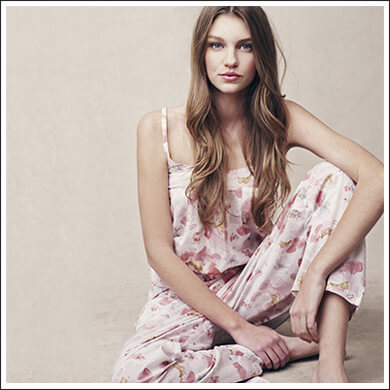 Founded in 2009 by Charlotte Hale, Plum Pretty Sugar is widely known for its bridal and bridesmaids' robes. They were a new brand when I started blogging, but they've since grown to an incredible degree, with over 400,000 Pinterest followers, and now, a special collaboration with the wedding shoppe of so many brides' dreams – BHLDN. I haven't heard anything about this new collection through traditional channels; instead I stumbled upon it quite by accident while looking for something else. However as a recent bride (is one year still recent?), I very much like these pieces.
I think part of the appeal is that they don't "scream bridal,"as the saying goes. Instead they look very fresh, very artistic, and very appropriate for Springtime. I was also pleasantly surprised at the price point. When I hear the words "designer collaboration," I automatically start thinking expensive. But a knee-length robe from the new line retails for only $65, and an ankle length robe is just $5 more at $70. While I wouldn't dare to presume that this is "affordable" for every woman, I do think it's within the reach of many, even as a special occasion item. Plus, as I mentioned before, since it's not overtly bridal, it'd be easy to wear again.
The collection includes three prints – Viviette Meets a Lark, Calliope Beneath the Stars and Imogen Whisked Afloat – in a variety of silhouettes. The pattern is a hand-painted watercolor, and the fabric is cotton voile. Best of all, these garments are machine washable. The full collection is available directly from Plum Pretty Sugar with select items exclusive to BHLDN. Prices range from $22 to $70 per piece. Sizing is XS thru XL, with the XL fitting a maximum size of 14-18 (excluding shortie sets which are sized differently).
Do you have any thoughts on this collection? Is this the kind of bridal lingerie you would buy?