Review: Lingerie Sewing Books for Sewists at All Levels
Disclaimer: These books were purchased by The Lingerie Addict for review. All opinions are my own.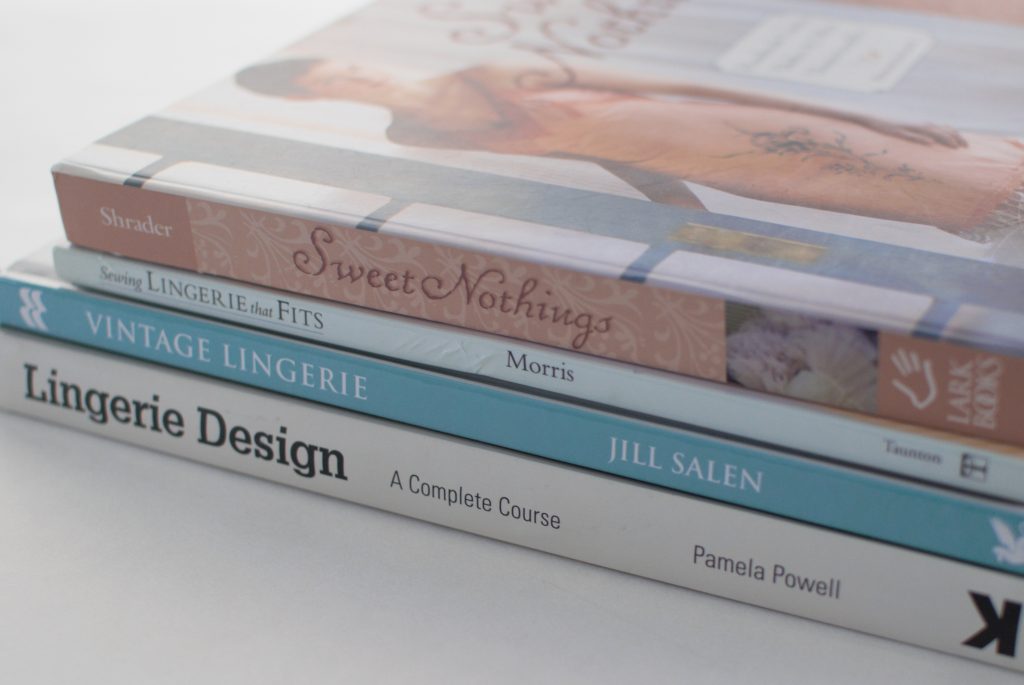 There are many reasons you might want to sew your own lingerie: to get the perfect fit, to create custom designs, or to build a more sustainable wardrobe. However, if you've never made your own undergarments before, it can be hard to know where to start.
I've been sewing regularly for almost a decade, and when it comes time to tackle a new technique or type of garment, I frequently find myself referencing my small but useful library of sewing books. Depending on your learning style, in-person classes, online video tutorials, text explanations, or diagrams and images might work best for you -- or some combination!
While some skills, especially when you're getting started, are often best understood by hands-on experimentation, I find a well-written book indispensible for learning new pattern drafting and adjustment techniques, understanding garment construction details, and getting a look at the guts of the types of rare or historical garments I'll never get to handle in person.
For me, there are a few markers for good lingerie sewing books:
Comprehensive and clear diagrams
Straightforward technical language with a glossary of sewing terms
Language inclusive of gender and size
Where possible, photography that offers a diverse range of models and garments (some books use diagrams or line drawings rather than photos; some primarily examine vintage or historical garments where a greater number of smaller sizes have survived due to limited use)
Focus primarily on techniques rather than projects to allow for a greater range of applicability
Lingerie sewing tends to be a small part of the larger home sewing industry, and as such there are only a limited number of sewing books available specifically focusing on lingerie. I've rounded up four lingerie sewing books here. While they do not all meet my criteria of a good sewing book, each has its own appeal. Whether you're a dabbler or ready to turn pro, there's a book for you!
The Dabbler
The Dabbler: You're a beginner sewist wanting to dip your toe into making lingerie. You like refashioning thrifted garments and see potential in every textile, from tablecloths to old scarves.
Valerie Van Arsdale Shrader's Sweet Nothings: Handmade Camis, Undies & Other Unmentionables includes instructions for 25 projects with dreamy images and a pretty layout. Overall, the projects are more for aesthetics than function, so it offers a relatively easy point of entry to folks who are just starting out.
Pros: Includes simple projects that largely do not require specialized knowledge, techniques, or equipment. Pretty imagery to help whet your imagination.
Cons: About half the projects are re-fashions rather than actual sewing-from-scratch tutorials. Though it comes with a few patterns, sizing is limited to XS-XL. Directions are scanter than you'd get in a standard pattern, and the editorial language pretty cutesy and gendered. If you're anticipating sewing becoming a real hobby, you'll outgrow this book quickly.
The Vintage Lover
The Vintage Lover: You are a lover of historical fashion and/or costuming. You like looking at the guts of old clothes to puzzle out construction and are intrigued by the development of sewing techniques.
Jill Salen's Vintage Lingerie features 30 patterns drawn from period lingerie garments dated 1850-1970. Salen presents each garment with 1-2 color photographs, notes on its construction, and details on its manufacture and history. The patterns are gridded scale sketches of the actual garment measurements and are not graded to multiple sizes. To use them, therefore, some knowledge of pattern construction and grading is necessary.
Pros: The garments selected include both everyday items like knickers and girdles and items with unusual patented construction and specialized techniques such as a maternity girdle or hand-embellished silk slip. The patterns, therefore, show a vast range of experimental and problem-solving techniques, beyond more typical methods that might already be represented by other patterns or books. While folks interested in vintage and historical reproduction sewing might find more comprehensive and specific resources more useful, this offers a good introduction to the recent history of undergarments for those just getting into vintage lingerie.
Cons: Because each garment is represented by only one or two photographs, we're missing visual representation of interior construction techniques. While an illustrated glossary of stitch techniques is offered at the end, the book lacks some detail on specific construction methods used for each garment. Drawing a pattern from an extant garment is common among historical fashion books but does require more knowledge to use than a graded pattern.
The Pattern Hacker
The Pattern Hacker: You have some experience sewing and are interested in developing your skills in fitting, construction, and comfort. You might already have some basic patterns you'd like to alter, fit, or embellish. You're particularly interested in creating well-fitting and comfortable undergarments for everyday.
Karen Morris's Sewing Lingerie that Fits: Stylish Underwear, Sleepwear, and Loungewear for Everyday Living offers a comprehensive advanced-beginner's guide to sewing lingerie, with a focus on fit and comfort. Sections on selecting the right fabric, on sewing techniques and finishes, and on fitting and drafting basic patterns are interspersed with helpful tips drawn from the author's personal experience for solving problems like a butt seam riding up or a binding waistband.
Pros: Rather than offering specific projects, this book gives you the tools to approach your own ideas with knowledge and skill. This offers a larger range of applications in what ends up being a well-organized but jam-packed reference text. I also like that it offers a few adaptive solutions, such as shoulder strap pads for shoulder pain or bra cup pockets for mastectomy prostheses. The language used is also non-judgmental about sizes.
Cons: Though this is far more size-inclusive than the more basic Sweet Nothings, the few finished projects shown are all displayed on thin mannequins. Information about the support needed for a full-cup bra is offered as an aside and would have benefited from more elaboration. Finally, some imagination might be needed to update the styles offered, which do bear evidence of the book's 2001 publication date.
The Fit Fanatic
The Fit Fanatic: You are an intermediate sewist interested in designing and drafting your own patterns. You're interested in precise fit and creative style lines. You might be designing for yourself or with the goal of creating a pattern company or lingerie line.
Pamela Powell's Lingerie Design: A Complete Course is a densely-packed textbook for designing, drafting, and constructing lingerie including slips, panties, sleepwear, foundation garments, and bras. The basis for the pattern designs is a sloper: a close-fitting, basic bodice pattern drafted to your (or your model's) measurements. Instructions in the first chapter for creating slopers for woven and knit fabric lead to diagrams demonstrating how to change the style lines to create slips, petticoats, pajamas, and even corsets. A bra-making chapter demonstrates multiple techniques for drafting and fitting an underwire bra pattern.
Pros: This is the most comprehensive lingerie sewing resource I've found for those of us who have not attended fashion or design school. The diagrams are clear and instructions well-organized and easy to follow, with some knowledge of pattern design. The design suggestions are a mix of contemporary and vintage styles, showing the development of modern lingerie over the 20th century.
Cons: The examples shown are primarily in smaller sizes. While the use of a sloper allows any sewist to adapt the instructions to their own measurements, more plus size and full cup examples would offer a broader range of construction techniques.
Final Thoughts on These Lingerie Sewing Books
Sewing as an art and technology both relies on millennia-old techniques and continues to develop. With a proliferation of resources available online and in print, it's also a hobby that's easy to pick up for a project or two -- or to continue learning for a lifetime.
My own library of sewing resources continues to grow as I develop my skills and interest in new projects. Of the lingerie sewing books reviewed here, I can tell that Powell's Lingerie Design will have a firm place in my sewing library due to its comprehensive instructions on drafting and fitting.
If you're just starting sewing lingerie -- or sewing at all -- don't be intimidated!  You can easily get started with just a hand needle and thread, or with only a few stitches on your sewing machine. In fact, many of the delicate fabrics you might be drawn to for lingerie will be easier to handle with hand stitching, which allows you to go slowly and readjust as needled.
Start with a project that doesn't require extensive fitting to get your stitching sea legs, then move on to more complex projects as you learn. And enjoy! Making my own clothes has been one of the most affirming and rewarding hobbies I could have ever picked up.