5 Extravagant Dressing Gowns for Your At-Home Cocktail Party of 1
So I'm sitting here, drinking a glass of rose champagne (not the expensive stuff, you know, but nice enough that it feels like treat). And I'm thinking about old happy hours with my friends Sweets and Jeanna. I'm also thinking about how it'll be weeks - if not months - before I can see them in-person again...despite us all living within a few miles of each other. There's an odd kind of loneliness with a shelter-in-place order, one I've never experienced before. Your friends are just within reach, but might as well be a 1,000 miles away.
At any rate, this post is not meant to be a depressing one. As I said in the most recent Very Important Addict newsletter, I want TLA to be a break from the more serious things. However, I also feel like it's a fine balance between talking about pretty things (which you know I love to do), yet also being conscientious about our current situation. An situation we all have in common right now.
Oddly enough, I'm not wearing as much fancy loungewear at home as I'd hoped. Still, I do always love to slip on a posh dressing gown whilst reading a romance novel in the evenings (a newly acquired hobby thanks to The Ripped Bodice).
I also believe, as I've said in a few other places, that this is the time to support our independent brands and businesses. Not every company is going to make it to the other side of this, but I know that I want to put my meager dollars where I feel they can do the most good. Apart from giving directly to people and to charitable organizations, I think another way to do this by purchasing from indie designers. Whether this is simply a bit of eye candy, or it inspires a new purchase, I hope you enjoy.
Here are my top 5 picks for your at-home cocktail party of 1.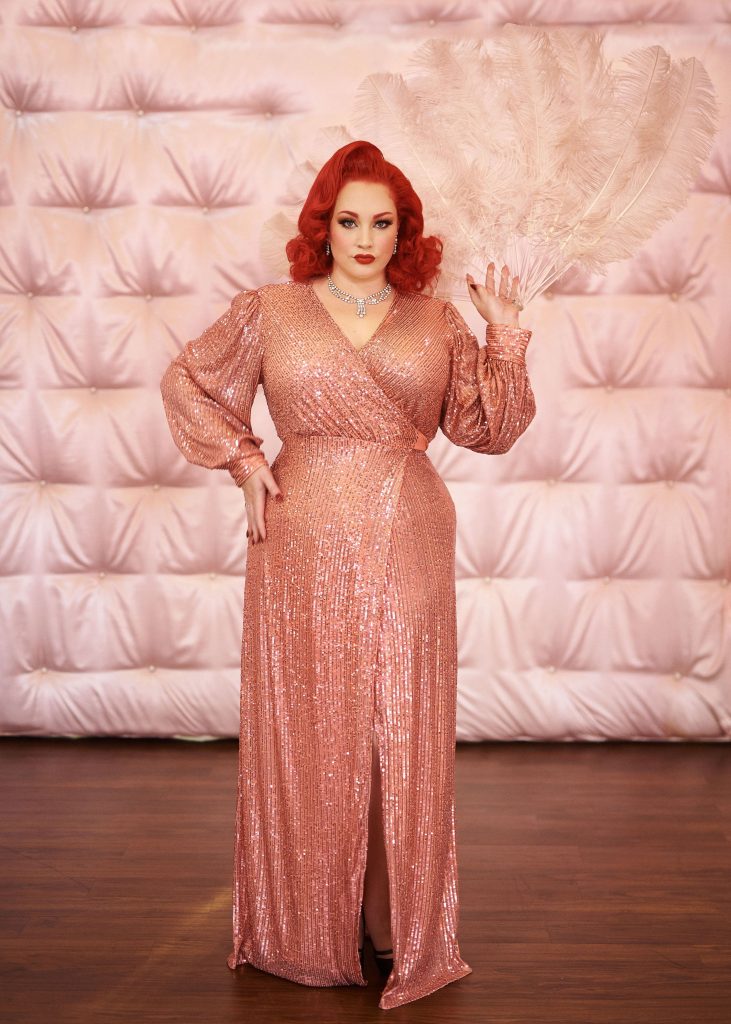 The Nylon Swish 'Jasmine' Gown ~ The Nylon Swish and I both started out as bloggers, but unlike me, she's gone on to start an incredible (and much-needed) boutique in Australia catering to glamorous retro dames in the land down under. I am positively smitten with this Jasmine robe in lovely, sparkly shade of pink (much like my current glass of wine).
Dottie's Delights 'Marry and Bury' Robe ~ I have adored Dottie's Delights for years. We've practically grown up in the industry together. No one does vintage-inspired quite like the founder and designer Stephanie. Unsurprisingly, I am positively covetous over this outrageously glamorous robe from the newest Mosh x Dottie's Delights collection. I know it's utterly impractical. I also know I don't care.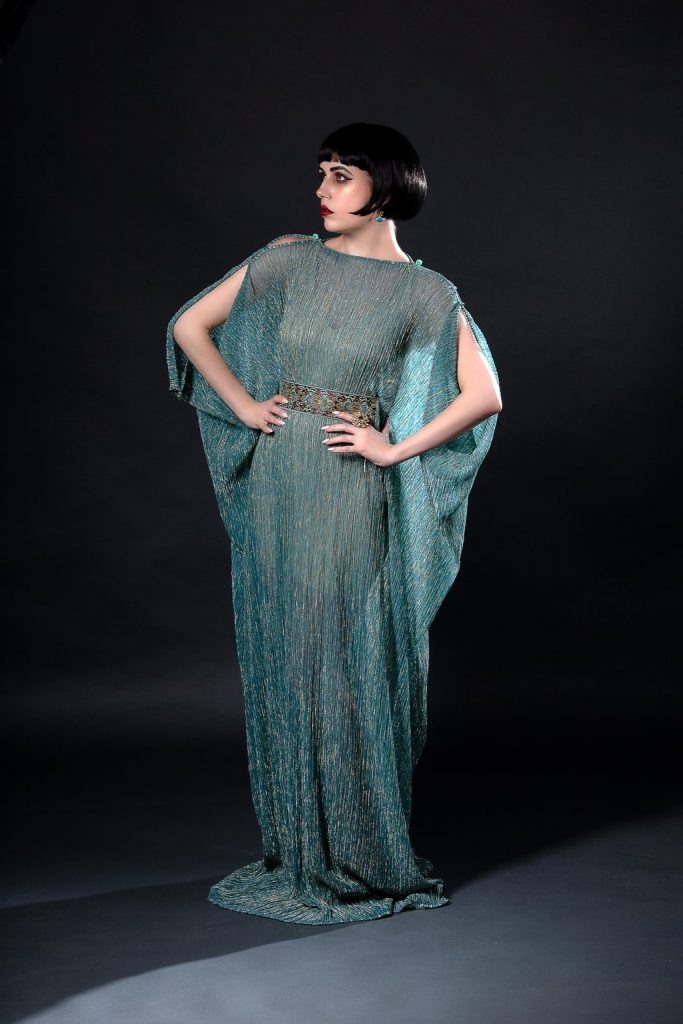 Flutter Mouse 'Fairest Stars' Gown ~ This isn't strictly loungewear, but I'm keeping it because both the pieces I've purchased from them - including this gown - can be worn as loungewear. All it takes is a slip underneath for this to be street-appropriate but if you feel like swanning about Greek goddess style, just wear it around the house as-is.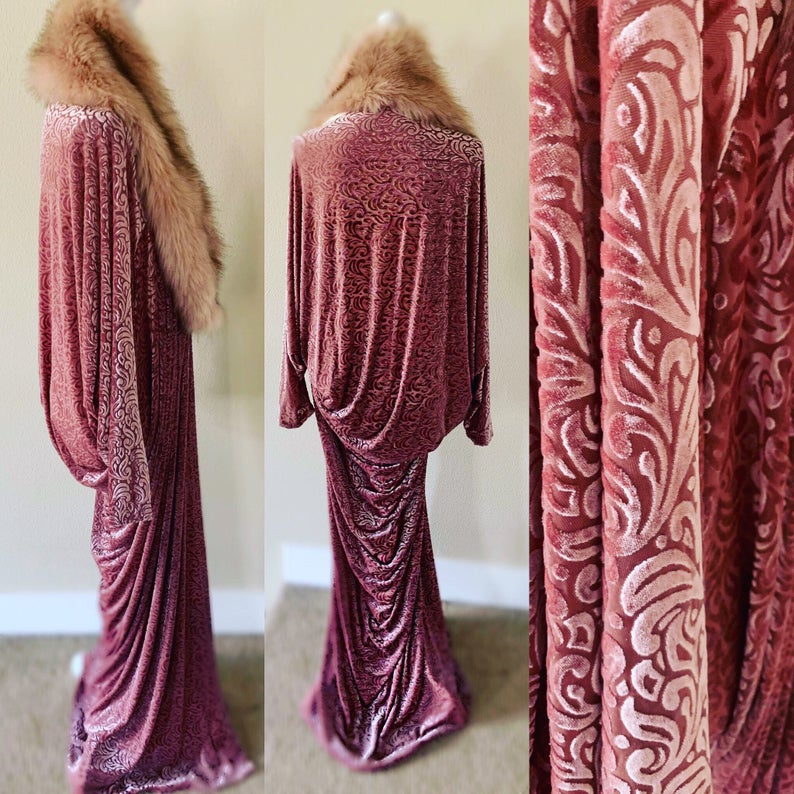 Velvet Zephyr 1920's Old Hollywood Style Robe ~ I don't know if you've heard of Velvet Zephyr yet but you absolutely should know about them. Like most folks, I'm cutting way back on nonessential items right now, including garmentry. But one day, I'll have to buy one of these. They're just too good.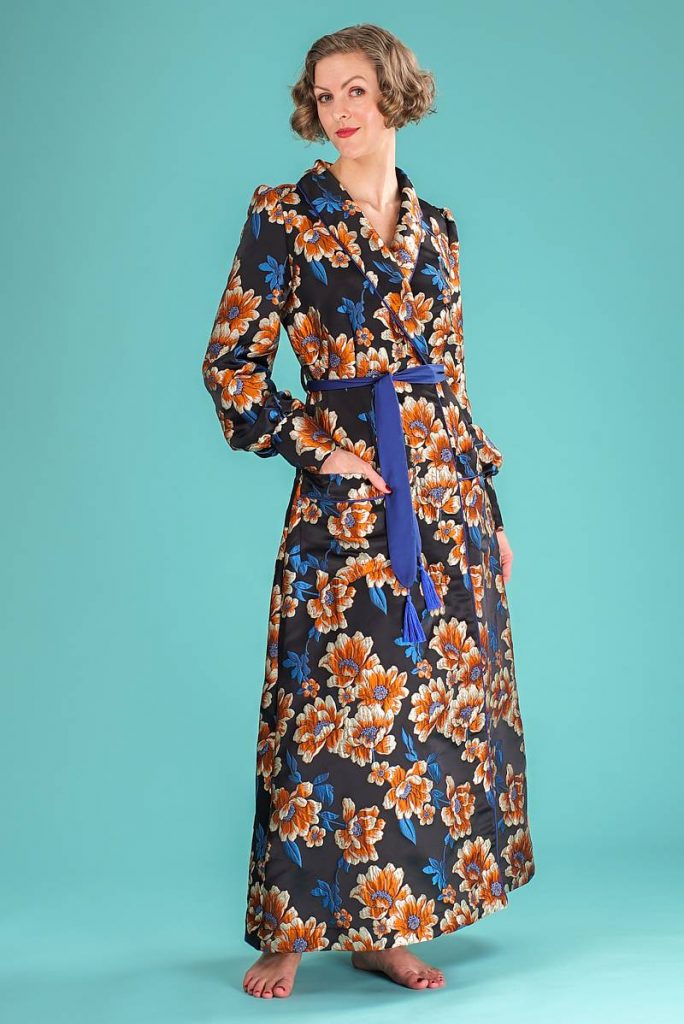 Emmy Design 'Beautiful Boudoir' Robe ~ For this last robe, we're going in an ultra-comfy direction. This is the "cup of tea and a biscuit" before bed robe. The "first cup of coffee in the morning" robe. The "run to the mailbox right quick" robe. The print, the fabric type, the length...I find everything about this robe absolutely delightful.
What robes are you wearing right now at home? I'd like for you to link to them in the comments!