How to Wear Lingerie as Outerwear: Looks for Brunch, Work and Holiday Parties
Disclosure: This article is sponsored by I.D. Sarrieri.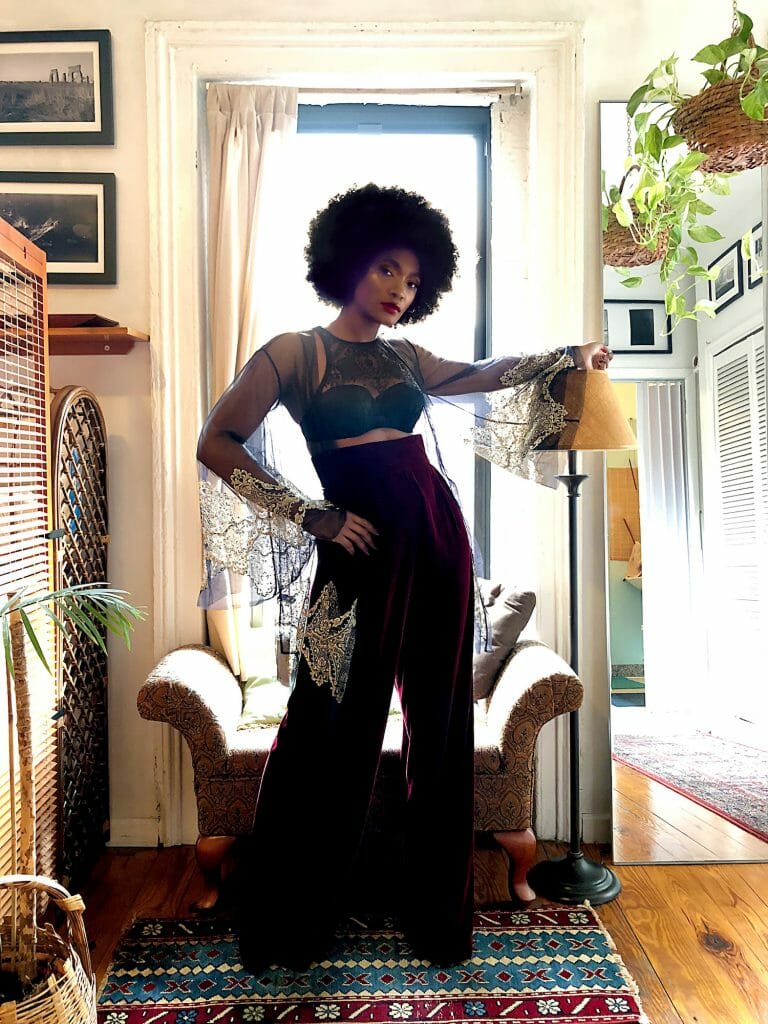 A month ago, ID Sarrieri gave me a mission - to show TLA readers (and Lingerie Addicts everywhere) how to style their incredibly luxurious lingerie into outfits almost anyone could wear out and about.
Purchasing luxury lingerie can be an intimidating experience. Not only are there the usual details, like terminology and style, to know, you also want to be sure you're buying something you'll actually wear. It doesn't do you any good to purchase something beautiful and leave it languishing in the back of a lingerie drawer (something I've been guilty of myself!).
One of the reasons I love loungewear - and dedicated an entire chapter to it in my book - is because I truly believe it's the most versatile area of lingerie, a place where you can almost guarantee you'll get your money's worth.
Personally, I often incorporate loungewear into my daily attire. In the summer, I'll wear silk camisoles or robes, and then, in the winter, use those same camis as layering pieces. A sheer lace or mesh robe, bodysuit, or caftan can, with just a few added layers, transform into a captivating ensemble.
Meanwhile, soft jerseys and satins are perfect to wear to brunch, for running errands, and even to work. And a pajama shirt or pant? Instant glamour for a night at the ballet or museum (because the ultimate in glamour is what the French sometimes call insouciance - the sense you just rolled out of bed with perfect style).
As someone whose life's mission is to make lingerie more accessible, to show both its range and versatility, I also wanted to use this opportunity to perhaps give you, my readers, a few ideas. Often, I'm asked, especially when we're sharing more luxurious or dramatic pieces, "Okay, that's nice Cora, but where can I actually wear it?"
The truth is you can wear your beautiful lingerie almost anywhere. Beautiful lingerie can and should be a part of your life, not just something saved for "special occasions" or folded in the back of a lingerie drawer awaiting the "right time." The right time is right now, so let's take a look at 5 ways to wear lingerie as outerwear everyday.
Work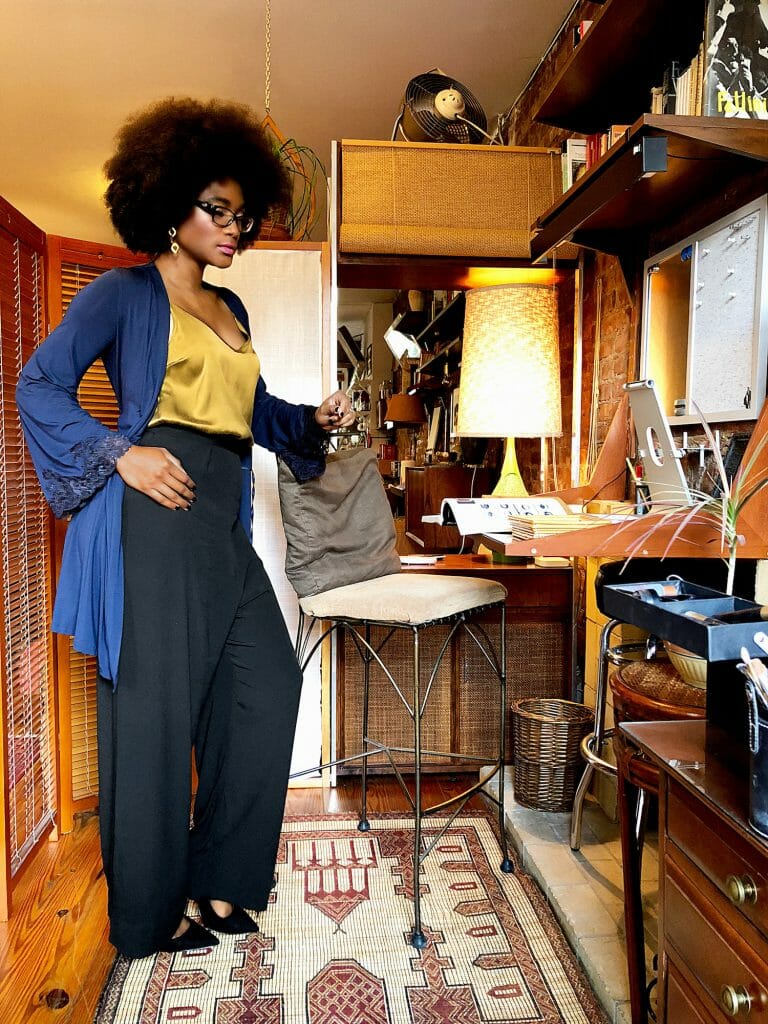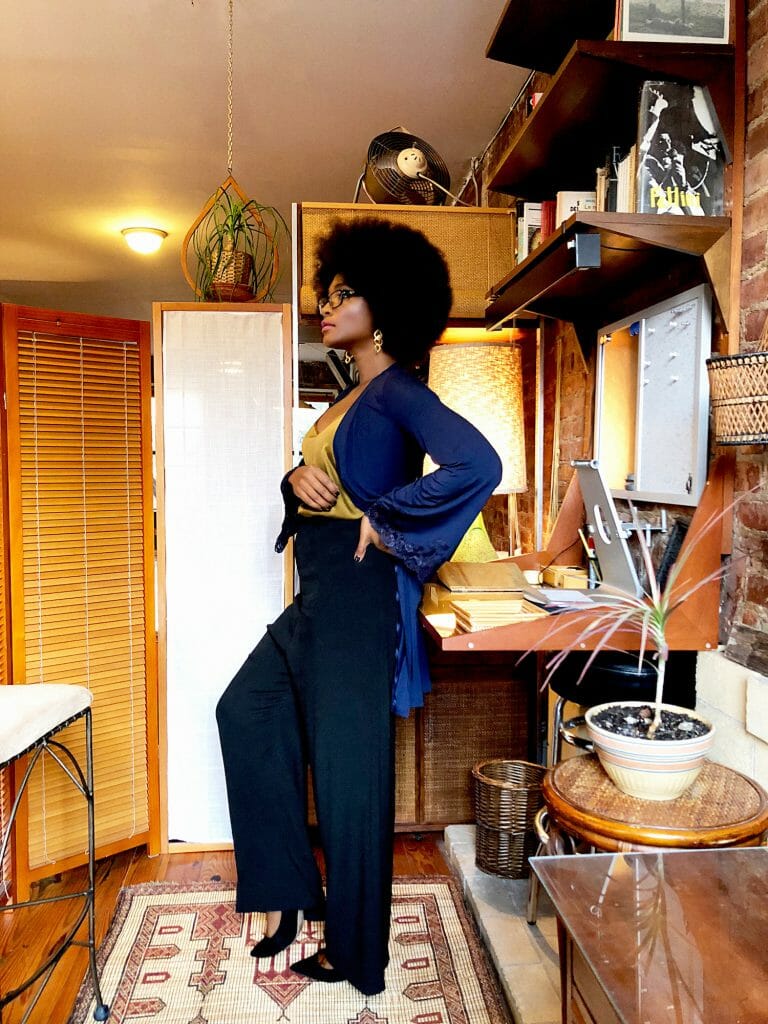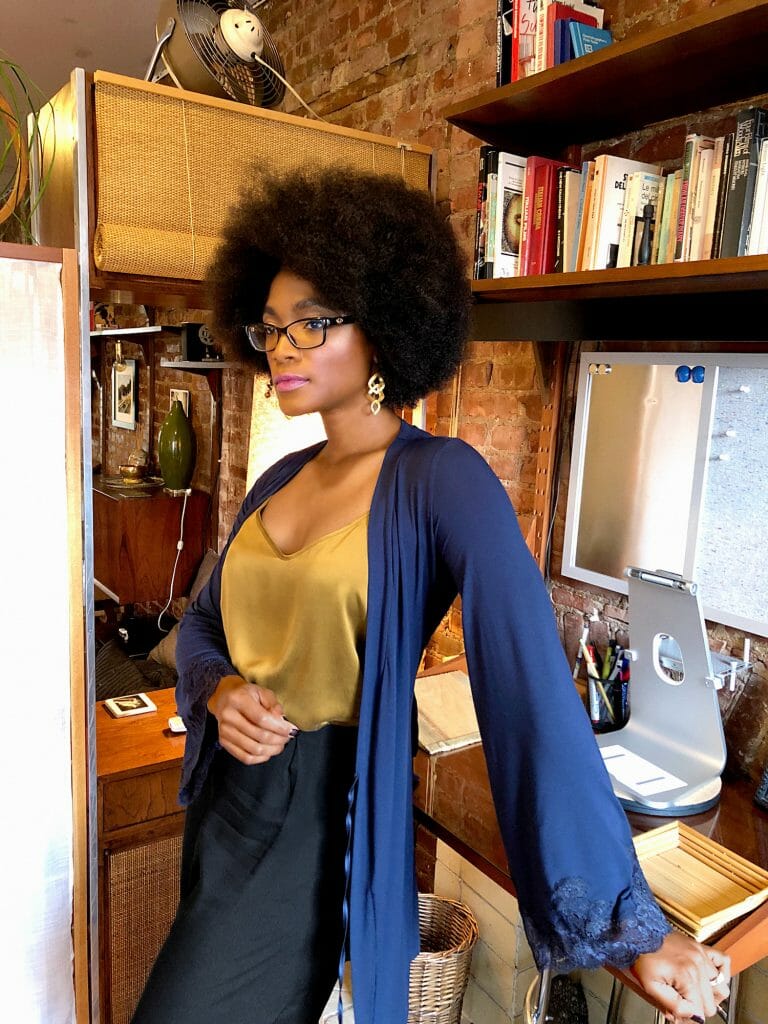 Most of us spend a lot of time at work and a robe can not only add a chic, effortless elegance to your ensemble, it can also keep you warm when the air conditioning is on! For this look, think of your robe as a camisole. You may want to perhaps avoid lace or sheer fabrics in favor of more opaque, stretchy textiles (like modal) with a bit of subtle trim.
Here I've paired ID Sarriei's Isolde Robe in Navy with a satin camisole and wide leg black pants.
Brunch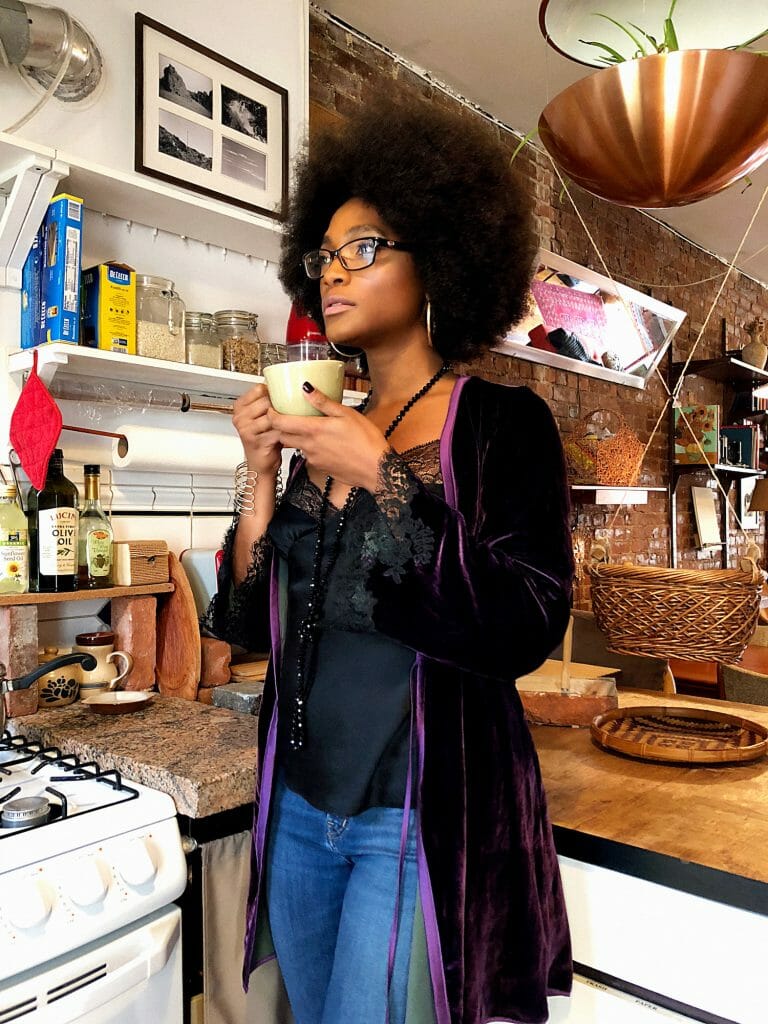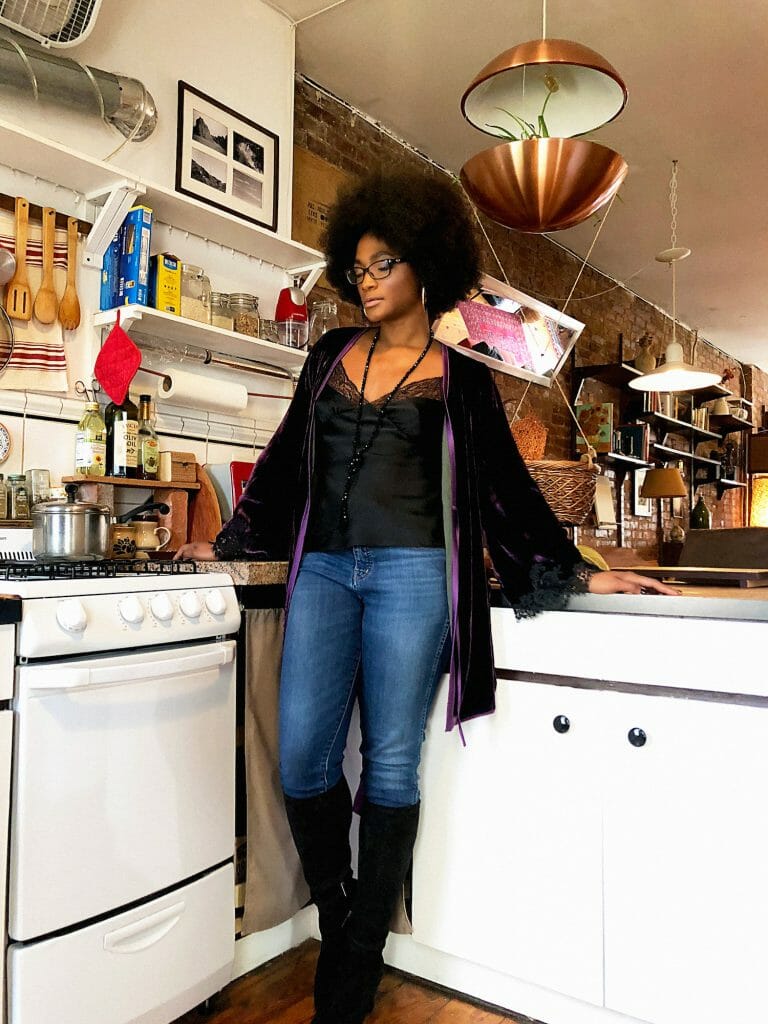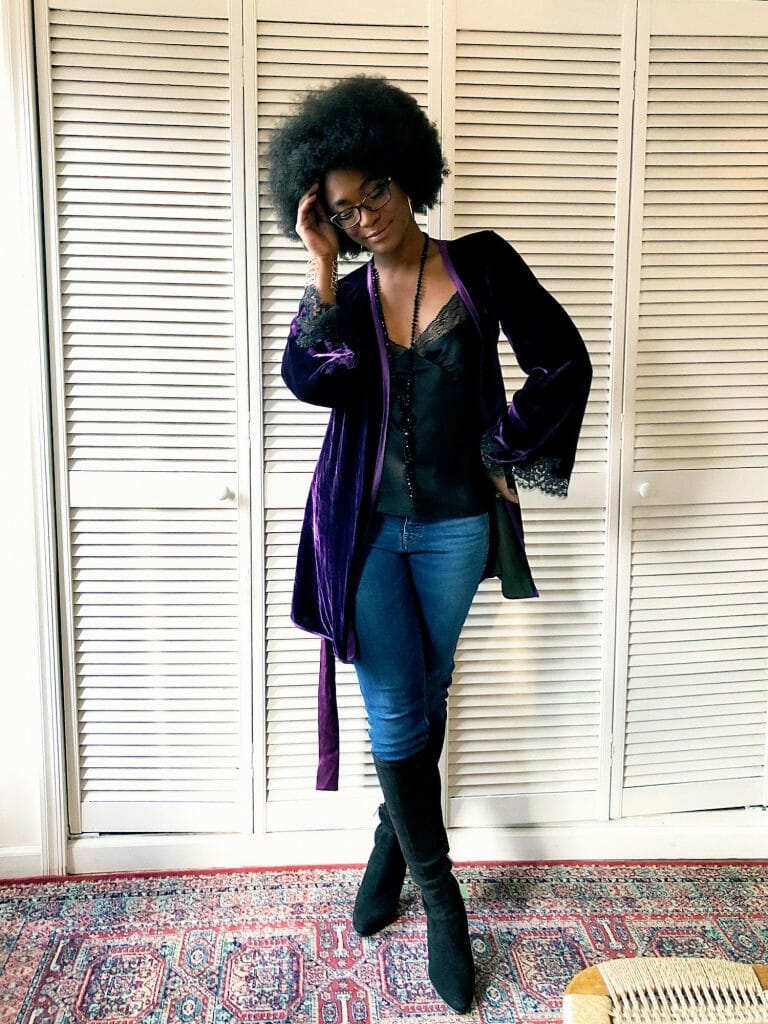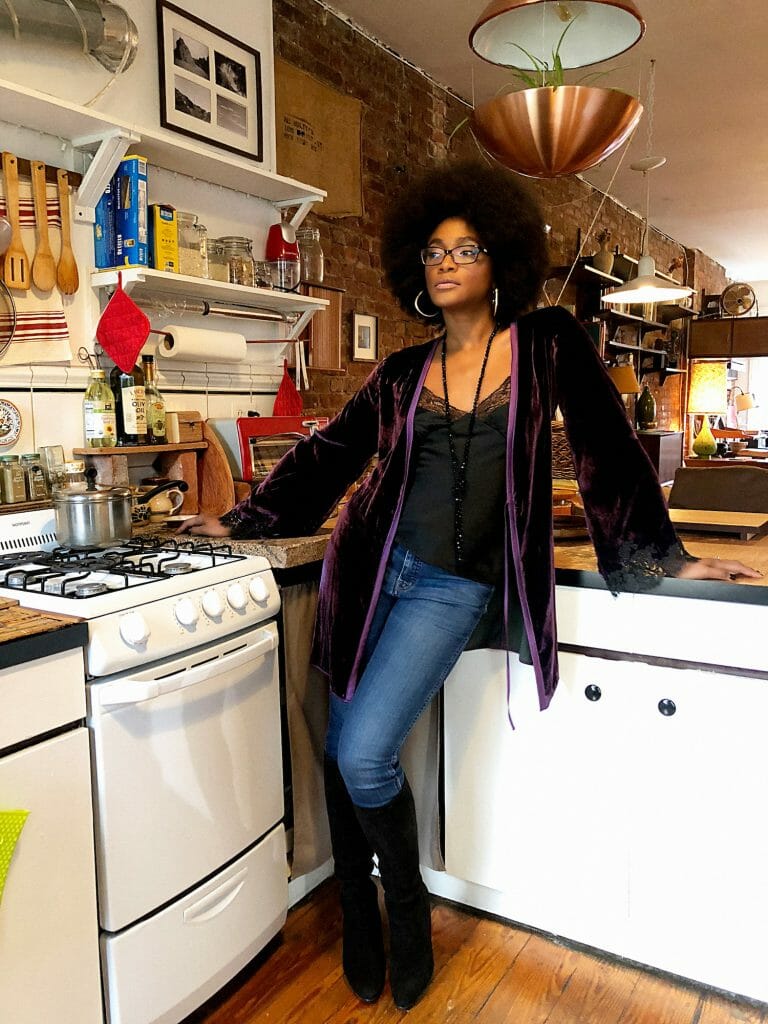 It's the weekend! Time for chilling with friends and making sure you're relaxed and comfortable for those endless mimosas you've been looking forward to all week. Velvet blazers are popular this time of year, and it's easy to trade the more structured look of a blazer for the chill, understated sophistication of a robe. And velvet is such a luxe textile; it instantly elevates any look.
Here I've paired ID Sarrieri's Tresor Imperiale Short Velvet Robe in Royal Haze with a satin cami, denim, and knee high boots.
Night On The Town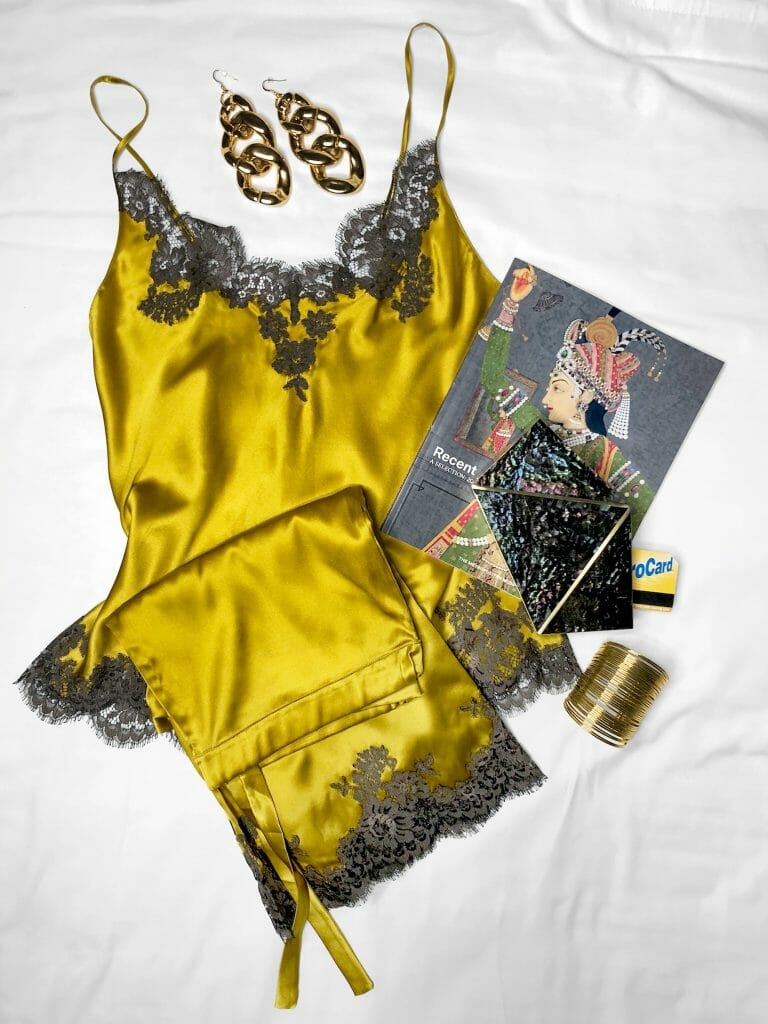 Since moving to New York, I've been indulging heavily in the arts scene. Being able to go to concerts, plays, ballets, and museums practically anytime I want is something I could only dream of when I was a kid growing up in central Georgia. While one of the things I love most about NYC is that you can wear almost anything and no one will give you a second look, I also enjoy how many opportunities it affords for dressing up and going out.
A silk pajama set gives the polished look of a complete suit while also letting you feel comfy and breezy. And if wearing both pieces at the same time feels too "loungey"for public, you can always pair the trousers with a different shirt or vice versa.
Shown here are I.D. Sarrieri's Hotel Particular Silk Satin Camisole in Royal Gold/Mink paired with their Silk Pants in the same color.
Date Night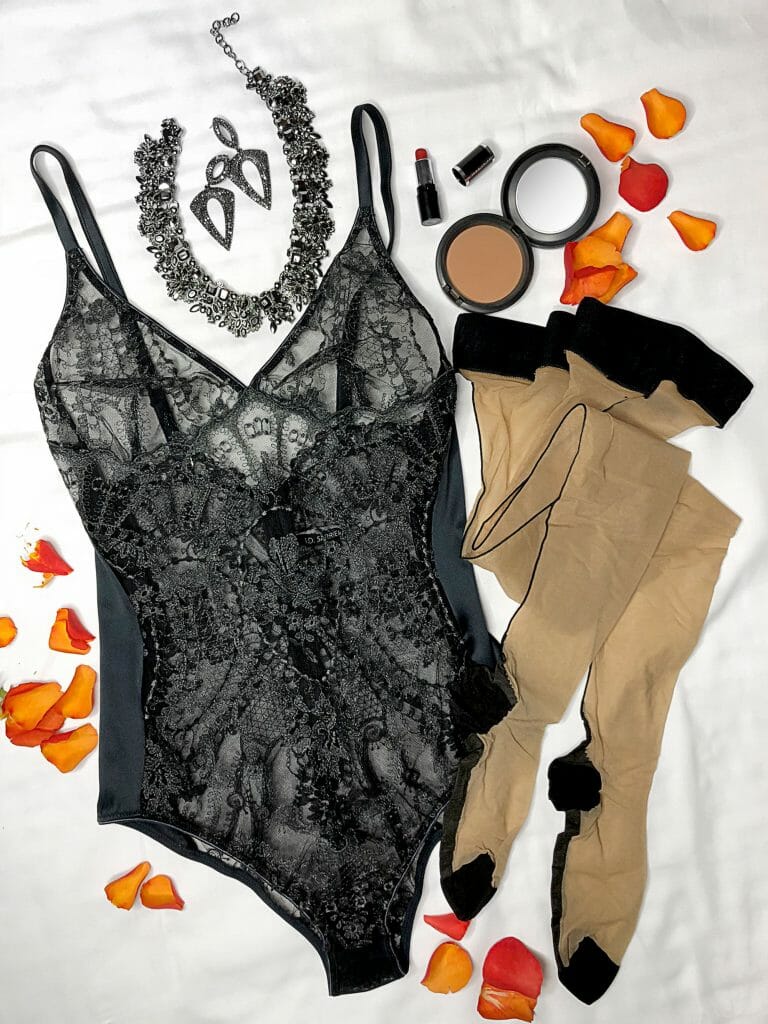 It's been a minute since I've dated anyone other than my husband, but I do remember the thrill of choosing my best lingerie "just in case" (and, of course, because beautiful lingerie helped me feel like my best self). A lace bodysuit pairs brilliantly with most any bottom - whether it's a pencil skirt, jeans,  or wide leg trousers - but also transitions effortlessly into the boudoir, especially if you remembered to tuck a pair of thigh high stockings into your purse.
Shown here is I.D. Sarrieri's La Naissance d' Aphrodite bodysuit. For a similar look, try their Mystere de Minuit Bodysuit in Midnight Blue.
Holiday Party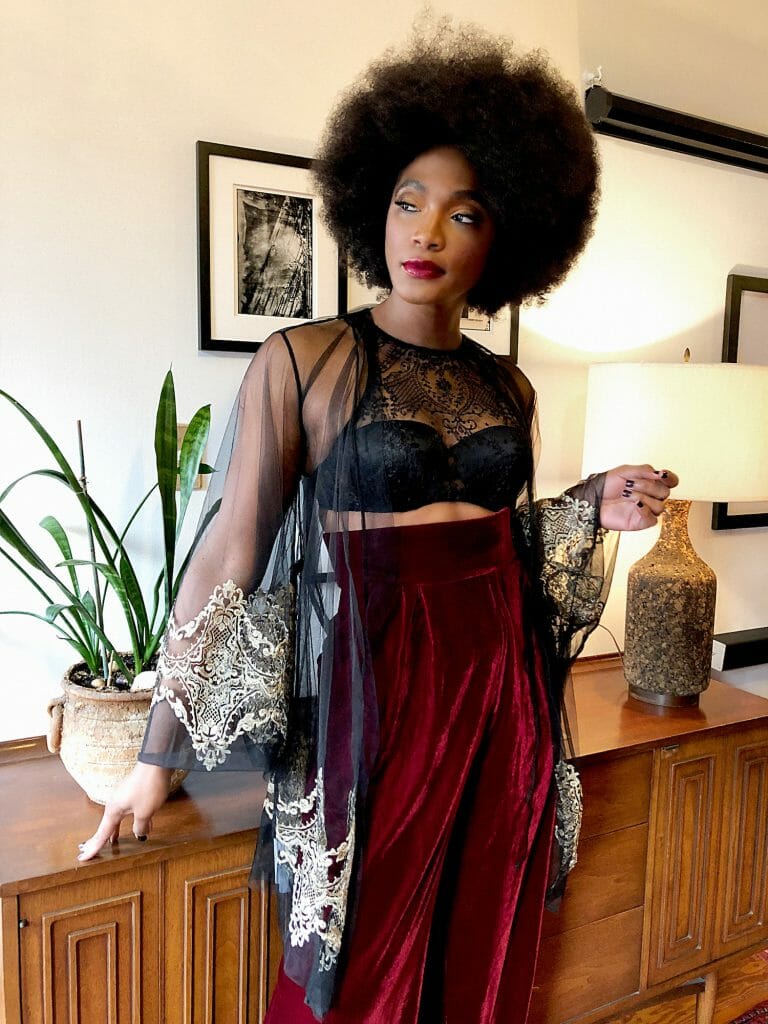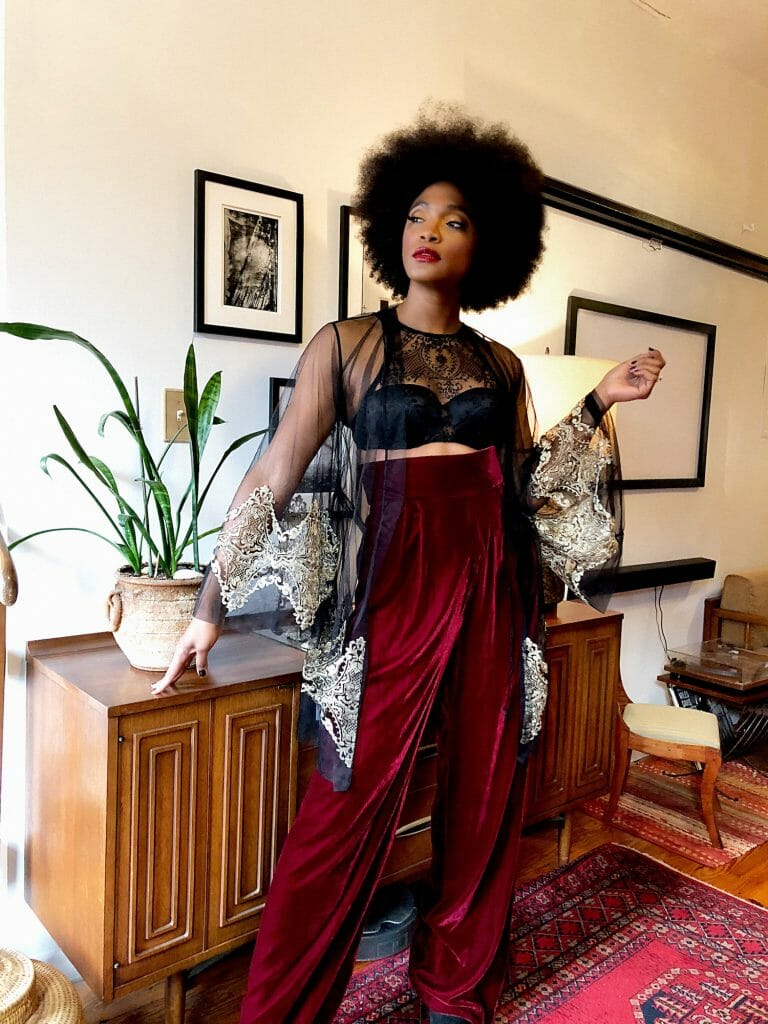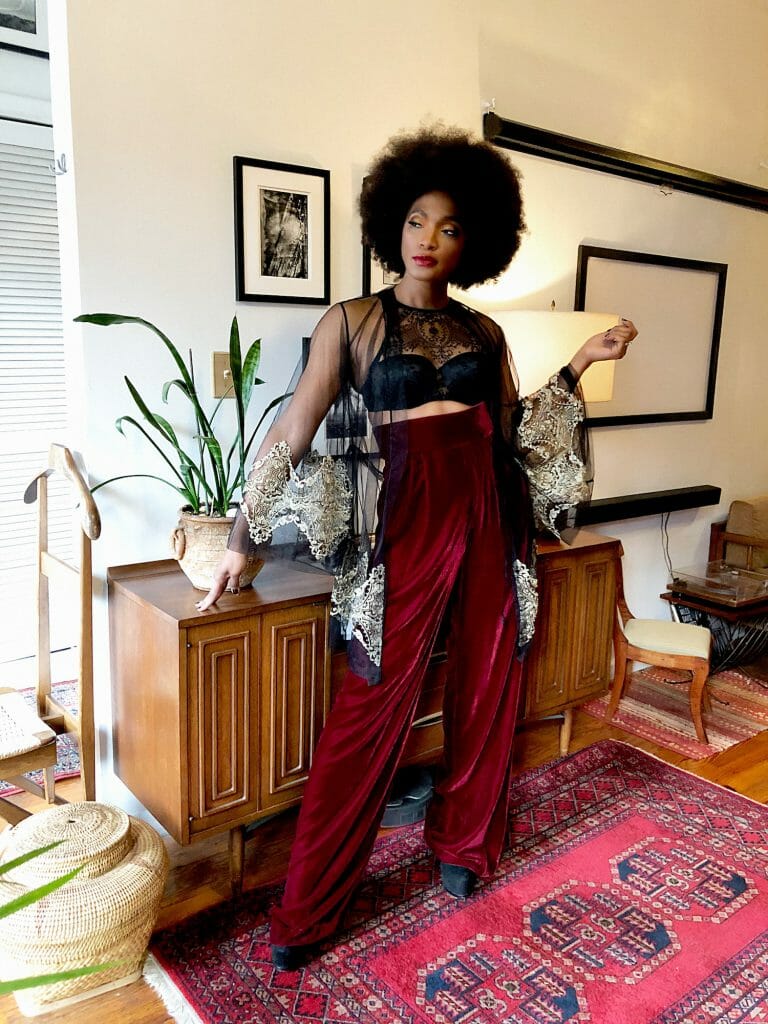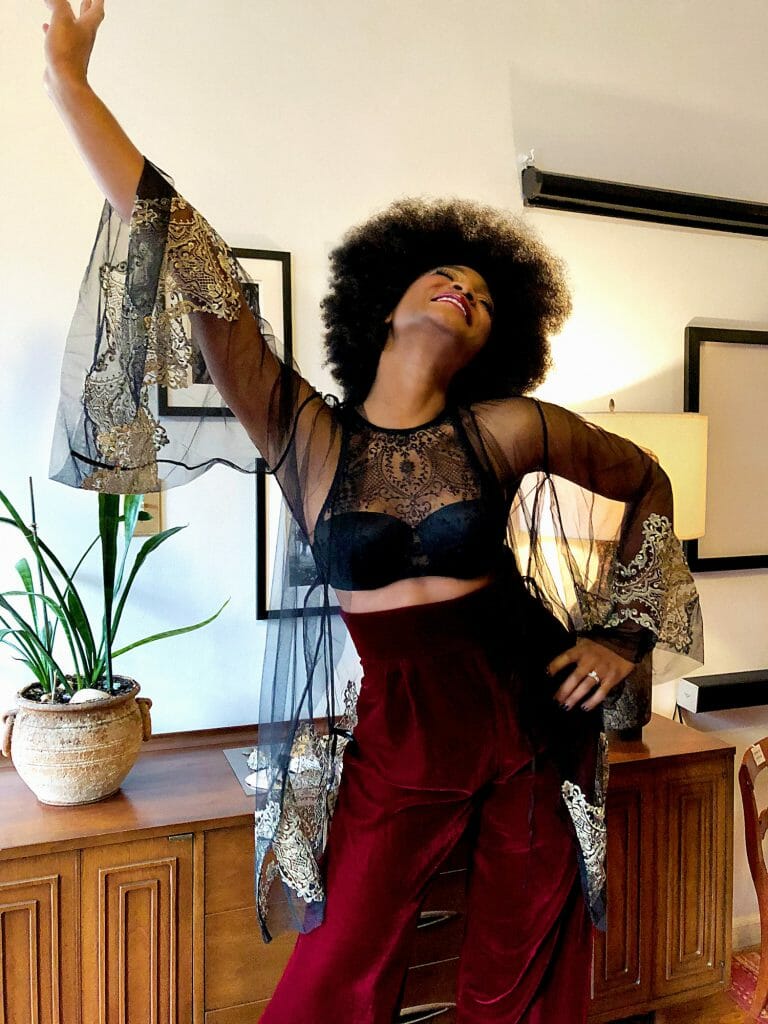 Tis the season...for holiday parties! Even though holiday parties are supposed to be fun and festive, there's always a bit of pressure there to dress well. Sequins and sparkles are forever a good choice for this time of year, but can I also submit for your consideration gold embroidered tulle? While the other looks for work or brunch are more subtle and understated, when it comes to holiday parties, it's time go all out with sheer layers, lace, embroidery, texture, and rich colors.
Here I've paired ID Sarrieri's Le Desir Short Robe in Metallic Black with their Hollywood Dream Balconette Bra in Black and a pair of high waist velvet pants.
Wearing lingerie as outerwear can feel intimidating, but it doesn't have to be! I hope this article gives you some ideas to explore this trend for yourself. And if you're already a fan, what are some of your tips for lingerie as outerwear looks? Comment below!