Introducing Our Latest Project: Lingerie is for Everybody!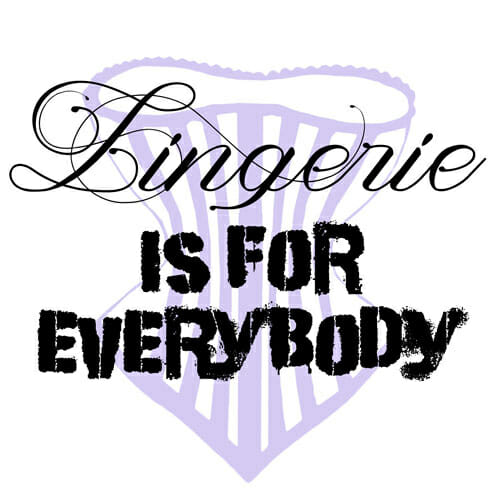 Today's announcement has been years in the making, and I'm so excited to finally be able to share it with you today.
Way, way back in 2015 (a forever ago in internet time), I reserved the Instagram handle "lingerieisforeverybody." After years of writing about intimates, I felt increasingly uncomfortable with the imagery I saw from most lingerie brands.
Even brands that claim to be inclusive or diverse often fall into the same old tropes. Their models are invariably young, thin, lighter-skinned, able-bodied, and scar and stretch mark free - all things most of us aren't. It's hard to feel like lingerie is for you when you never see anyone that looks like you wearing it.
I often talk here about what I want to see more of from the intimate apparel industry. But, lately, I've been thinking more about what I can do with TLA's platform. If I wanted to see this change, what could I do to help make it happen?
And so the concept of "Lingerie is for Everybody," was born, a platform separate from The Lingerie Addict that's all about showing the beauty of lingerie. More than that, it shows how lingerie can have a place in your life. Because when all the models and influencers and spokespeople never look like you, what does that say about your place in this world?
Especially now, as we're in a social media climate where nipples are banned and accounts are being shadow-banned and online harassment is at an all-time high, I think it's more important than ever to have nourishing, welcoming spaces. Places that build you up and make you feel good about yourself...instead of making you feel like there's something wrong with you.
I've been writing about intimates for ten years, and I love it more than ever. But the thing I am most passionate about now, the thing that gets me most excited to write and tweet and talk about lingerie, is helping people understand that it can be something for them. That there's nothing weird or wrong about loving a nice robe or a silky slip or pair of nylon stockings. That there are companies making things in your size or to fit your skintone or to complement your gender identity. That there are people who see you and  want to make room for you in this strange, confusing space that is lingerie.
Lingerie is for Everybody is just an Instagram account now, but I hope that one day it can be a movement. I know that I'm just a blogger, but I'm also someone who loves underwear. And I want to see people living their best lingerie lives. I want to be their cheerleader, to celebrate them, to tell them they look fierce and amazing and wonderful and that their presence is valued. And if you feel the same, then Lingerie is for Everybody is for you.
Lingerie is for Everybody is going to be a follower-focused account. You can tag us to get reposted, and we'll share your post directly with a tag to you and your caption. Of course, we'll have to stick to Instagram's rules regarding nudity and all that, but I truly hope you can be a part of this. And that we can all be part of making the lingerie industry more inclusive than it's ever been before.
Join me on Lingerie is for Everybody! I can't wait to see you there!