5 Things You Need to Take Better Care of Your Lingerie This Year
Disclosure: This article contains affiliate links.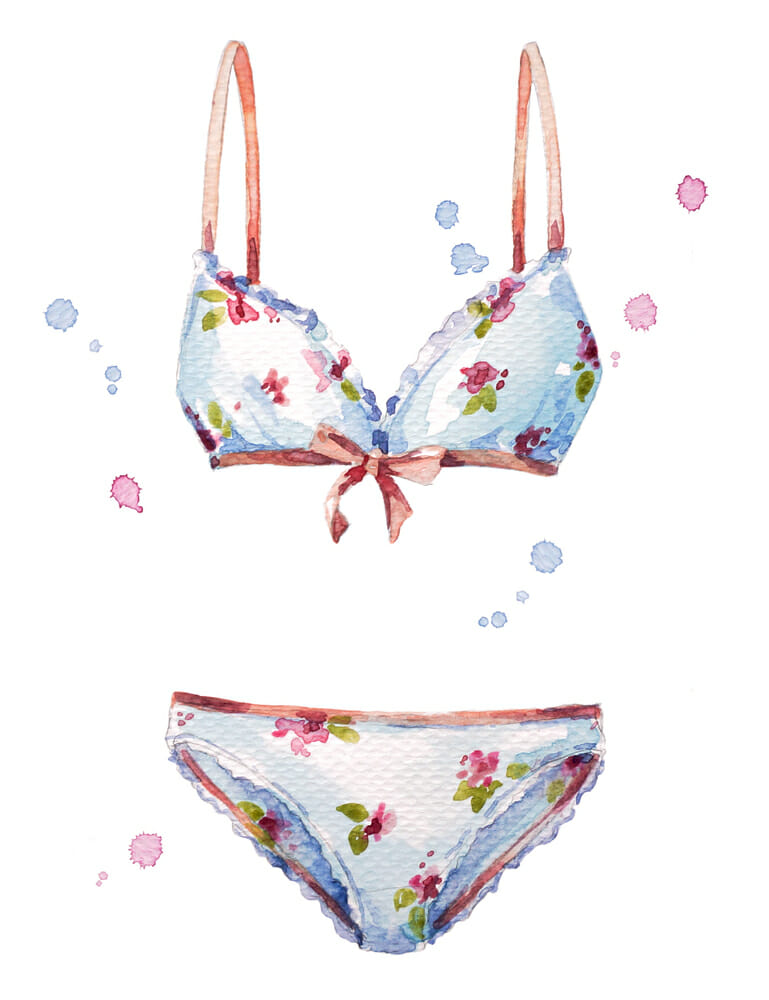 As you already know, January is chock-full of "New Year, New You" advice. Though it may sound cliché, I do love the beginning of the year because it's an opportunity (or an excuse) to make a fresh start, to try or do things you might have been afraid to the year before.
Inevitably, a lot of lingerie advice around this time of year is centered around finding your perfect bra size or getting the best bra fit. All of that's important, of course, but I believe it's equally important to take better care of your lingerie.
There's no point in spending your hard-earned money on newer, better-fitting, more beautiful lingerie if you don't take good care of it afterwards. After all, lingerie is deceptively delicate. All those laces and satins and wires and closures have to be treated well if they're to last for months and years to come.
If you've ever wondered how a Lingerie Addict takes proper care of their lingerie, here are the 5 things I use on a regular basis. A couple of them are going to be pretty obvious, but you might find a surprise or two here as well!
Do you have any lingerie care recommendations? I'd love to read them in the comments!
1) Lingerie Wash Bag
Yes, I know we're told that handwashing is the only way to go, and in an ideal world, that's all we'd do. But sometimes, you just need to throw something in the washing machine so you can stay on top of your laundry and have clean drawers. Enter the lingerie wash bag. Lingerie wash bags are essential for protecting your underpinnings from other items within the machine or even from the machine itself. I probably have a dozen lingerie wash bags floating around my apartment, but I like the one above from Nordstrom because it's large enough to hold several pieces at once. That said, you still want to skip the tumble dryer!
2) Lingerie Wash
Here's something you may not know: regular laundry detergent or soap is way too harsh for intimate apparel. It degrades the fibers and can leave residues on your garments. A specialty lingerie wash may seem like an extravagant expense, but it's cheaper than needing to replace your bras more often. I like Eucalan because it's no-rinse and because they have an unscented version (which is perfect for people with sensitive skin). However, I also use the lingerie washes from Journelle and Nordstrom. If a lingerie wash is totally outside your budget (understandable), Castile soap and baby shampoo are both suitable alternatives.
3) Lingerie Wash Basin (Otherwise known as a Cat Litter Pan)
I'm sure someone is looking at this section and saying, "Cora...Cora...I was with you until we got here, but what are you doing?" And that's a totally fair question. For me, having a separate washtub just for my lingerie made washing it easier. For one, a cat litter pan is bigger than my bathroom sink so I can wash more pieces at once. Two, since the basin is already in the tub, it's easier to rinse my lingerie and squeeze out excess water. Three, you don't have to worry about someone forgetting your smalls are in the sink and brushing their teeth, washing their hands, or trimming their beard over your knickers. Even though this is technically a cat litter pan, only one thing goes into mine - and that's my underwear.
4) Soft Bristled Toothbrush
Yes, we're talking about this. If you're handwashing your lingerie, you might sometimes find stains or secretions that a simple soak and a bit of light scrubbing won't lift (deodorant stains, blood stains, vaginal fluids, etc.). If that's the case, a soft-bristled toothbrush is great for working those things out of the fibers. Just remember to use cold water as warm or hot water can set the stain.
5) Padded Hangers
Don't worry...I'm not going to suggest you hang up up all your lingerie. I know I'm a lingerie addict, but I try to keep things realistic. Instead, I want to use these hangers for your extra-special or extra-long (but not extra heavy!) pieces. Padded hangers help to preserve the shape of your garments. I also happen to think they add a nice little touch for your most treasured items.
One last thought: don't feel like you need to go out and buy everything on this list at once. The order I've written this article also works well as an order of priority, especially if you're starting from scratch. The point is to think of your lingerie as something to treasure and take care of. Because you deserve it.