Lingerie Wishlist: Dear Bowie Maxi Robe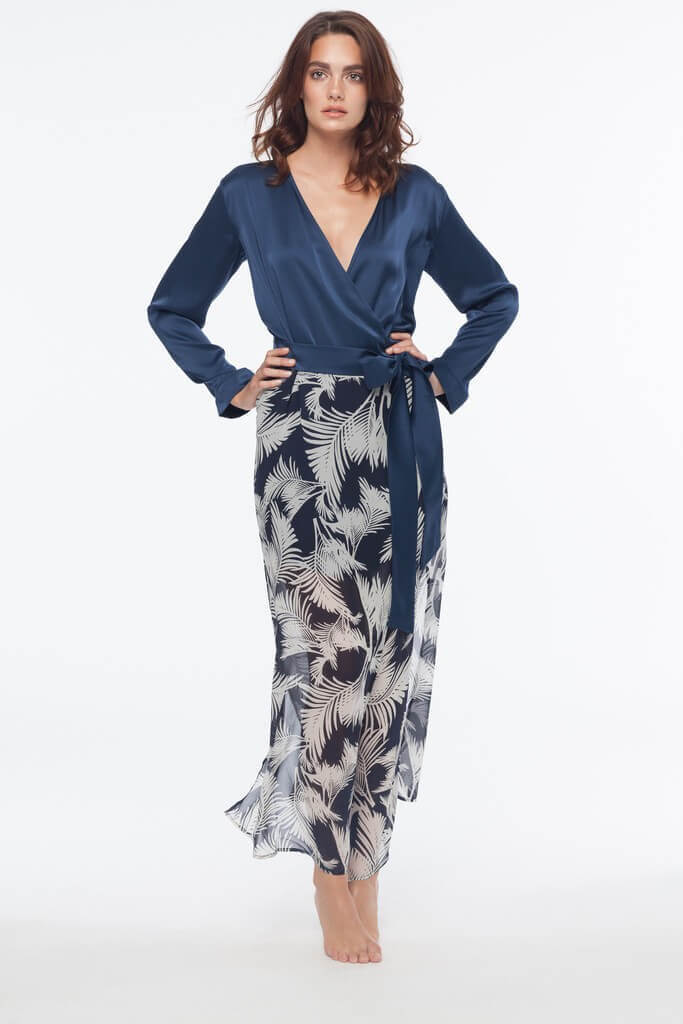 As my thoughts drift to the first summer spent in my new home, I can't but feel excited at the thought of updating my predominately gray and black wardrobe with brighter, more climate-appropriate pieces. After years of carrying a black hoodie "just in case" and avoiding silk lest it be marred by rain showers, I am luxuriating in the thought of a dresser full of camisoles, slip dresses, and other dainty delights. It's the perfect excuse for a personal style transformation. While I don't plan to completely give up my fleeces and sweatshirts (I still travel to New York in the winter, after all), I also want a wardrobe that feels a bit more SoCal.
Lingerie Wishlist features (formerly "Lingerie Lust Objects") are basically my dream closet in blog form. I'll never be able to buy most of the pieces I talk about (especially since I'm trying, valiantly, to stick to my lingerie challenge), but I share them here in the hopes maybe one of you will see that perfect piece and fall in love. I also share them here because I believe beautiful, interesting lingerie deserves to be noticed. Most of my blogging regrets center around not covering things I loved in the past. The lingerie world is quite ephemeral in some ways; there are countless brands and styles I wish someone had kept a record of, but it's too late now.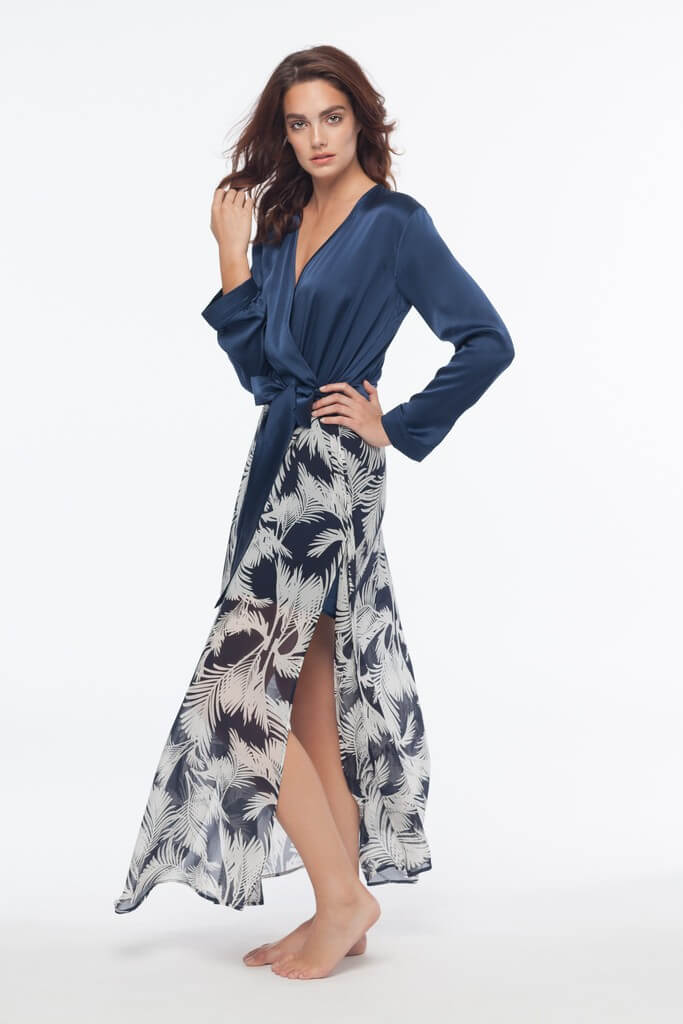 At any rate, as I highlighted in this season's lingerie trend reports, loungewear is on the way back in. This ties into the larger fashion trend of casualness or athleisure. Customers are demanding more transitional pieces, garments that work equally well as innerwear or outerwear, and brands are stepping up with a range of chic options. One of my favorite interpretations of this trend is Dear Bowie's Naomi Maxi Robe.
There are two variations to this maxi robe, an ocean blue palm print and a resort-ready blush floral, and even after looking at them for the better part of a day, I still can't decide whichI like more (though right this minute, I'm leaning towards the blue). While the Dear Bowie Naomi maxi robe is, as the name suggests, a robe, it feels more like a dress. There are definite strains of a classic wrap style in the tradition of Diane Von Furstenberg here. While fantasy me would love to wear this while walking along a white sand beach, real world me would likely layer a slip underneath and wear it as a work dress (because amortization and also perfect lingerie blogger work attire).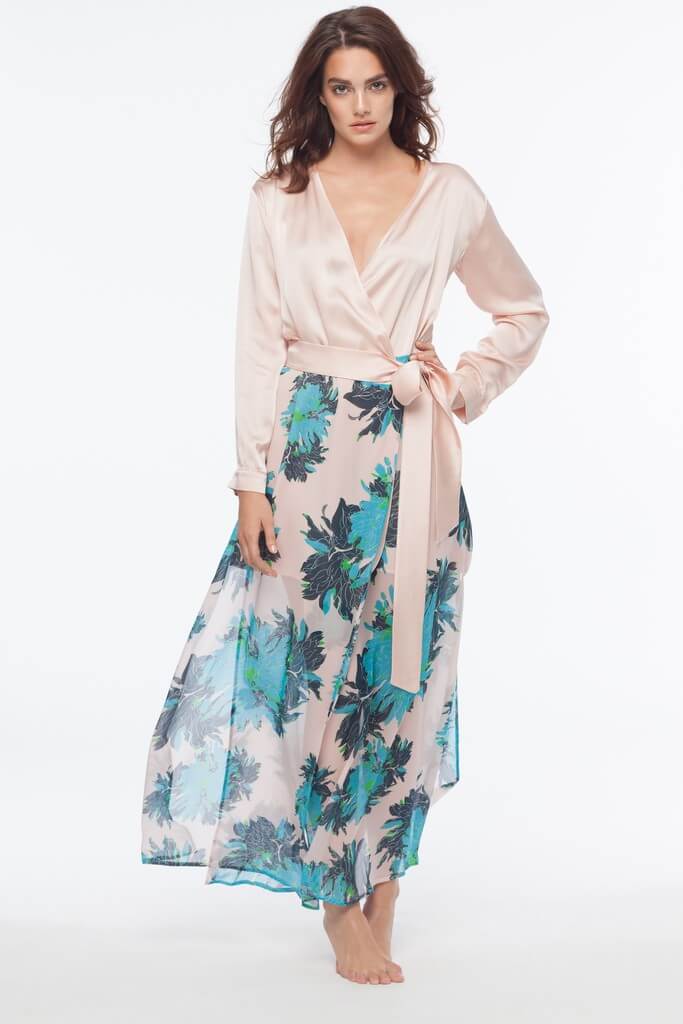 When I was younger, I was more into complicated pieces, like girdles and garter belts and corsets. And while I'll always love a beautiful waist cincher, what I adore about this maxi robe is how effortless it is (or at least, how it gives the illusion of effortlessness). There's a laid back elegance here, a kind of offhand glamour that's both casual and cultivated. When I think of lifestyle lingerie, I think of pieces like this; it's an excellent extension of Dear Bowie's voice and style.
The Dear Bowie Naomi Maxi Robe retails for $380 USD, and the label's size range runs from XS-L. While the official size chart tops out at US 8, I'd say the fit and cut of their garments is generous enough to accommodate at least 3-4 sizes beyond that (both Holly and Lingerie Detective had reviewed Dear Bowie, and they're technically sized out). As a brief aside, it would be stellar if Dear Bowie updated their size chart to reflect this information; there is a dearth of even vaguely plus-sized luxury lingerie options on the market nowadays; how many people have taken a look at their size chart and left the site?
Like most Dear Bowie's garments, especially in recent collections, both robes are made of 100% silk (silk georgette and silk charmeuse) and are dry clean only. Dear Bowie ships internationally, and shipping within Canada and to the US is free.
Now that I'm browsing, I'm also really digging the Palm Silk Slip Dress. What a perfect print for this brand. I wish it'd been available when I was on my honeymoon.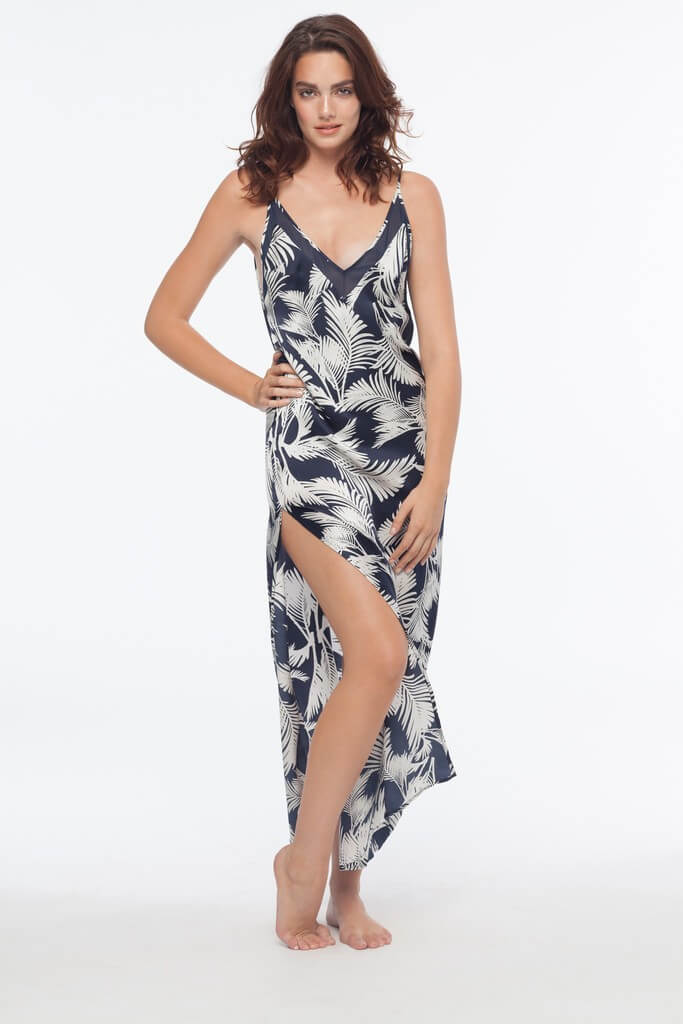 Do you have any thoughts about Dear Bowie, the uptrending of loungewear, or silk lingerie? One of my goals for this year is be better about responding to everyone in the comments, and I'd love to hear from you.