Sale Lingerie of the Week: Coco de Mer 'Althea' Suspender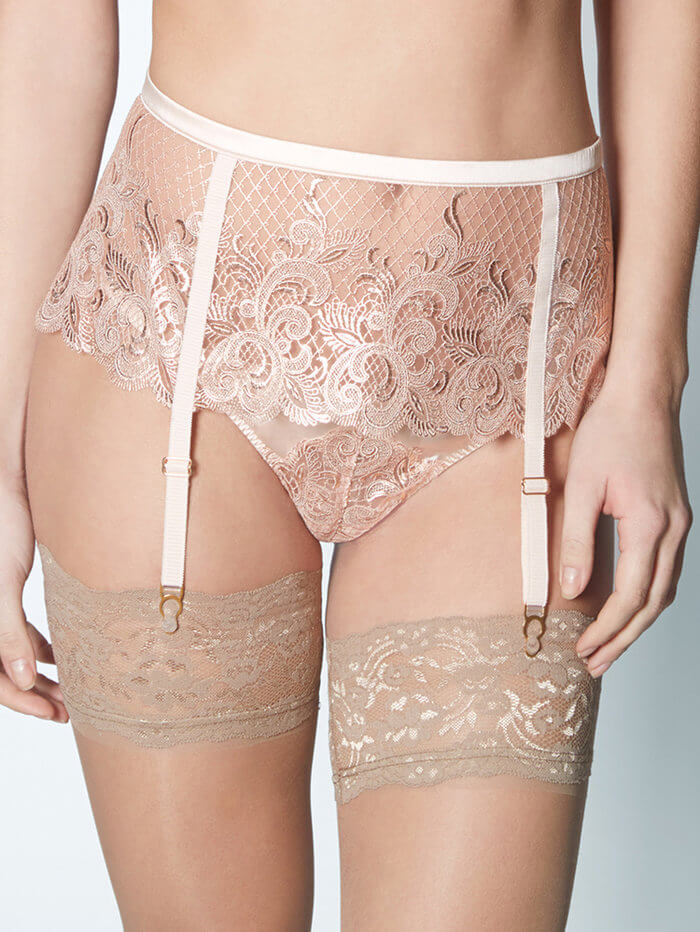 I feel like a dork for saying this, but we're all friends here so I'm just going to come out with it...sometimes, beautiful lingerie makes me a bit weepy. It's this weird kind of involuntary reaction, and it's always a bit surprising when it happens, especially since now I feel jaded more often than not when it comes to the world of lingerie (I still love it, but folks are being hella boring).
I know a statement like the one I've made above has to sound incredibly strange to the average person (who gets emotional over a garter belt?), but I've been sitting in front my laptop for the last 20 minutes looking at a zoomed in photo of the embroidery on this piece, and every second that ticks by just makes me want it more. Sometimes I start to question if I'm still addicted to lingerie, then I see something like this, and I'm reminded, "Oh yeah...this is why I started this blog."
Coco de Mer used to have a larger presence in the luxury lingerie world, at least stateside. For awhile, I even thought they might be a significant competitor to Agent Provocateur, Kiki de Montparnasse, La Perla, and other brands of that ilk. But it seems they just couldn't overcome the downward pressures of the recession, and after closing all their LA and NYC locations, the brand was purchased by LoveHoney, a UK sextoy retailer. To be honest, I thought that might be the end of Coco de Mer (LoveHoney is not known for luxury lingerie), but after a few years of quietude, the label seems to have bounced back. More than that, if the press response is any indication, they seem to be thriving.
Coco de Mer's 'Althea' Suspender is from one of their in-house ranges, and feels, aesthetically speaking, like it's right at home between other British luxury lingerie brands like Fleur of England and Gilda & Pearl. Lashings of blush embroidery elevate a simply-designed suspender belt into something exquisite (proof of the power of beautiful fabrics), and the wide front panel displays this gorgeous textile to full effect. There's something very sumptuous, almost overdone, about having this much embroidery on such a small garment. It's extravagant and lavish and excessive in all the right ways.
There are coordinating items for this range, including a bodysuit, bra, and knicker (shown below). However, for me, the standout is absolutely the garter belt. It's on sale for £50 (~$77.00), down from £130.00 (~$200.00), and available in sizes M and L (equivalent to U.S. sizes 6 and 8).
Do you have any thoughts about Coco de Mer? And are you a fan of embroidered lingerie?