'The Italian Victoria's Secret': Meet Intimissimi Lingerie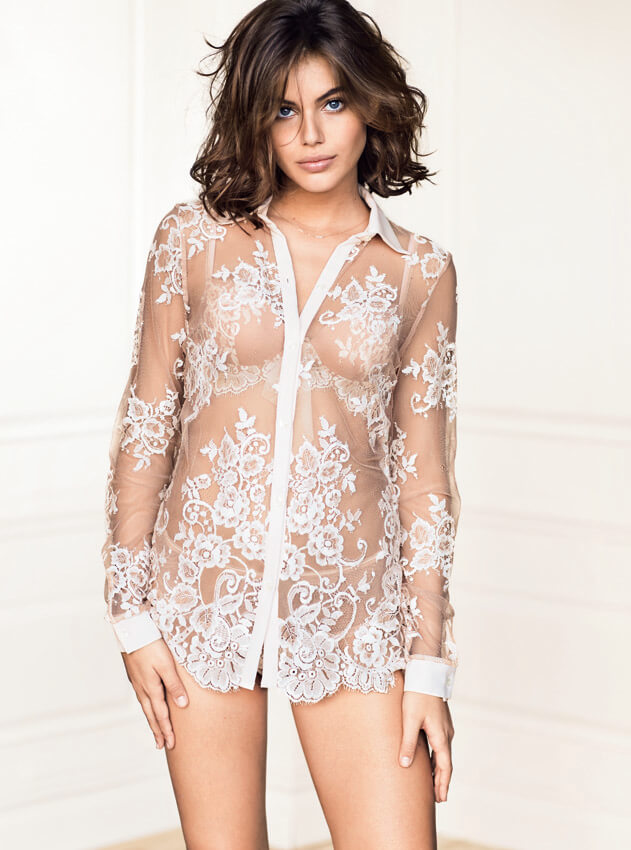 I admit, I had never heard of Intimissimi until recenty. Although the company has been around for 15 years, they stay close to their Italian roots. While there are 1200 stores in 31 countries, none of them are in the US. But they have a huge presence in their native Italy. With 500 stores in that country alone, Intimissimi is to Italy what Victoria's Secret is to the United States.
Speaking of Victoria's Secret, if the Intimissimi name sounds vaguely familiar to you, you may have seen the brand at your local mall. Intimissimi was carried at 240 Victoria's Secret stores from 2007-2010. It was all very hush-hush why the partnership dissolved. Many have speculated that the superior fit and fabrication of Intimissimi may have played a part. Though more likely it was due to Victoria's Secret deciding to focus on their core brands. Since then the lucky few who were able to get their hands on the Italian label stateside have been terrifically disappointed.
Well, there's good news! Intimissimi now has an extensive online catalog that specifically caters to its US audience. With its commitment to offering competitively priced lingerie with high quality control standards, Intimissimi is poised to gain considerable market share over its once-partner Victoria's Secret. With a well designed ecommerce site that is priced in US dollars, straightforward shipping and return policies, and no worries about duties and taxes, it is easier than ever to try this beloved Italian brand.
Intimissimi has a wide range of offerings beyond intimates, including sports bras, shapewear, nightwear, loungewear, and men's underwear, tees, and pajamas. Where they really shine, though, is in their lingerie category. There are some really pretty fabrics and laces here that are surprisingly affordable. The standouts are the sheer tulle and lace skirts, tank tops, and shirts. While the shirt above doesn't appear to be for sale (which is such a shame!), it's hard to believe that gorgeous lace skirt is just $44. Also notable are the two bodysuits, both priced at $65, which are crafted in sheer tulles with delicate laces.
While there are definitely cut and sewn bras to be found on their extensive site offerings (the lace bandeau style is an example), most styles feature some sort of padding, from subtle to extreme. The lightly padded 'Elena' bra features a beige molded cup overlaid with dramatic floral tulle and dotted tulle side wings. The 'Manuela' bra is a push-up style with wirefree cups and lace applique (the matching knickers mirror the dip and curve of the lace and form a heart shaped front which is pretty cute). The 'Simona' is a "super push-up" which is guaranteed to boost you up a cup size. This style is fabricated from the same rich lace of the shirt above, and features an oversized tulle bow at the center. All of these bras are priced from $49 - $59. Coordinating panties are all around $22.
Other notables pieces for Spring include the 'Watercolor Flower' silk top (cut in a straight camisole style) and coordinating push up bra set. The print is really lovely and the orchid-colored lace picks up the rosy hues of the flowers. The bodysuits and chemises are a bit more easily sized and are available in S-L (fitting US 4/6 - 12/14). The bras have a much narrower size range, with most available in band sizes 32-38 with cup sizes B-C. Many only offer B cups. Since Intimissimi is competing with Victoria's Secret for market share, it makes sense that they look into expanding their size range.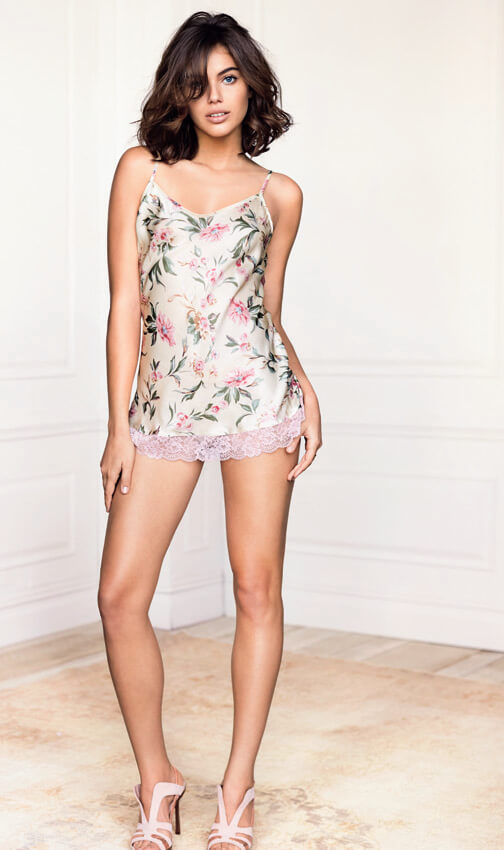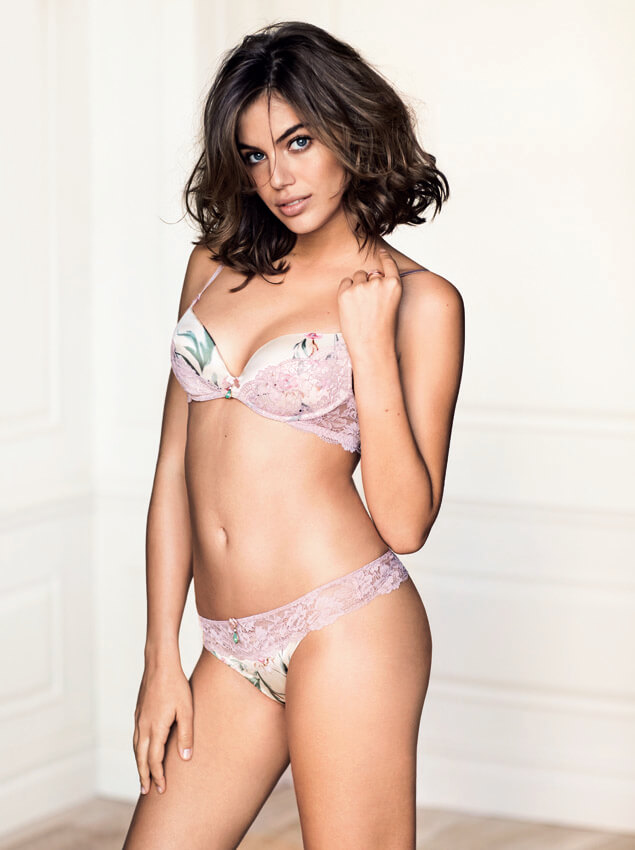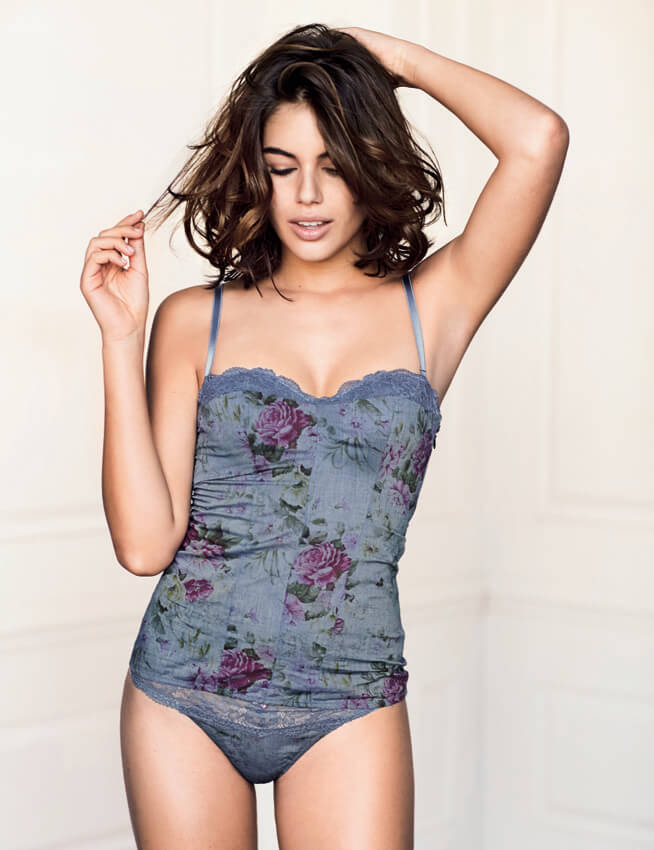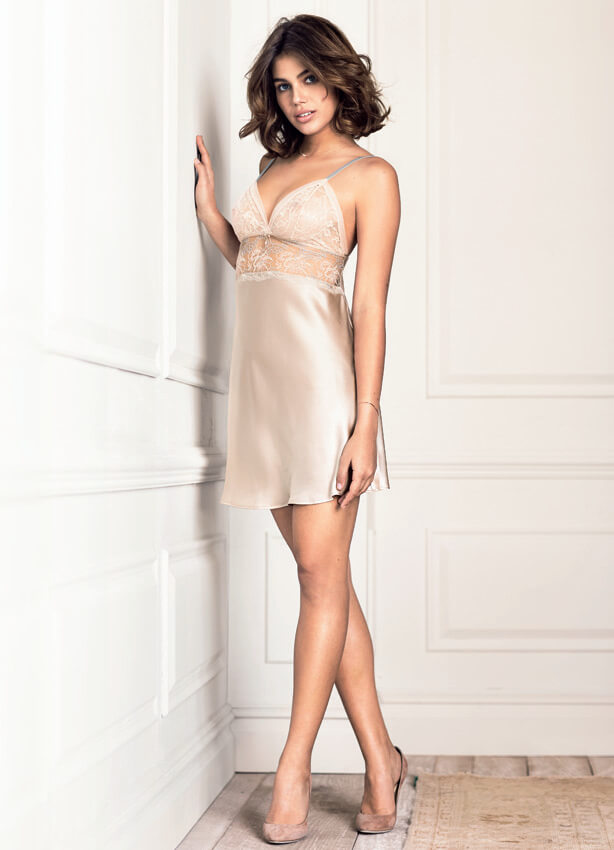 What do you think of Intimissimi? Have you ever tried this brand? Do you think they offer stiff competition to Victoria's Secret?