Lingerie Wishlist: Sally Jones Lingerie Spring/Summer 2014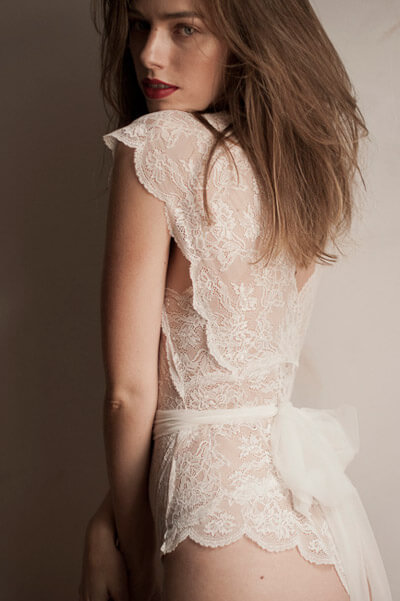 It's been a little more than a year since Sally Jones has appeared on The Lingerie Addict. We did a feature on the label in 2013 debuting their brand-new plus size line, Sirens by Sally Jones. Oddly enough, I've seen the brand more than ever in the last 12 months, albeit usually (and unfortunately) without proper credit. Founded in 2005, Sally Jones is one of the rare Australian labels in the intimates industry. Their lingerie is made of luxury silks, tulles, embroideries, and chiffons with some vintage laces thrown in good measure (I adore vintage lace). This season's collection, named "Bold Romance," goes in a completely different direction than what I've seen from Sally Jones before, and I quite like it.
I find myself wanting to categorize everything as bridal because soft aqua, blue, ivory, and blush equals "wedding" in my mind, but that's not really fair to what's been done here. These new Sally Jones pieces would be at home in the lingerie wardrobe of anyone who enjoys fine underpinnings, whether she has impending nuptials or no. And while a wedding is a great reason to splurge, I find myself wondering what other excuses for indulgence I can come up with as well.
All Sally Jones' items are handmade on the Gold Coast of Australia. Nightwear and knickers are sized XS thru XL (sizes 4 to 12 US), and bras are available in band sizes 32-38. Standouts for me include the 'Pearl' bodysuit (shown above), and everything from the 'Raw' collection, which is beautiful lace sewn onto sheer tulle.
What do you think of 'Bold Romance?' And is Sally Jones Lingerie a name you've heard of before?