Spring/Summer 14: Color and Texture Trends
Disclosure: There are affiliate links in this post.
It's been a month now since industry insiders convened during Lingerie Market Week in NYC. During this time, brands displayed their collections for Spring/Summer 14. You all are in for some great styles, colors, and silhouettes! That's not by mistake either. What was most inspiring for me as I viewed collections and spoke with designers were the stories behind each and every fabulous piece that will soon hit the stores (and then your drawers)!
In the years I have been writing about lingerie, this has always been something that draws me to explore a brand or a collection. Bras, panties, robes, and rompers are more than just functional articles to cover our bodies. They are works of art crafted and designed by incredibly talented minds that make us feel everything from supported and comfortable to sexy and unstoppable.
They may have been inspired by a designer's latest travels, or another artist, or an upcoming wedding. They may be created based on a personal need or practicality. For it being my first time back to market in quite some time, it was exciting to hear these stories and be in such a creative and energizing space. It reminded me of how much I love sharing the sometimes hidden gems of this industry with all of you.
Here's a snapshot of two types of trends you can expect this spring.
Colors
Ordinary pastels just won't do for next spring. You'll find more saturated shades of your favorite pastels. No light lavenders or lilacs, but instead, richer tones of that same hue. This gorgeous Samantha Chang silk robe demonstrates that richness of color. I love this piece as it is perfect for everything, from getting ready for a night out or relaxing with a book on an evening in. It's great for keeping your arms covered from the spring chill.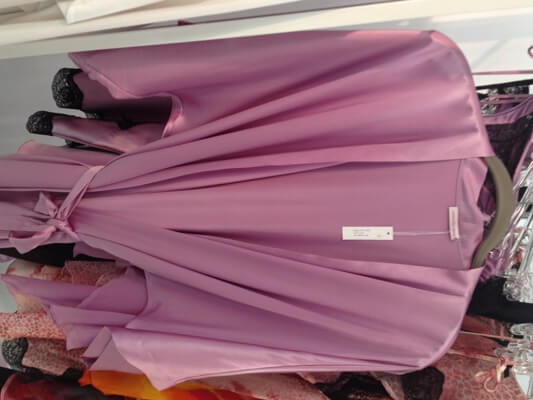 Another great color for spring is a rich coral! Go beyond pastel peach with this looks-good-on-every-skin-tone color. I must have a thing for robes, as I love how coral is translated in this Between the Sheets robe. Rich, vibrant, and cozy! Mix and match with your other BTS camis and lounge pants for a new look each time.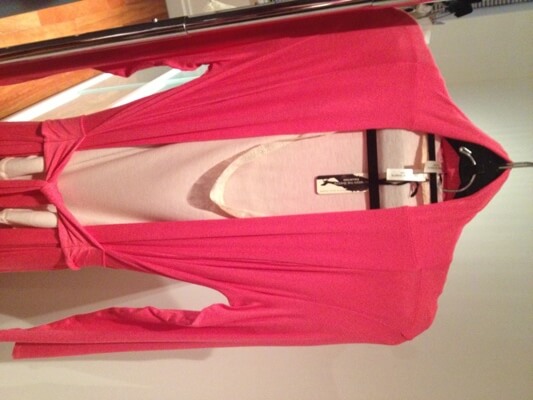 Vivid blues are another great color that will be popular this spring. The association with azure skies and cyan seas can only hint of the warmer weather that spring and summer will bring. CLO Intimo, known for its simple, lacy bralettes and panties, nails it with this little number, among other pieces in their spring collection.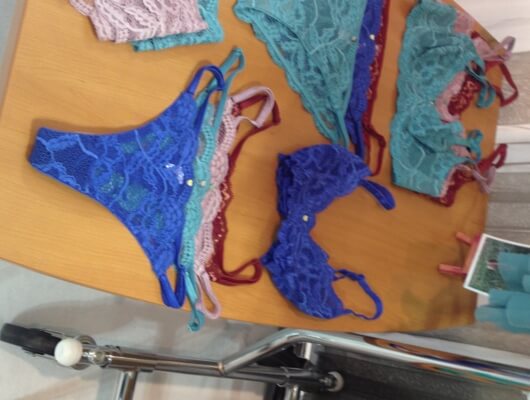 Plus size brand Curvy Couture also features this lovely color on a number of bras. The designer of the brand, Dora Lau, calls this color lagoon after being inspired by some of her travels.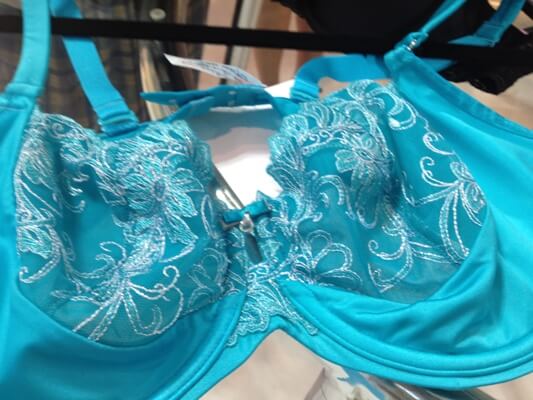 Textures
Textures will also be popular for spring. My personal favorites include an abundance of glorious eyelash lace and the feminine, but cheeky eyelet. Eyelash lace is the perfect pop of glamour to everything, while eyelet evokes thoughts of sugar and spice and everything nice!
New-to-the-US brand Monette takes on both trends. First, I'm in love with this darling one-piece eyelet number! Great for all those spring and summer brides.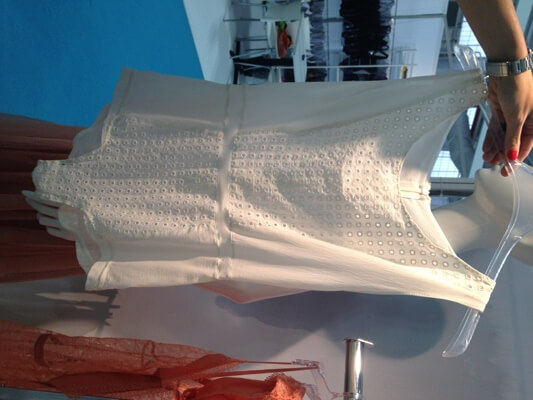 But why let white eyelet have all the fun? This bold golden bra and panty set is absolutely adorable. The bright color compliments the sweet simplicity of the eyelet and bow details. Winning!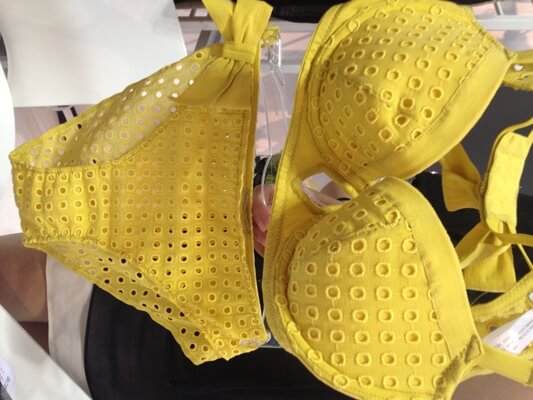 Leading the way in eyelash lace are Zinke and Else.
This Zinke one-piece not only features the beautiful lace, but also captures the current rose gold trend in jewelry.  One of the designers, Jessie Zinke, said some of the pieces in this collection are inspired by ballet. Everything has a story!
Else has long been a favorite brand of mine and this gorgeous set demonstrates why. The attention to detail is amazing, featuring sweet bows and delicate scalloping in addition to the lace. The set is indicative of the full collection, with hints of both contemporary and classic.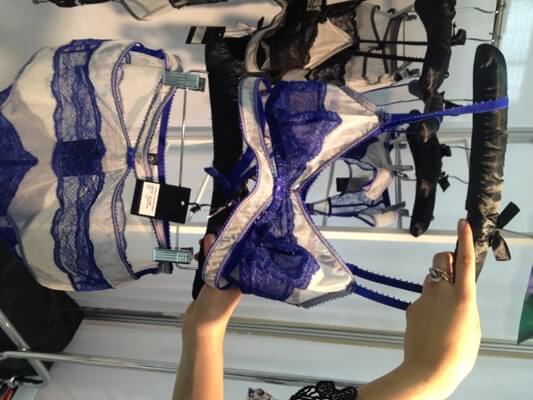 Besides eyelet and eyelash lace, I also saw textures played out in the stockings world, one I'm only being recently introduced to. New brand Nude Barre was a standout brand for me. Featuring hosiery in solids, fishnet, and even blinged out, these pieces represent the wide variety of beautiful skin tones we all have. Women of all colors can feel fabulous in textured tights that reflect their nude.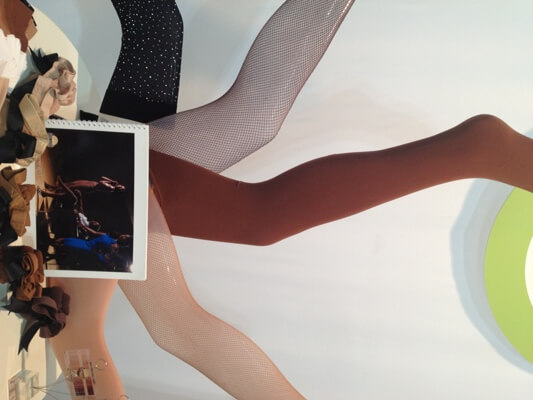 There's so much more to come. Stay tuned for more in-depth information on many of these brands as we prepare for a vibrant spring.
Readers: let us know what you are most looking forward to adding to your collection!