Double Divas Review: Season 1, Episodes 1-3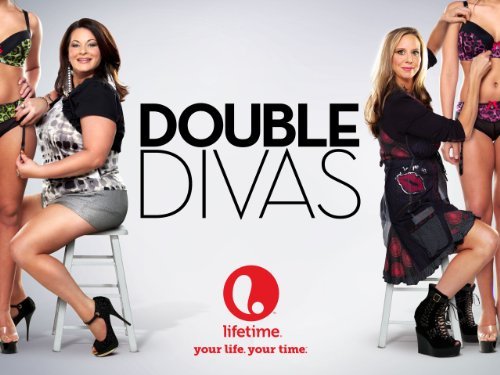 Last week, I caught the season premiere of Lifetime's new docudrama, Double Divas, starring Molly and Cynthia of the Atlanta area boutique, LiviRae. Though I don't usually watch much TV, I was really excited about Double Divas, not only because it was a show the lingerie industry, but also because it was a show set in my hometown of Atlanta, GA. Sadly, I was less than impressed, and though I do plan on watching the show through the end of the first season, I feel disappointed... because it could really be so much better.
But let's start with the good. I adore the concept of the show, and I'm glad Lifetime is presenting an alternative to the ever-present Victoria's Secret. Besides that, lingerie is such a tricky subject in America, anything that reduces the stigma and shame attached to it is a good thing in my book. Bras, panties, and other kinds of intimate apparel don't have to be hidden subjects. We can and should talk about them the same way we talk about shoes or handbags or dresses or makeup or any other item of women's fashion. And it's my sincere hope that Double Divas makes those conversations a bit easier to have.
I also like that LiviRae is a mid-range lingerie boutique as opposed to a high-end or luxury boutique. While that does have some downsides (expensive lingerie is very often innovative and gorgeous to look at, while mid-price ranges tend to be fairly repetitive from season to season), I think it has the overall effect of making lingerie feel more accessible to women. Of course, this could be something that I'm just noticing because of my familiarity with many of the brands on the show (you'll find a complete list of brands I saw featured below) but I do think the noticeable absence of the typical luxury lingerie powerhouses is a good thing here.
Finally, I liked that the show features Molly and Cynthia helping woman with various breast and bra problems. From the Norma Stitz vignette (yes, I know her boobs are unusually large, but the feeling of not being able to fit into any bra available is a common one), to the woman with the asymmetrical breasts, to the well-endowed church choir, to the woman who had to return a revealing lingerie gift purchased by her fiance, I felt like the show really shined when it showed the LiviRae women in their natural element... helping women find the perfect lingerie for their bodies. Those were the moments that resonated with me, and based on what I saw from the Twitter hashtag #doubledivas, I don't think I'm the only one.
Now, on to the bad. Unfortunately, the show itself felt very gimmicky and over-produced and unprofessional. I know the whole 'reality' part of reality TV is just an illusion, but when your leads already have such big personalities, the scripted moments can very easily go into overkill. The store itself didn't appear particularly well-organized or inviting, and the fashion show in particular was just a complete mess. The chosen 'Angels' theme is so tired and overdone that I was bored immediately, the model drama felt way too manufactured (had no one in the shop ever heard of Model Mayhem?), and the final outfits were underwhelming. The whole scene in general just took away from the more interesting parts of the show, namely the parts where they actually fitted women into lingerie.
I also don't feel like Lauren (the sales associate) is a benefit to the store. Yes, her personality is suitably dramatic and over-the-top for reality television, but when I visit a lingerie boutique, I'm a lot less interested in the "sexy element," (the reason Molly said Lauren was hired) and a lot more interested in an associate who knows what she's doing. I was also really turned off by Lauren's body snark. There's a point in the third episode where she says, "Everyone deserves lingerie, but sometimes you're like...'Ewwww!!! Gross!!!" and that's really not okay. Women are at their most vulnerable in the fitting rooms; they don't need to worry about a salesperson judging their bodies while they're back there half naked. I'm always against body snark, but when it comes from lingerie industry professionals, I think it's especially reprehensible.
Overall, I'm interested enough in the concept to keep watching. I think the show could use a lot fewer outside-the-boutique stagings, and a lot more client-shop interactions (by the way, did anyone else notice how the shop was always empty?). I'm also not too impressed with Cynthia's sewing projects (if she was doing wildly innovative and creative pieces, that'd be one thing, but I haven't seen that so far), and I sincerely hope Lauren feels less like a producer pick for added drama and more like a real employee of the store during the course of the show. Honestly, I doubt there'll be much improvement (I'm sure Lifetime has already crunched the numbers and come up with a formula they think will work best), but one can always dream. Keep scrolling down to see the list of brands featured in the first few episodes.
Did you catch the Season Premiere of Double Divas? What did you think of it?
Lingerie Brands Featured in Double Divas, Episodes 1 thru 3:
(Because of when the show is taped, several of the pieces seen on screen are no longer available)
Playful Promises
Leg Avenue
Dreamgirl
Felina
Parfait by Affinitas
Blush Lingerie
Allure
Le Mystere
Lucy B
Seven 'til Midnight
Wacoal
Honeydew
Jezebel
Body Wrap
Cleo by Panache
Panache
Love Claudette
Berkshire Hosiery